Meet my furry/scaly/slimy/spikey family at the wildlife park/rescue
Currently I live with just over 40 animals from a variety of species. From the cute and cuddly to creepy crawly and everything in between.
Since moving here I really have been happier, whilst I don't make the money I used to I get to do something that makes me happy everyday and my mental health is thanking me greatly for it.
There have been happy times and sad times and in the last year we successfully rehabilitated over 50 animals, some of which require round the clock care or need to stay for up to 2 years at a time.
We have had wombats, kangaroos, koalas, echidnas, snakes, lizards, a variety of birds and others.
We also have quite a few resident animals that have been with us for years and I thought I'd introduce some of them in this post.
In no particular order here are some of my friends that call the shelter home.
Poppy, Daisy, Ivy, Sherman and Patte.
Some of the first new residents that came to the shelter were the goats, alpaca and the goose.
Poppy came to us heavily pregnant and already named, when she gave birth the babies Daisy and Ivy were named after 2 of my sister's best friends.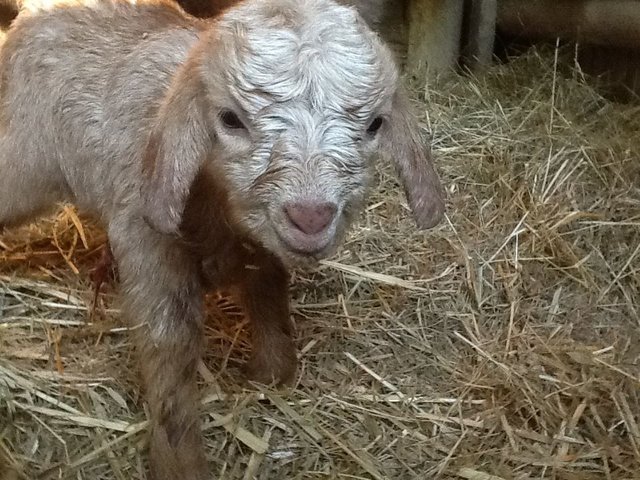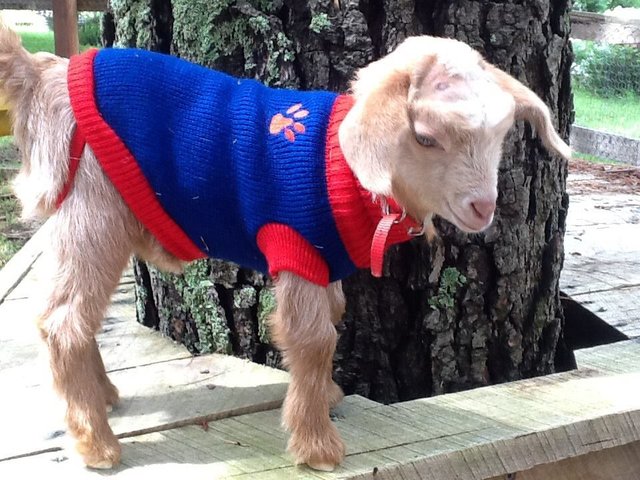 Baby Ivy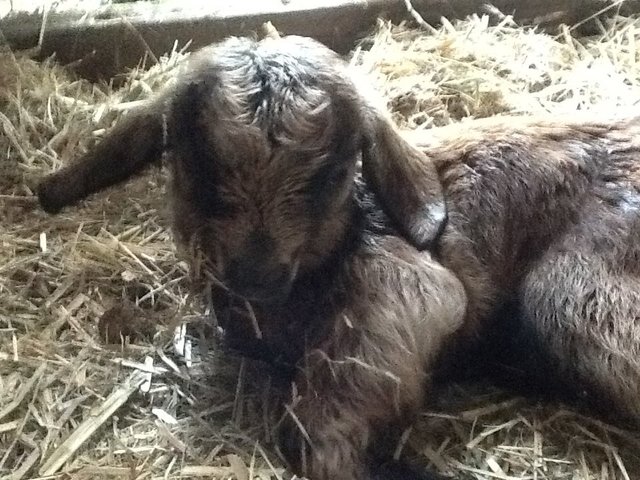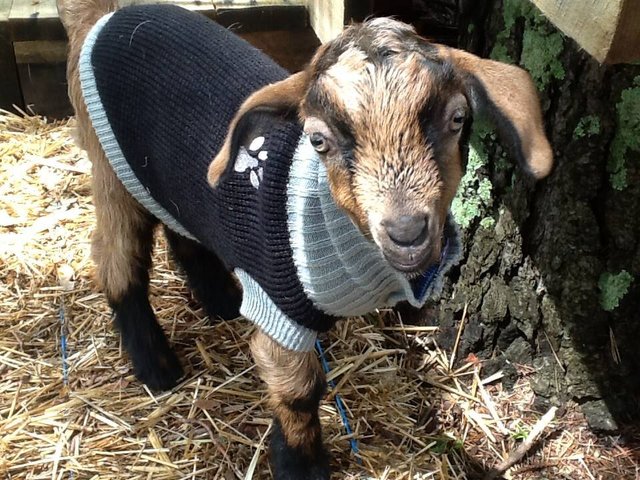 Baby Daisy
Unfortunately Daisy ended up being a male but the name has stuck anyway. We identify them by their collars even though Ivy looks completely different. Daisy can be a bully as well headbutting and trying to fight with certain people. We had their horns supposedly removed at birth but they grew anyway. Money well spent lol.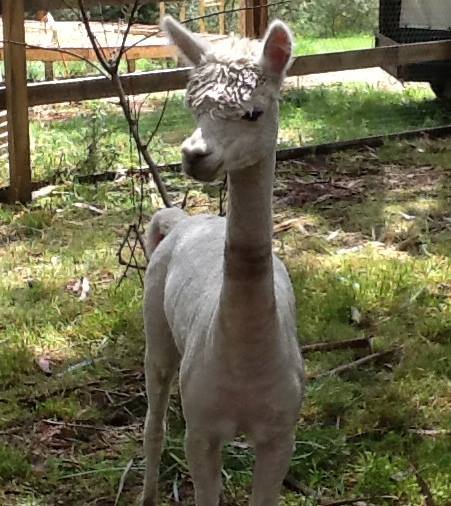 Poor shaved Sherman.
Sherman Is the supposed guardian of the animals. He protected the babies from things like foxes and snakes but when it comes to people he is absolutely terrified. You can touch him if you're feeding him but otherwise he will cry and make whining noises when you trap him for a cuddle. Sherman and Patte the goose are the best of friends and you can often find them wandering off together to the creek that is just off the property in the forest before coming home for dinner.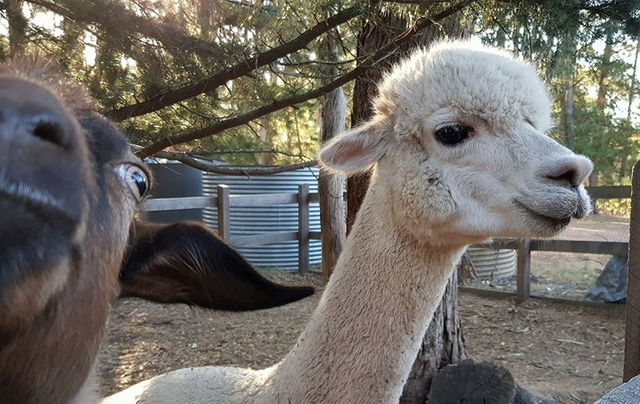 Daisy photobombing Sherman
Patte the goose is a breed that can't fly. We couldn't have anything that could get over the fence into the crocodile enclosure by accident. She is actually the bad-ass of the group and will chase people and other animals if she is feeling grumpy. Especially my poor cat. When our old emu got a bit aggressive she was the only one he didn't pick on and she would come up behind him and peck him on the ass and tail.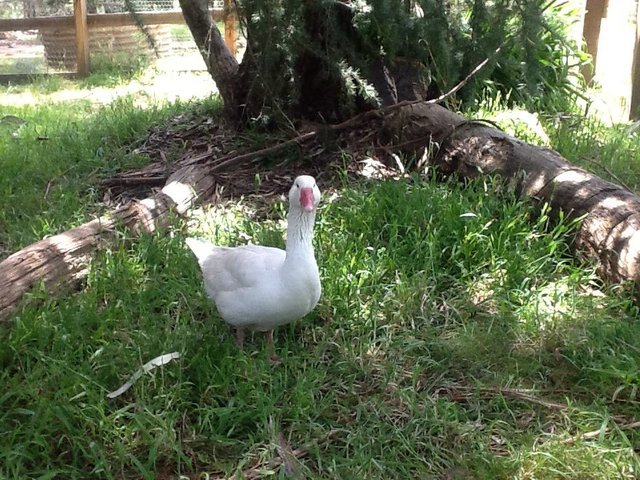 The lizards
We currently have 6 lizards with us. 3 blue tongues, 2 bearded dragons, and a stumpy.
One of the blue tongues and one of the dragons have to be kept seperate from the others as they attempt to show their dominance and can sometimes attack the others. 2 of the blue tongues, a dragon and the stumpy all live happily together.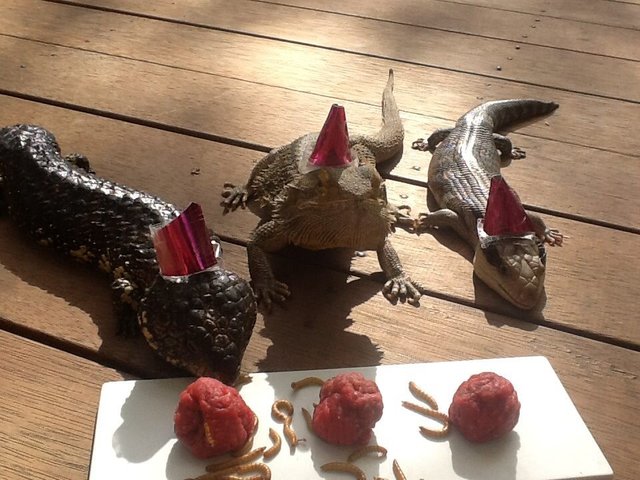 Lizard partyyyyyy
We also have 2 monitor lizards. One of which is quite large and intimidating. Lenny, the Lace Monitor is semi friendly, he has been known to bite if he's in a bad mood but for the most part he is fairly okay with being handled. He has a large scar on his back from where a heat light fell on him when he lived at a pet shop.
We also have a small black monitor called Kylo. He is terrified of people and if you open his enclosure he will do everything he can to escape. We gave him a fairly large place to live but he was stressed so we moved him to a smaller area and he seemed much happier.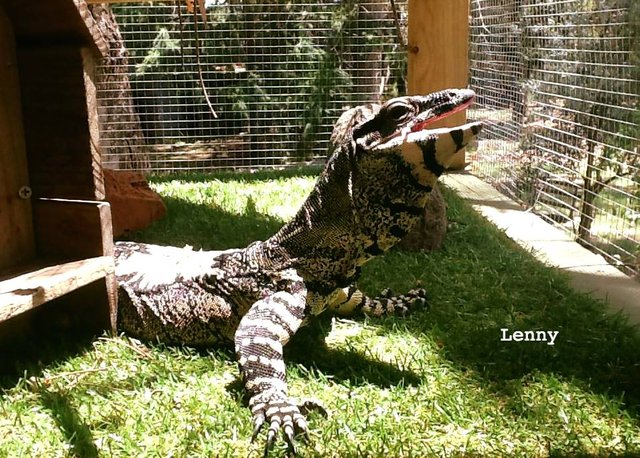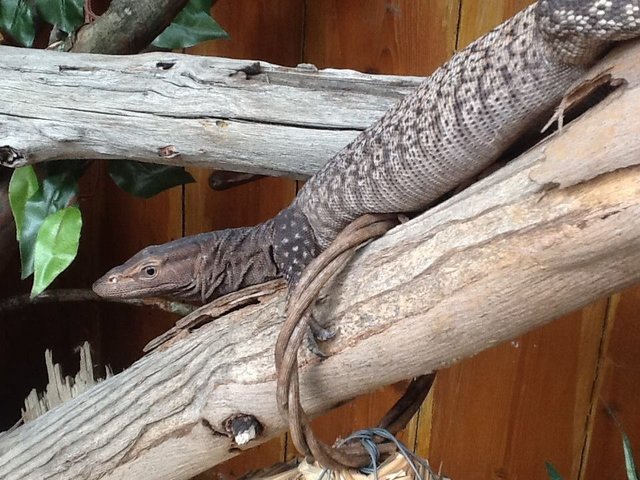 Snakes
We currently have 6 snakes that live with us, they vary in species but none of them are venomous and all but one are friendly. In no order there is Black Betty, Ollie, Cuddles, Big Mama, Diego, and Slinky.
The olive python is the only one that isn't friendly and has bitten me, my mum, my stepdad, 2 guests and a vet. He is also going to be the largest snake we have if he grows to full length which is over 5m.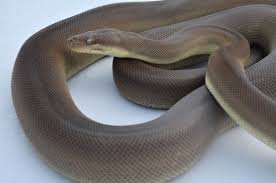 My favorite of the snakes is Black Betty who is also the second largest currently. She is an absolute sweety and is happy to be handled by anyone for as long as they'd like. She can be left to sit with you or hang on the washing line and sun bake and I think she is just cute. My mum even dresses her up and here's a picture of her at Christmas with pipe-cleaner antlers.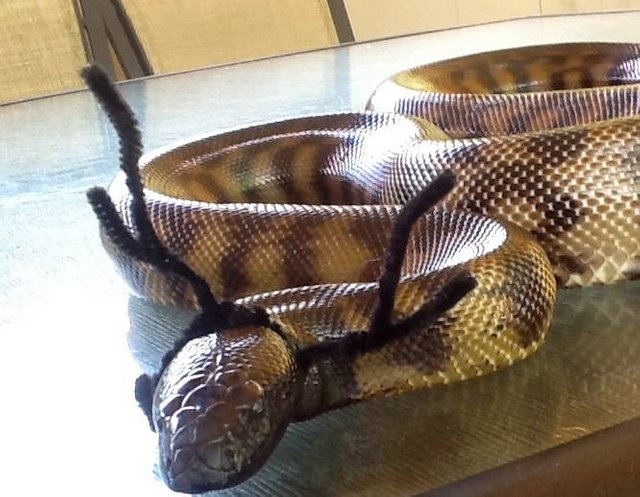 I used to be quite scared of snakes but since living with them I am completely comfortable now and even assist with catching venomous ones when they find their way into peoples houses. Like all animals if you respect the fact that they are indeed a wild animal then you should be right. You can't always tell if they want to attack but other times there are fairly clear indicators.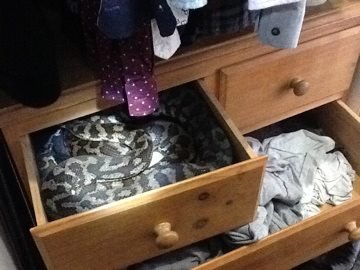 Sometimes they like to nap in the clothes drawers
The wallabies
We currently have 6 Tammar wallabies that are native to Western Australia. One of them is an albino and she has been hand-raised since a baby, Willow is still shy and scared of people but she lets you get close enough to feed The others won't let you get close and scare easily. They are fairly cute and we took them on because we feared they might be released into the wild which would probably kill them here. Willow is currently pregnant, we have seen a tiny little head poking out of her pouch so I am excited to see the baby properly when he comes out the pouch :)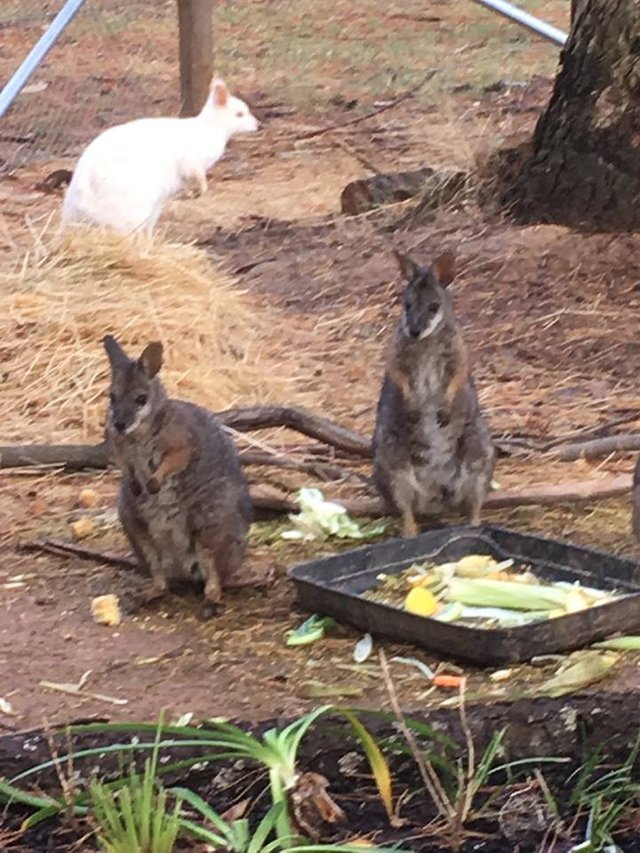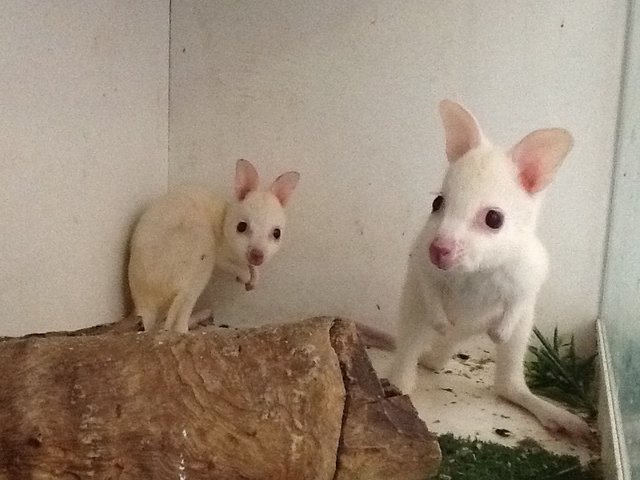 Willow and her brother Scooter who unfortunately passed away
We also have 2 cats, a labrador, 2 frogs, a turtle, 3 baby kangaroos, a baby possum, an injured parrot, 2 tarantulas, 2 stick insects and an injured echidna. Oh and of course the crocodile :P
It is a lot of work to look after them all, they require feeding anywhere from 5 times a day to once every 2 weeks so keeping schedules is important. We split the work between 3 people as well as running a for profit business to help support it.
It is always rewarding to work with animals, especially when you save or rescue a baby. But it does take an emotional toll. Just yesterday we had 2 animals pass away, another echidna and a wombat. Both had been hit by a car. We also had one of our baby kangaroos almost pass away, still unsure how but at his 6 o clock feed he was limp and unable to drink. We have been injecting fluids into him and trying to get him better but we're not through yet. It hurts the most when it's an animal you have had for a while. Whilst I'm used to an injured animal coming in and passing away it still cuts deep when one of the baby's has to be euthanized or like when Scooter died somehow.
Next year I am going to travel Australia and possibly do a degree in animal care whilst on the road but I need a break from everything. Im sick of working and I need a chance to not stress about all the animals and not have to deal with the bad bits of the job.
I will introduce more of the family in the next post. Thanks for reading :)