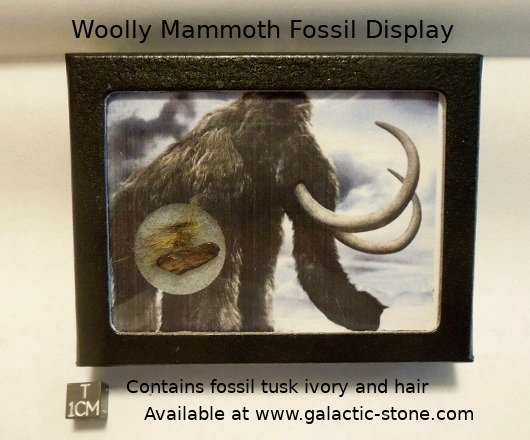 As a collector and dealer of exotic artifacts from the natural world, I am always looking for new and interesting specimens. This new display is the result of a new acquisition I recently made.
This display contains genuine samples of mammoth tusk ivory and hair. These fossil specimens are from the Pliocene-Pleistocene period and are at least 13,000 years old and up to a couple million years old. There is a color photo of a woolly mammoth and the samples are presented in a cut-out. The display can be opened and the samples removed if desired for closer examination or study. These samples were legally sourced and can be shipped to anywhere in the world.
The display box measures approx. 3 x 4 x 1 inches and has a black pebblegrain finish with a glass viewing lid.
More photos, details, and ordering : http://galactic-stone.com/woolly-mammoth-display-with-genuine-hair-and-tusk/
All Steemit members get 20% OFF by using coupon code "steemit" at checkout! :)
Thanks for looking!
MikeG (Curator of Galactic Stone & Ironworks)
Photo credit : me.