A Few Words About Paleo and Crunchy Fried Chicken Nuggets.
There are a few key strategies that I always employ in my Paleo inspired lifestyle.
You'll notice that I refer to my dietary choices as a lifestyle as oppose to a "diet".
In my opinion, the word diet can imply that it is a temporary situation with a beginning and a defined end.
Usually "the end of a diet" happens when someone obtains a goal they were working towards or they fall off the wagon and aren't successful in changing their original habits.
For me, the way I eat has become my lifestyle and "my normal" way of fueling my body.
It works very well, for me.
The style of eating that I have adopted is called Paleolithic and is often shortened to Paleo.
(Both descriptors refer to and basically mean the same thing.)
To me, living a Paleo lifestyle means that I limit sugars to those which come from low glycemic whole foods and are not processed or refined.
All grains, and foods derived from grasses, along with white potato, rice, corn, soy most dairy and some legumes are quite literally off "my table".
What I have learned to do is make all the foods that I do eat and enjoy convenient. I choose to focus on what I eat that makes my body perform and feel great and not on the foods that don't.
That is the most valuable, single, success strategy, that I can share with anyone who is interested in learning how to practice Paleo living for themselves.
I plan to succeed, through the choices that I make.
I employ grocery lists and I always prepare more food than I need immediately so that I have additional food at the ready when I need it quickly.
It becomes super easy to pull something already prepared out of your refrigerator or freezer and just heat it up.
It certainly reduces the temptation to pick-up "take-out fast food" from a restaurant. Especially, when you know that you'll be able to enjoy real food, in the same amount of time or less than it would take you to place an order and go to pick food up somewhere.
Prepare and cook once so that 3 meals can be made as a result of your efforts. I call this cooking strategy "big batch cooking".
If you are prepared and are successful in changing your habits, you will succeed.
If you don't prepare, and continue to eat oatmeal and toast for breakfast, it is highly probable that you will fail.
Another strategy that is worth describing is the concept of making the food you are eating, tasty and appealing.
Nobody wants to feel like they are missing out on anything and I highly suggest steering clear of buying any foods that are commercially prepared and being sold as gluten-free.
This is because these foods are usually loaded with starches which translates to a higher sugar load inside your body, once those items are consumed. Processed gluten-free foods can actually contain more sugar than food items prepared with whole grain ingredients. Gluten-free means that the food item in question, doesn't contain the protein called gluten. It doesn't mean it's low in carbohydrates and/or sugar.
Gluten-free doesn't equal Paleo.
With all of that said, I have developed a recipe to make crunchy coated chicken nuggets. This recipe nicely illustrates many of the concepts that I have shared within this article.
The ingredients needed are:
1 whole thawed chicken;
6 tbsp of coconut oil;
1 cup of ground almonds;
and 2 eggs. 
The tools needed are:
a frying pain;
a food processor;
a sharp Butcher's knife;
2 large size mixing bowls;
2 sheet of paper towel for blotting any excess oil from the fried chicken;
a medium size mixing bowl;
and a set of heat-safe tongs (to turn the chicken pieces with).
Directions:
Remove the skin from the chicken and cut it into cubes and small pieces.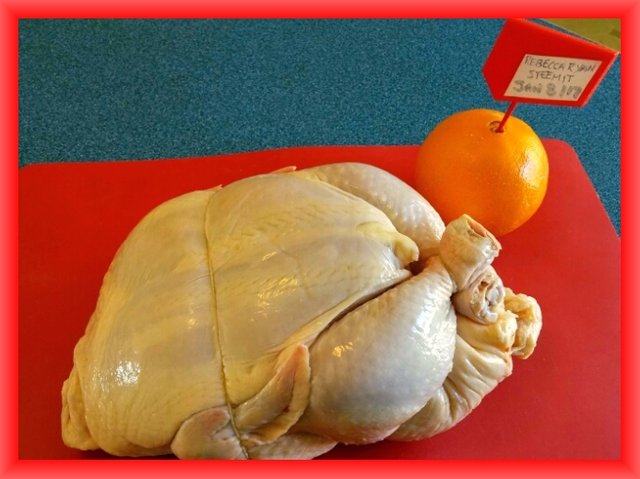 Save all the scraps and bones and put them in a stock pot. Add 2 litres of water, to the pot. Cover and simmer on low for 4 hours. This will produce a lovely chicken stock that can be enjoyed on its own or used as a soup base. This demonstrates the "cook once" make 3 meals concept put into action.
Cut the chicken in sections to make it easier to cube and cut into smaller, more manageable pieces.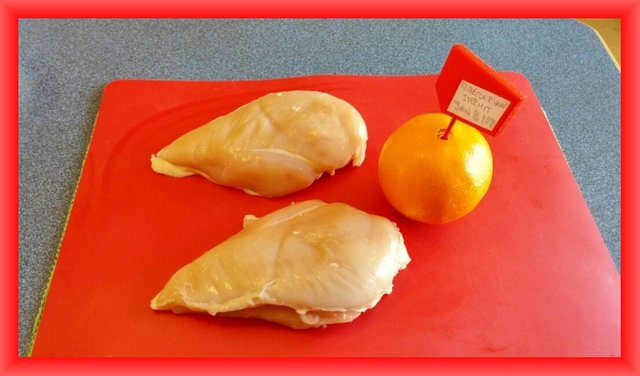 This is the size the chicken pieces should be: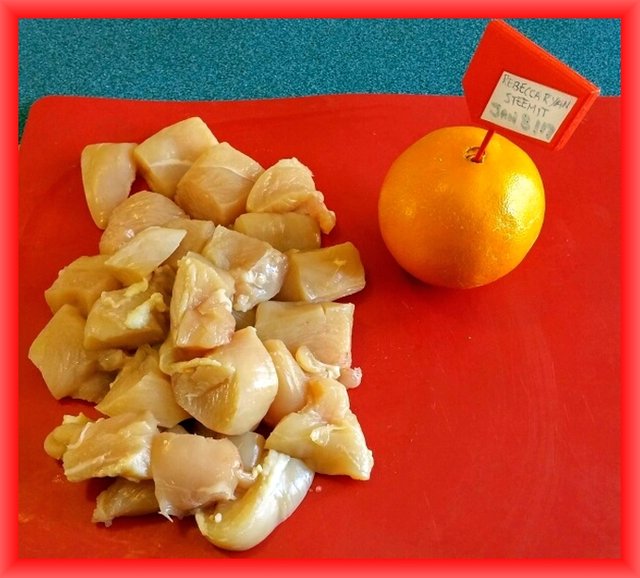 Grind 1 cup of almonds in a food processor.
This is the level of almond flour or crumble that you want to achieve: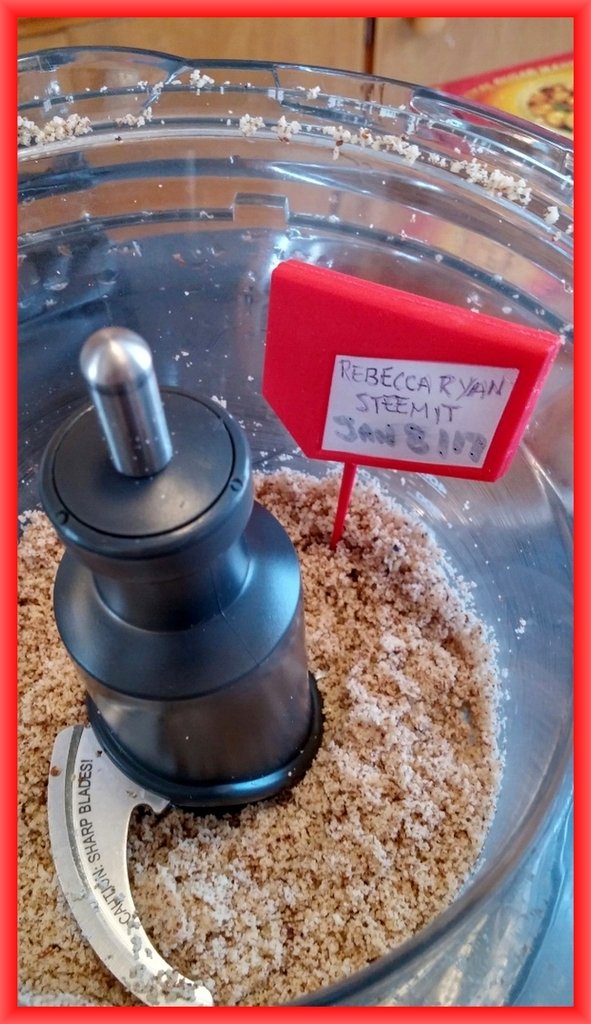 Transfer the almond flour/crumble to a medium size bowl.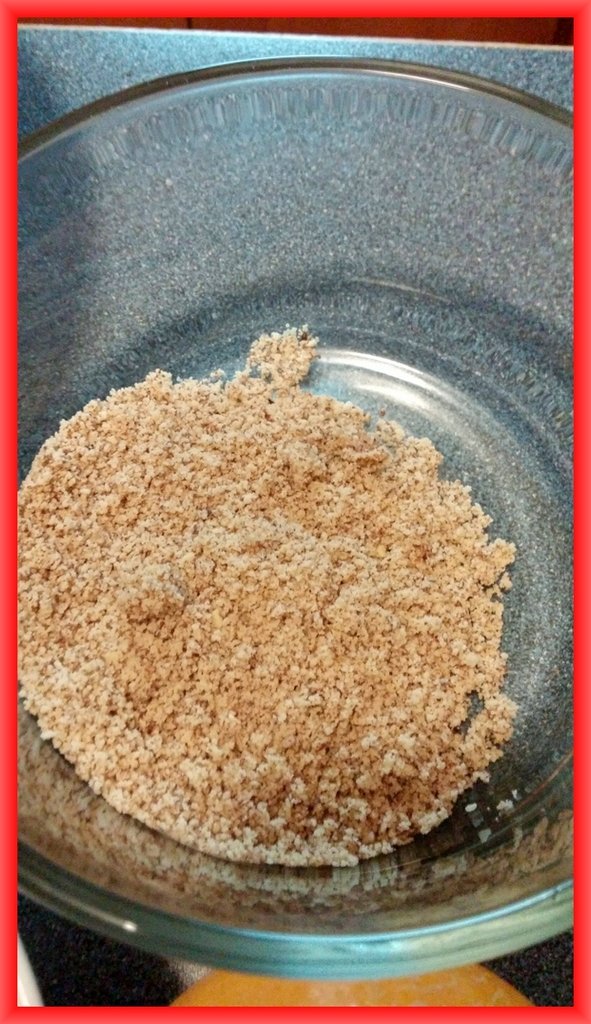 Crack 2 eggs in a large size bowl and beat together for a minute.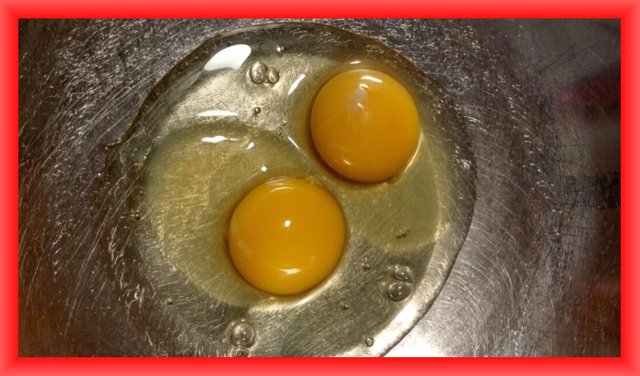 Submerse the chicken pieces in the beaten egg mixture.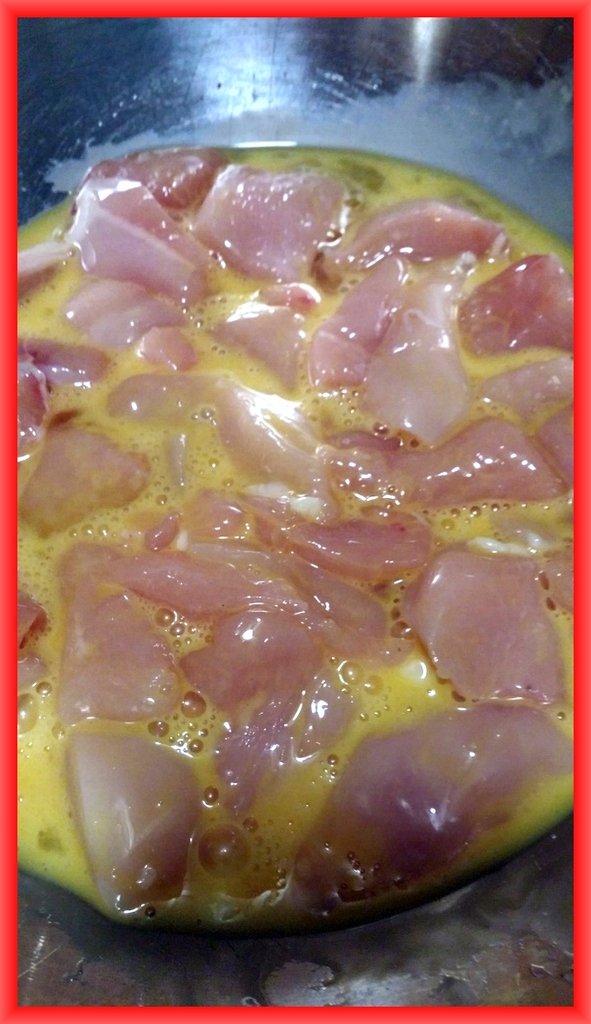 Dredge the egg soaked chicken pieces through the ground almond flour and make sure each piece is well coated. Set aside in another large bowl, until you have coated all the chicken pieces with the ground almond flour.
Heat a frying pan on medium-high heat on the stove top and melt 6 tbsp of coconut oil in it.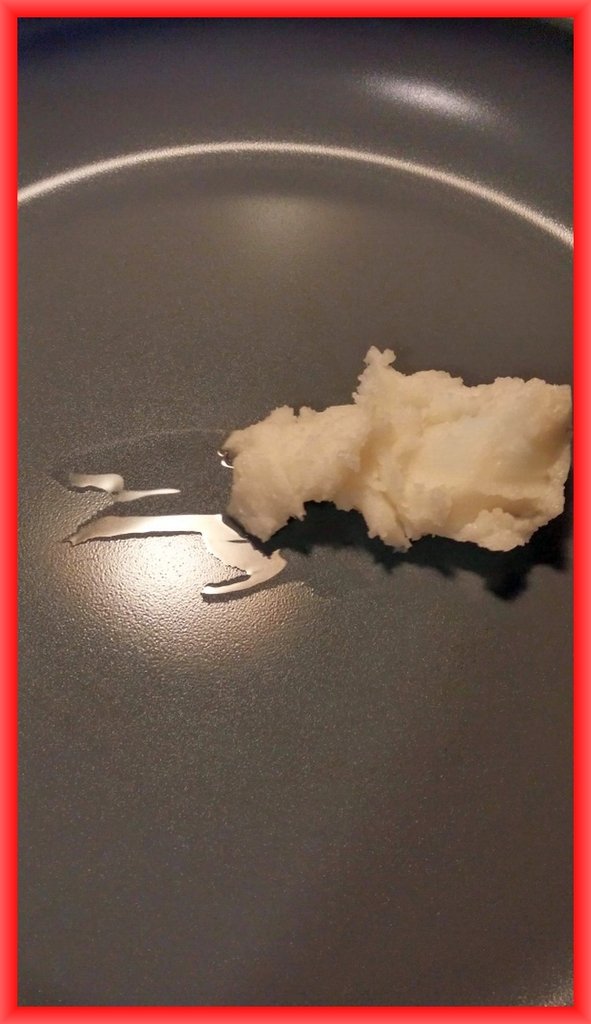 Be careful, the coconut oil will get hot and it can splatter.
When the oil becomes hot, add the chicken pieces and cook for 8 minutes.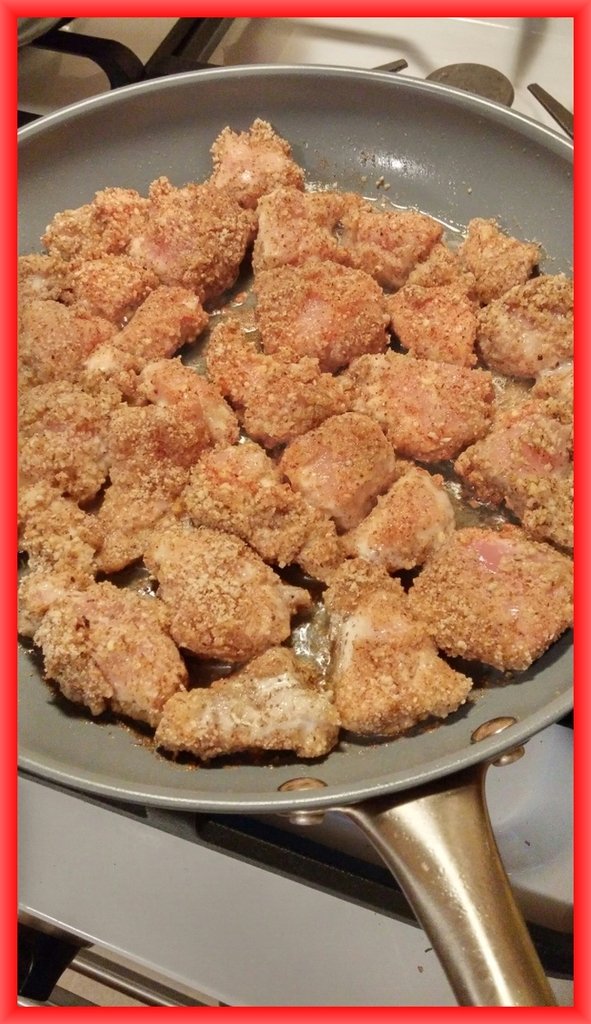 After 8 minutes, use the tongs to turn the chicken pieces over and cook for an additional 8 minutes on the other side. When the chicken is cooked through it will be white and any juices will be clear when the chicken is cut. The cooking process can take between 16 and 20 minutes in total cooking time.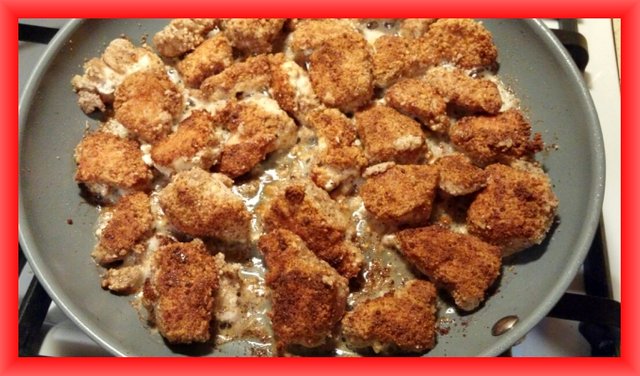 Once the chicken is cooked, transfer it to a large size bowl that you have lined with paper towel. Placing the fried chicken nuggets on top of the paper towel will let the pieces of chicken drain any residual coconut oil away from itself. The paper will wick up any extra oil.
Here's another look at the Crunchy Fried Chicken Nuggets: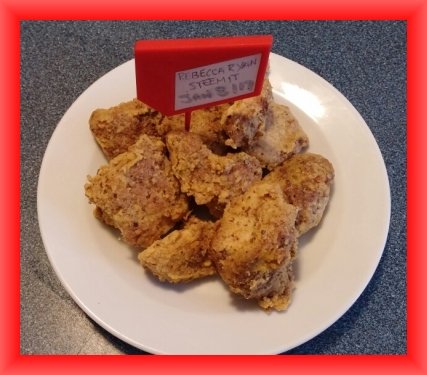 These chicken morsels are a great accompaniment to a charcuterie board or served as a tapas appetizer.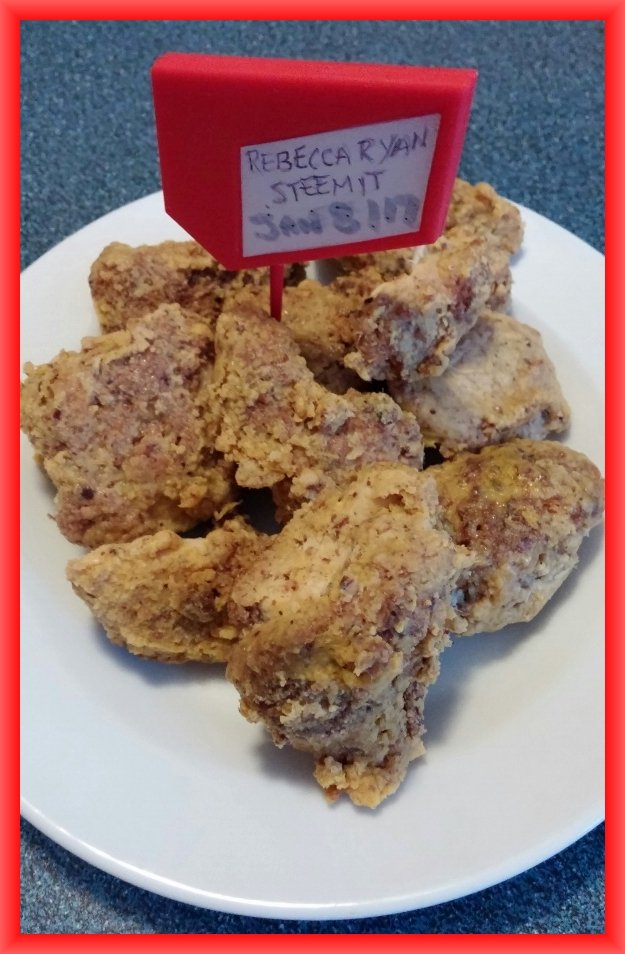 They are fantastic dipped in a selection of sauces. They can be served on top of grilled mixed vegetables and they can be frozen and reheated. They are exceptionally versatile.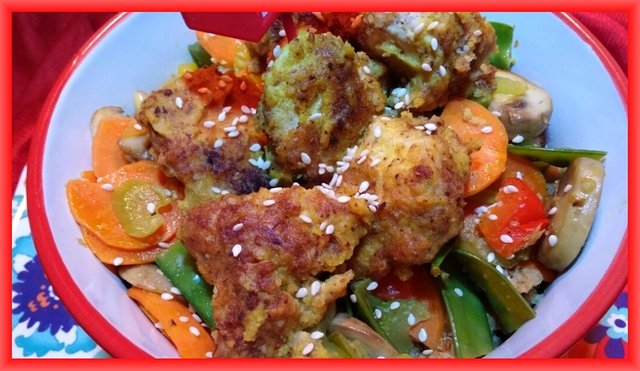 They're another staple that's exceptionally convenient to keep on hand and they make eating healthfully, easy and fast.
I welcome your comments and invite you to follow me on my journey.
~ Rebecca Ryan