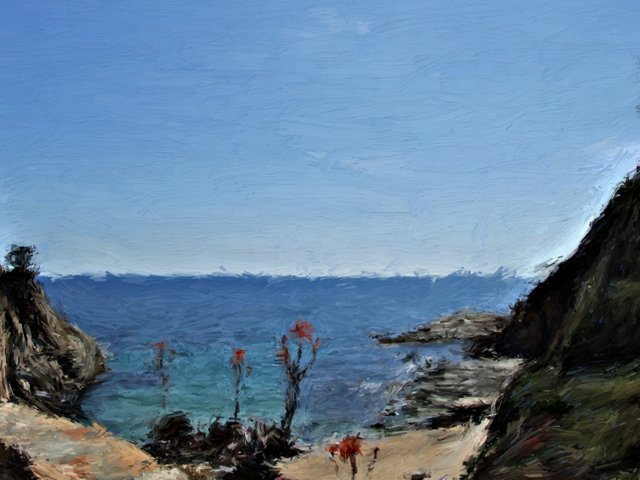 Hello Steemians!
Those who know me know that I'm a writer in my soul and that I'm in a process of writing a novel for a quite long time. It can be fun, but as I was writing stories for a while I realized that writing a novel requires much more effort as managing plot and evading holes in it can be exhausting.
Lack of time made it even harder, and until I finish my exams I cannot continue to write... BUT! Someone said that art therapy can relieve stress quite effectively so I jumped into it. Because I have "two left hands" when it comes to precision I decided to browse through various software and brushes.
What I tried to paint (don't hate me if it doesn't look impressive) was an isolated beach hidden away from the eyes of men, women and children. Naked beauty of nature which was only mine to look at.
If you like it write down a comment below (it doesn't cost you much), and if you didn't, write me a comment so I know what isn't good.
Have a nice day, and good luck fellow Steemians!
Поздрав Стимери!
Они који ме знају знају да сам писац у души и да пишем роман доста дуго. То може бити забавно, али већину времена сам писао приче, схватио сам да писање романа захтева много више напора при разрађивању фабуле и избегавању контрадикторности у причи, што може бити јако исцрпљујуће.
Недостатак времена ми је отежао писање, а док не завршим испите не могу наставити писати (Лука хтео си ФТН, ево ти га сад) ... АЛИ! Једна добра душа ми је рекла да терапија уметношћу може ефикасно да ублажи стрес па сам одлучио да се опробам ту. Пошто имам "две леве руке" када је у питању прецизност одлучио сам да прегледам разне софтвере и четкице за сликање.
Оно што сам покушао да насликам (немојте ме мрзети ако не изгледа импресивно) била је изолована плажа скривена од очију мушкараца, жена и деце. Гола лепота природе која је била само моја на поглед.
Ако вам се свидело напишите ми коментар доле (не кошта вас много), а ако није исто ми напишите коментар како бих знао како да исправим шта не ваља.

---
Sponsored ( Powered by dclick )