Good morning to all dear Steemians friends!
Today I present an aquarelle painted by inspiration that gave me an ancient, uninhabited door.
I have always loved the abandoned and uninhabited places, I find they have a particular and captivating charm, they are places where you can still find ancient smells of dampness and mold, meet the smells of wood and soil, dream and paint a dream.
I hope you like it, at the next publication.
---
Bricks of clay and chestnut wood separate reality and fantasy,
the dream can still wait,
closed in a dark hallway, it will open with enchantment to life.
My text.
---
---
---
Buongiorno a tutti cari amici Steemians!
Oggi presento un acquarello dipinto da una ispirazione che mi ha dato un portone antico, disabitato.
Ho sempre amato i posti abbandonati e disabitati, trovo che hanno un fascino particolare e accattivante, sono luoghi dove trovi ancora odori antichi di umidità e muffe, incontri gli odori del legno e del terreno, sogni e dipingi un sogno.
Spero che vi piaccia, alla prossima pubblicazione.
---
Mattoni di argilla e legno di castagno separano realtà e fantasia,
il sogno può ancora aspettare,
chiuso in un androne buio, si aprirà d'incanto alla vita.
Testo mio.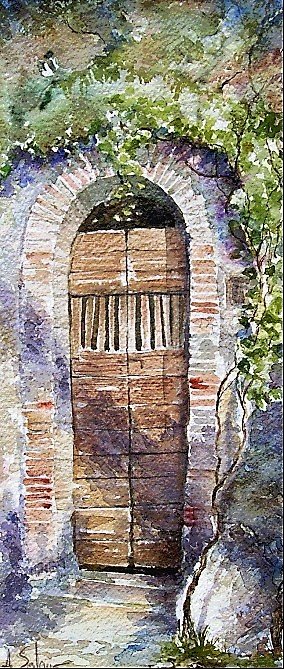 Title: the gate of the elves
technique: watercolor on paper
size: 18x48cm.
year:2006
private collection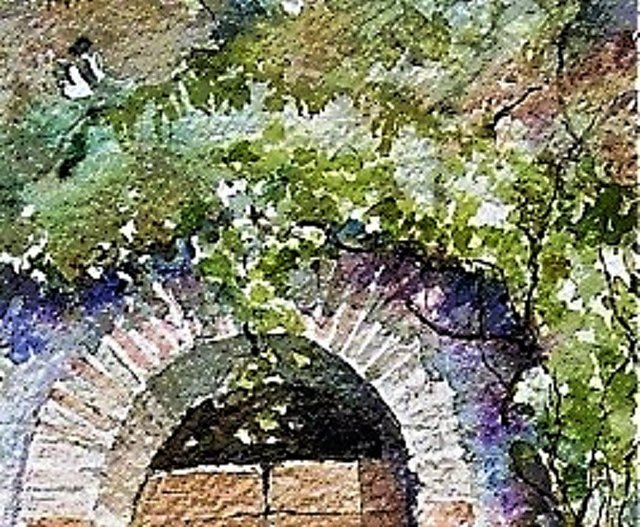 detail