Goodmorning everyone! Today I present a watercolor painting in front of some old houses, whose plaster of the walls is detaching from the humidity of the place.
As you can see the original painting of yellow ocher and Sienna has been ruined with time and abandonment.
At the top of the roof of the third house you can see the support beams that emerge from the construction line, because the inside of it has broken through.
The shadows of the buildings are mixed with the humidity that rises from the ground below.
I painted a palm tree to highlight the luxuriant nature that prevails with its lights on the crumbling work of man.
I hope you enjoy your paintings.
---
---
---
Buongiorno a tutti! Oggi presento un acquarello dipinto davanti a delle vecchie case, il cui intonaco delle pareti si sta staccando per l'umidità del luogo.
Come potete vedere la pittura originale di colori giallo ocra e terra di Siena è andata rovinandosi con il tempo e l'abbandono.
In alto sul tetto della terza casa potete notare le travi di sostegno che fuoriescono dalla linea di costruzione, perchè l'interno di essa è sfondato.
Le ombre degli edifici si mescolano all'umidità che sale dal terreno sottostante.
Ho dipinto una palma per evidenziare la natura rigogliosa che prevale con le sue luci sul lavoro fatiscente dell'uomo.
Spero che l'opera pittorica vi piaccia.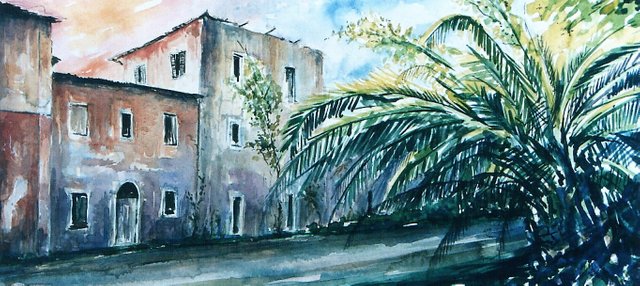 title: "shadows in an old village"
technique: watercolor on paper
size: 60x35 cm.
year: 2018
private collection-Rome

detail-1

detail-2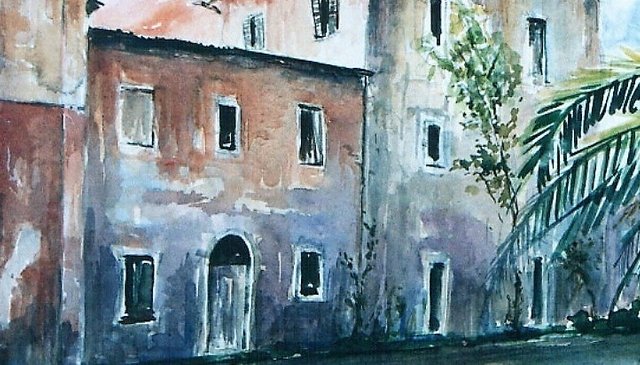 detail-3