There is currently a big fire in a paper recycling plant in Oslo The fire started around 09:30. As of 14:30, the fire brigades reported "they were starting to get the fire under control". There is considerably less smoke coming from the facility now.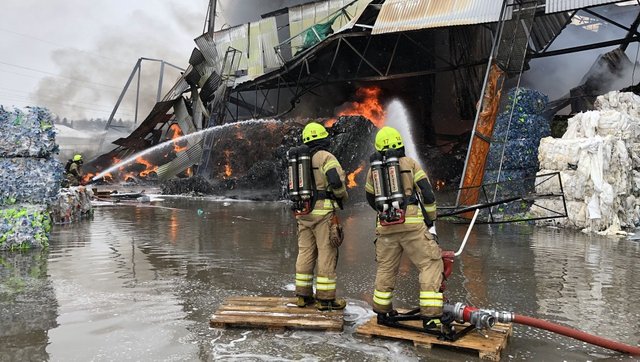 Fires can be really devastating - historically in places where wood is dominating as building material, every now and then big residental areas are burnt down to the ground, with lots of fatalities and lots of people losing their homes. Luckily fire safety is much better nowadays than earlier, so such fires are rare. The fire today is taking place in an industrial plant, nobody seriously injured, nobody have lost their homes - but it's a big fire, quite many people are affected due to the potentially poisonous smoke, and even the mass transit is affected as quite some bus lines are cancelled, and quite some buses are trapped.
Source and videos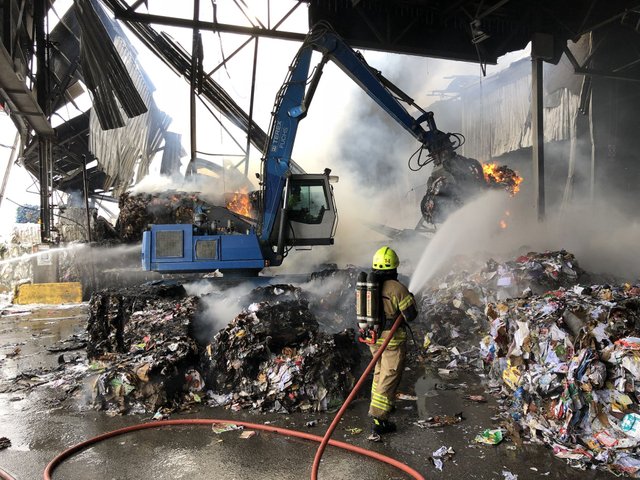 VG (Norwegian): https://www.vg.no/nyheter/innenriks/i/A2Q9nn/setter-gravemaskiner-inn-mot-brannen-i-gjenvinningsanlegg
NRK: https://www.nrk.no/ostlandssendingen/storbrann-i-papirlager-_-deler-av-bygget-har-kollapset-1.13950876 (Norwegian)
Object burning
Norsk Gjenvinning, Haraldrudveien 35 - east part of Oslo, Alna/Økern/Ulven area (a quite industrialized area).
How ironic, the google search for it says ... "closing soon", as they are usually open to 16.
I'm not sure if this is a paper recycling plant, or if they are just collecting and compressing paper waste.
There is quite a lot of energy in those compressed paper balls...
Causalities and consequences
Except the material damages of the plant itself, this seems to be a very minor disaster. Apparently 0 fatalities, 0 persons missing, 0 persons seriously injured, 2 persons sent to the hospital after inhaling smoke but they have now been dismissed and sent home.
People living in a 500 metre radius is being evacuated, and anyone noticing smoke is told to stay indoors or move away from the smoke, as it can be poisonous. Some roads are also being closed, some local shops and businesses have had to close for the day.
The fire is causing some minor problems with pollution - not only the air, people are reporting that it's raining black papers on some of the islands in the Oslo fjord.
The fire is actually situated not so far from my place of living, and I'm working from home today - but I'm upwind and my view is in another direction, so I didn't notice anything earlier. My colleagues working from the office has a better view, "impressive amounts of black smoke, considering that it's only paper that is burning".
My daughter was kept indoors all day in the kinder garden due to the smoke.
Perhaps there will be problems with the domestic paper collection in the future? Luckily our paper garbage bin was emptied today. Despite the intensity of the fire and the building partly collapsing, the company states that only some 10% of the facilities are affected by the fire and that they can probably restart production already in some few days.
Fire fighting
Fire fighting has been challenging, due to low availability on water, fire in densely packed balls of compressed paper and structural problems with the building preventing firefighters to go in.
The water pressure has been increased in the area in order to get higher throughput for the fire brigades. Fire brigades from the neighboring municipalities are aiding to put out the fire.
Excavators are also being used to remove paper balls and make it easier to direct the water to the fire.
43 fire fighters and 18 fire trucks were working on the site.
My wife observed the fire at 09:30 while driving, the fire was already quite big then - but the fire service was only informed 09:40. Around 14:30 they were starting to get the fire under control and there were less smoke coming from the fire. It is believed to take many hours until they have fully put out the fire, perhaps not until tomorrow morning.
this post has been repeatedly edited, and may still be edited with updates