25th, birthday of George Orwell ?
Eric Arthur Blair
ABOUT GEORGE ORWELL
"My starting point is always a feeling of partisanship, a sense of injustice. When I sit down to write a book, I do not say to myself, 'I am going to produce a work of art'. I write it because there is some lie that I want to expose, some fact to which I want to draw attention, and my initial concern is to get a hearing. But I could not do the work of writing a book, or even a long magazine article, if it were not also an aesthetic experience."
---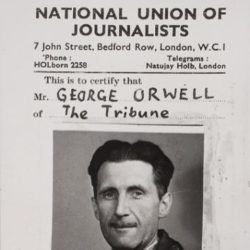 One of the people i used to keep on my wall next to uncle A , Galileo, Paracelsus and ... Pablo Escobar (m hm, that often lead to misunderstanding but the man is there for sheer achievement, building an empire straight from the gutter ... i have more weird notions ... and who is to say columbia would have been off worse or better if it didn't escalate into los pepes ... the flow of coke sure as hell didn't budge an inch after they got him ...
---
weird notions ...
If i had to fight only myself and not ward off the place while battling with Jane's underground all at once ... then maybe id be stable for a day or two hahah, snookkums!
I don't know what's up lately , its like some elder conditioning is trying to have its way and i suffer from severe fight over flight reactions ... sometimes maybe even substitute a fight FOR a flight or HAVE a fight for a flight ...
It just keeps PUSHING ....
<- damaged goods
Happy Birthday, Eric, i'm sure you turned to dust from all the tossing and turning in your grave seeing the world actually BECAME your dark vision ...