New acoustic track by me called Running!
Around 15 years ago, my very talented, musical uncle asked me to come by. When I got to his house he said, "Here I got you this." It was a new acoustic guitar... I looked at him, super confused and said "But... I don't know how to play guitar..." And he just looked right back at me and said "Well now you can learn!" That was the moment in my life when I knew that it was time to learn. He wouldn't have gotten me that guitar if he didn't see the music in my soul and have faith that I could do it.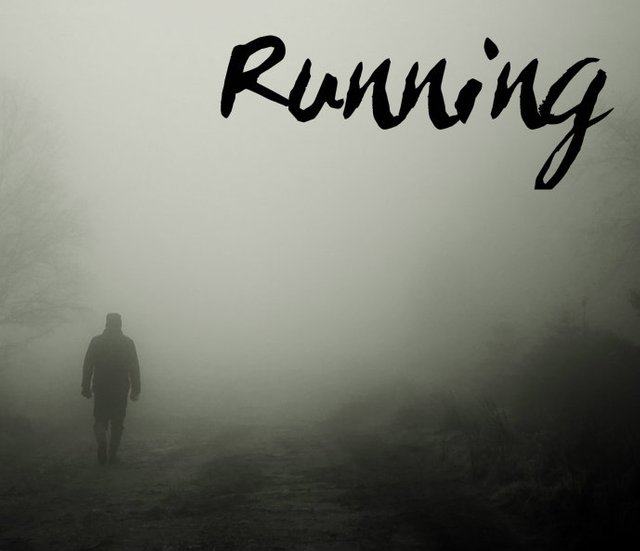 I grew up with my father playing and singing both by himself and with friends. Usually around a poker table and with a few drinks. They did mostly covers but really enjoyed doing it just a hobby. I remember singing along to all of the songs that my father played and not really realizing what it takes to be musical. Although hard work and self esteem are big things to believe in, there is much more to the story of music then just working hard and believing in yourself.
In fact I have found that most of my best stuff comes from the times when there is no more faith left in me... when hard work seems worthless and just a waste of my time. Faith takes you past your limits and tests the very fabric of your mind and heart. That's when the truth is shown, that's when you realize why the work you had been putting in was, in fact, worthless. Or at least why it was up until now.
This track is a fairly new original song, by that I mean within the past few years. Because you see, being a singer in a rock/metal band for quite a few years, I have channeled most of my time to work with that music. After my father passed from cancer almost a year ago, I set my guitar down for good. Not like I picked it up much in the years before that anyway, but it was just too painful to do after. But I realize, as most musicians probably do as well, that although it's painful and dark to you, there is beauty in it. And those types of things seem to be the fertilizer that helps the creativity flow.
I was determined not to let my guitar sit and waste away for the rest of my life. I know so many who wish they could play and so many trying to learn. Why should I abandon it just because of an every day thing like pain? Pain that could be the fuel of my soul. So I have been "forcing" myself to pick my guitar up at least 5 times a week again. This is one of the songs that I have been playing everyday I pick my guitar up. I also decided that it was time to record it.
So I contacted my good friend @jakeimnotshure and asked if he would record and master it for me. A simple song, just me and my guitar. And here you have the results! This song was a realization to me in so many ways. I wrote it when I realized that hard work and faith doesn't always mean that it's going to work out. You can work as hard as you want, but if the other people involved won't work hard or believe too, you are destined to fail. But instead of chasing them around, trying to get them to have faith and help so that you lives don't just fall apart, just let them run away. Let them go. That pain and grief can and will grow something better. You can't make anyone do anything they don't truly want to do.
Photo is from pixabay.com and edited by me.

I feel the wind, burning my face
As you walk away again
I'm left to clean my wounds and this mess
Tormenting all that I gave, wrecking my life just to save
Cuz you can't be with me
If you always running
I'm in the wind, and I'm left to stand
Alone in this cold, dark life
With nothing but emptiness
That's left in my hands
It's burnt in my mind
And echoing in my heart
That this is the end and not a start
Cuz you can't be with me
If you always running
I'm left in your wind
I'm drowning my sorrows
I'm trapped by your ego again
No you can't be with me
If you're always running
---

Spotify
https://open.spotify.com/track/3nEvB6UkuJTdB31qCsZzAu
Itunes:
https://itunes.apple.com/…/album/my-wings-single/1406513977…
Google Play:
https://play.google.com/…/alb…/Sacrifice_the_Truth_My_Wings…
Tidal:
http://www.tidal.com/album/91349007
Deezer:
https://www.deezer.com/album/67359602
Amazon:
https://www.amazon.com/gp/product/B07F6WNVL2
Thanks for looking and hope to see you again soon!
Ask me how to join the Steemit Local Music Society on Discord!
Banners made by @bembelmaniac





Check out other artists from Circle of Death and keep up to date on the Website and Facebook:
https://www.facebook.com/circleofdeathrecords
https://circleofdeathrecords.com/
Rachell's new single "Restless Minds" @thomasrobertgent and @kirvic-aguilera
https://www.amazon.com/gp/product/B07F9RXFPK
Davood Faramarizi's single "Circle" @davidfar
https://itunes.apple.com/us/album/circle-single/1369681110?app=itunes&ign-mpt=uo%3D4
https://play.google.com/store/music/album/Davood_Faramarzi_Circle?id=Bj544727dakeochsonzlby2juga
Tom Gent's EP "Tactical Response Unit" @thomasrobertgent
https://itunes.apple.com/us/album/tactical-response-group-ep/1368911250?app=itunes&ign-mpt=uo%3D4
https://play.google.com/store/music/album/Tom_Gent_Tactical_Response_Group?id=B2mrhyykn5eelwbr2w4jlcvrcqy
Morktra's Full length album "In The Earth I Will Be Free" @lk666
https://itunes.apple.com/us/album/in-the-earth-i-will-be-free/1375058606
https://www.amazon.com/gp/product/B07CJXZC6J