Bringing Granny's sauna home.
So one of Granny's friends gave her this old trailer/ice shack and one of the neighbors (Mika) at the campground offered to turn it into a sauna for her campsite. Mika was waiting for Jay to help him move it when he got home from work but really...Jay has no time, we need to get our cabin done!! I offered to help him load it up and get it here since this is where he will be working on it, he seemed a bit hesitant..maybe he doubts my ability? maybe he has no interest in turning it into a sauna anymore? who knows!!
Well anyway, I took it upon myself to go load it up and bring it home by myself, lol. I went in blind and not knowing what it looked like, or how heavy it was... the information I had about it was it's a small enclosed u-haul like trailer that was on skids. Ok, should be easy, right?!?!
Got the mower unloaded off the trailer.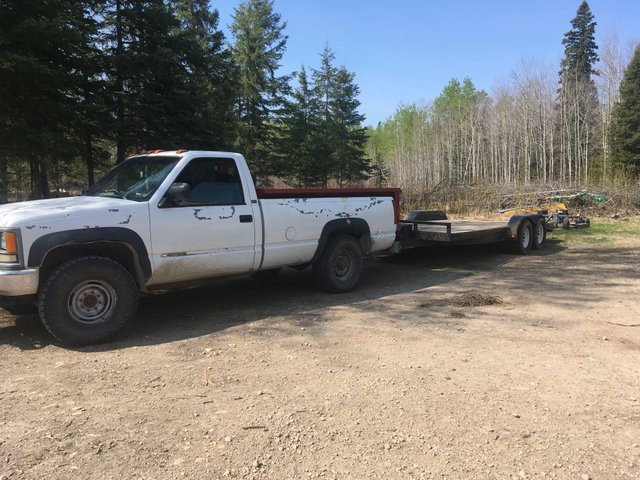 Loaded up everything I figured I'd need to get this thing loaded, cables, winch, battery for the winch, floor jack, snatchbloc, come-a-long, chains, d-ring and the trailer ramps.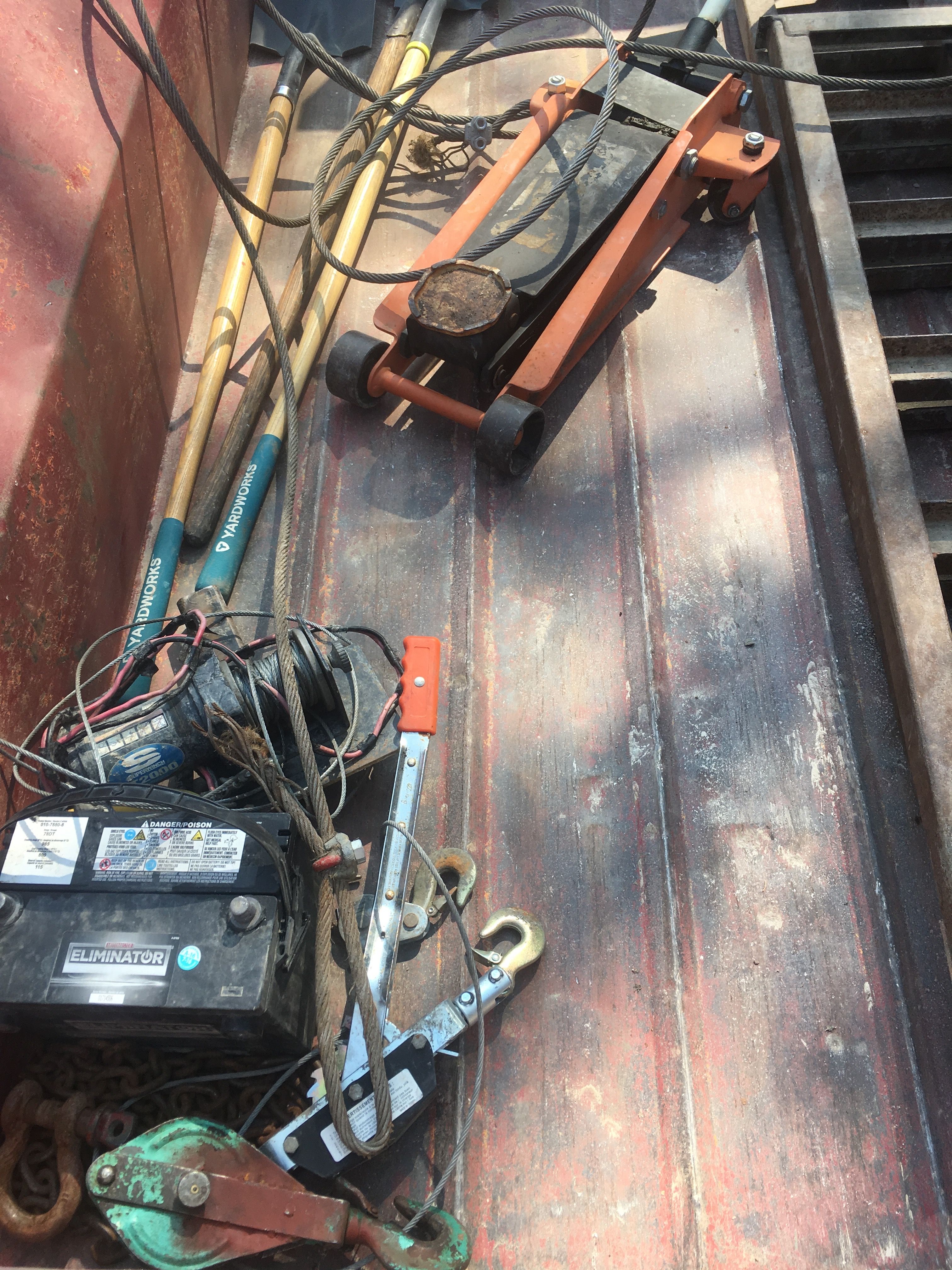 Well, there it was on SKIS and wider than my trailer!
The lady that gave granny the trailer was there and allowed me to use her quad to help load it.
First I wrapped the chain up around the front of my trailer to hook up the snatch block, hooked up the cable to sauna, ran it through the snatch block and to the quad; I gave that a pull but it only spun tires. So change of plans I put the winch in the hidden hitch at the front of the trailer.... nope that winch was too small to be pulling up that sauna (the big winch is out at the cabin).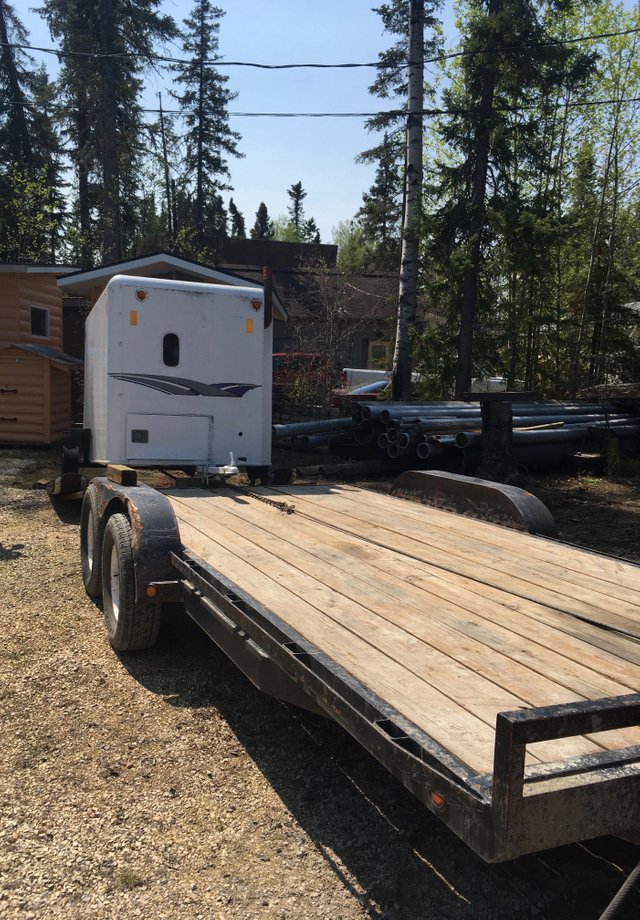 this pic was a while into loading
Since the winch wasn't going to work I asked her if I could use her truck, in the same manner as I was using her quad to try and load it, she was fine with that. So I chained up the snatch block back to the front of the trailer again and hooked up her truck. I knew it was going to come up a bit fucky as it was wider than my trailer so I just went little by little when it got to this point I wedged that chunk of wood in there and jacked up the ski so it was level and it would ride up easily on to the fender.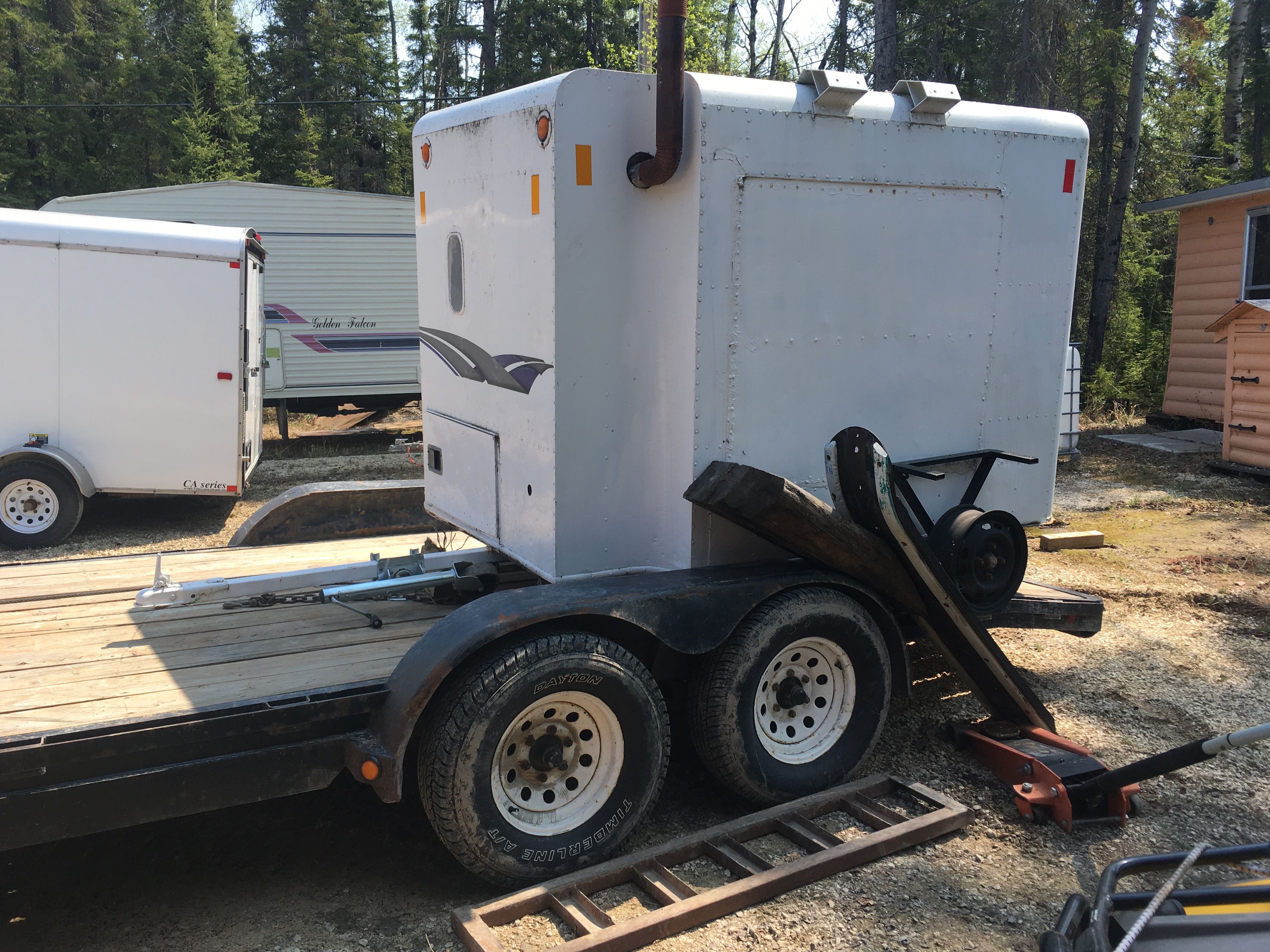 Made it up on to the trailer pretty good with some adjusting here and there. Chained it down with the load binders and I was on my way.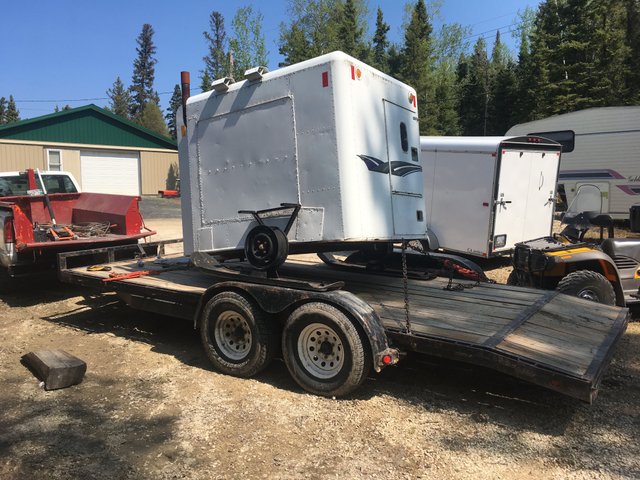 Well, that was a good loading job, on my way home now....looks like I have a mustache, a rusty mustache... a rustache, lol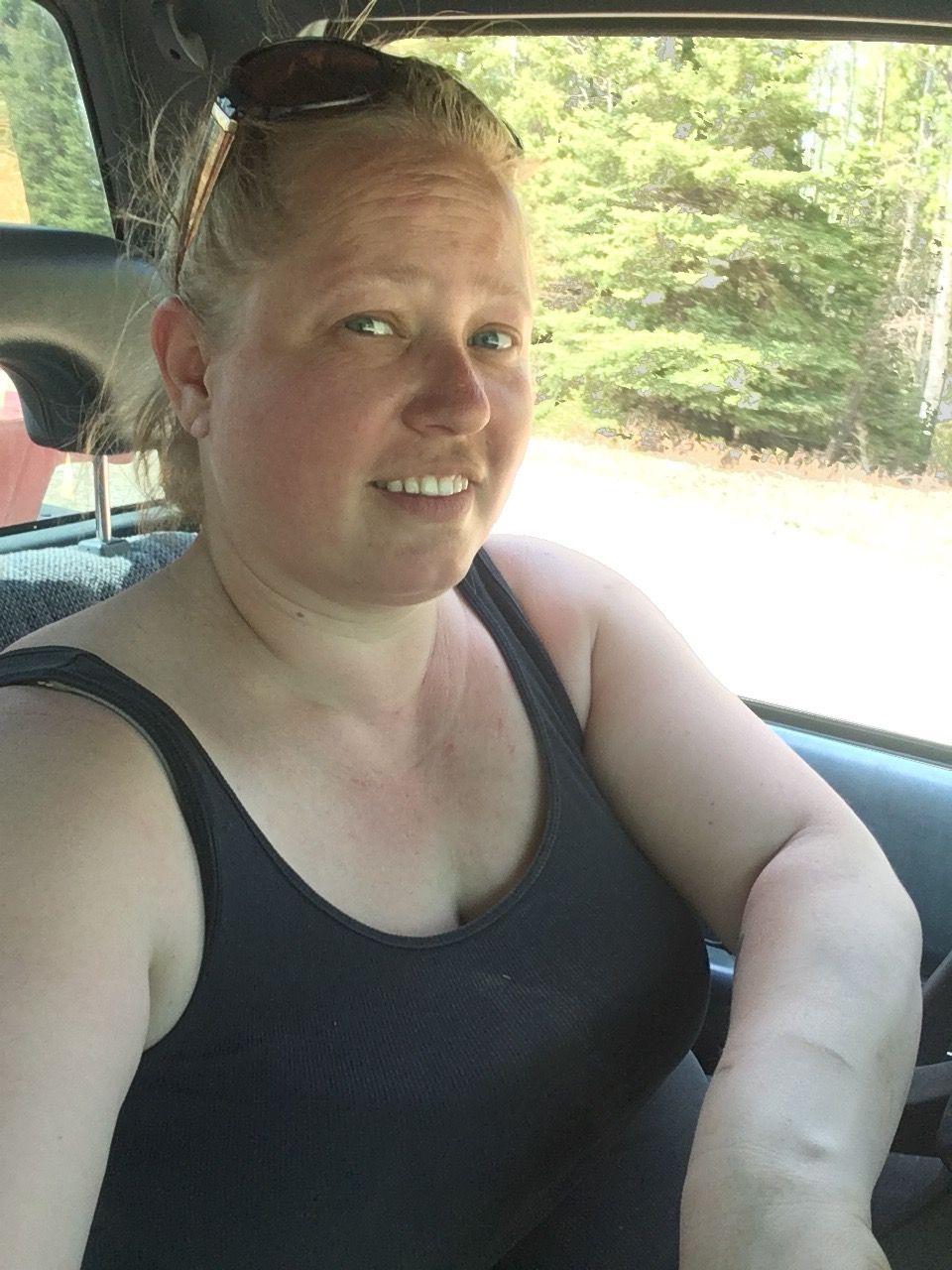 Got it home with no problems, now to get it off my trailer...I have an idea!
I got bolt hole measurements to go searching...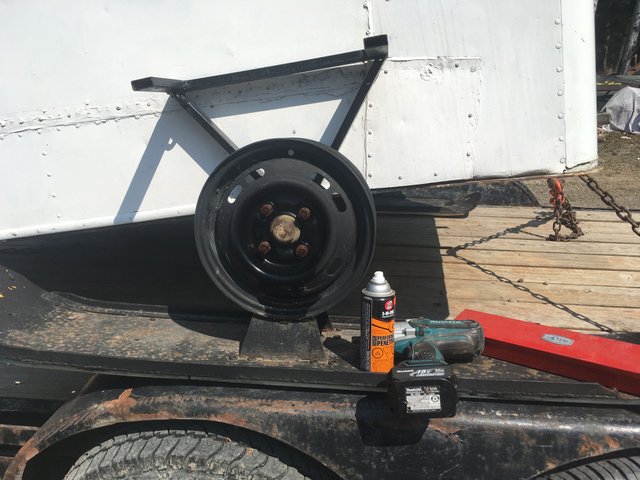 I went out back to our lil junk yard looking for some 4bolt rims/tires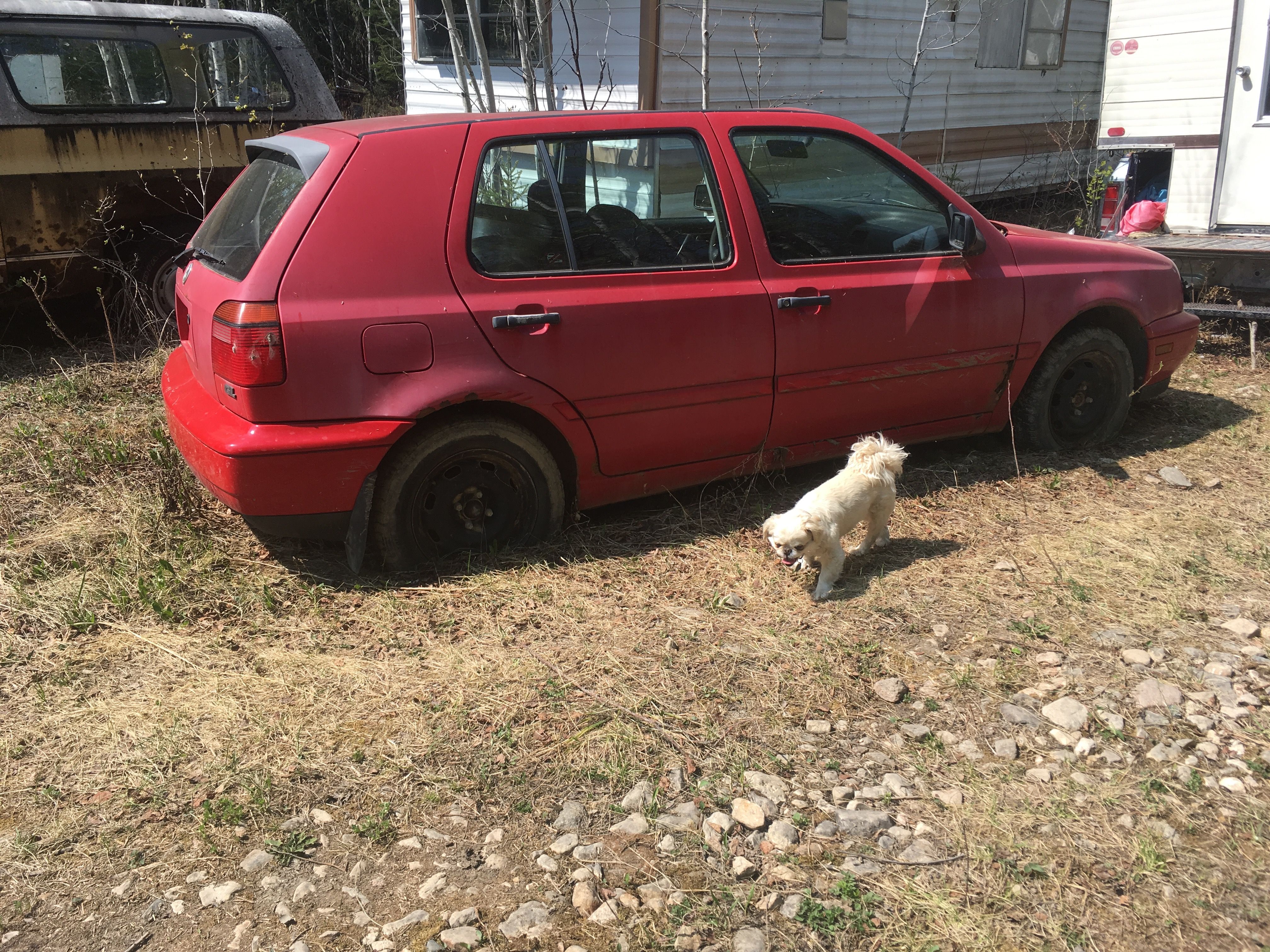 this bolt pattern was too small to fit
I may have found some, and there are two tires left, scores!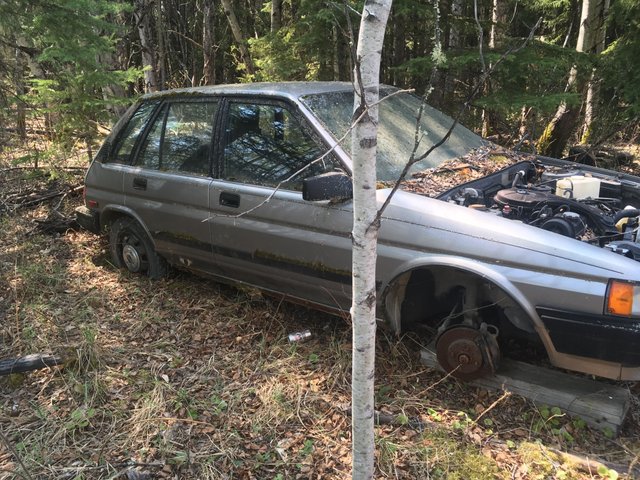 Grabbed all the tools I needed and took off the tires.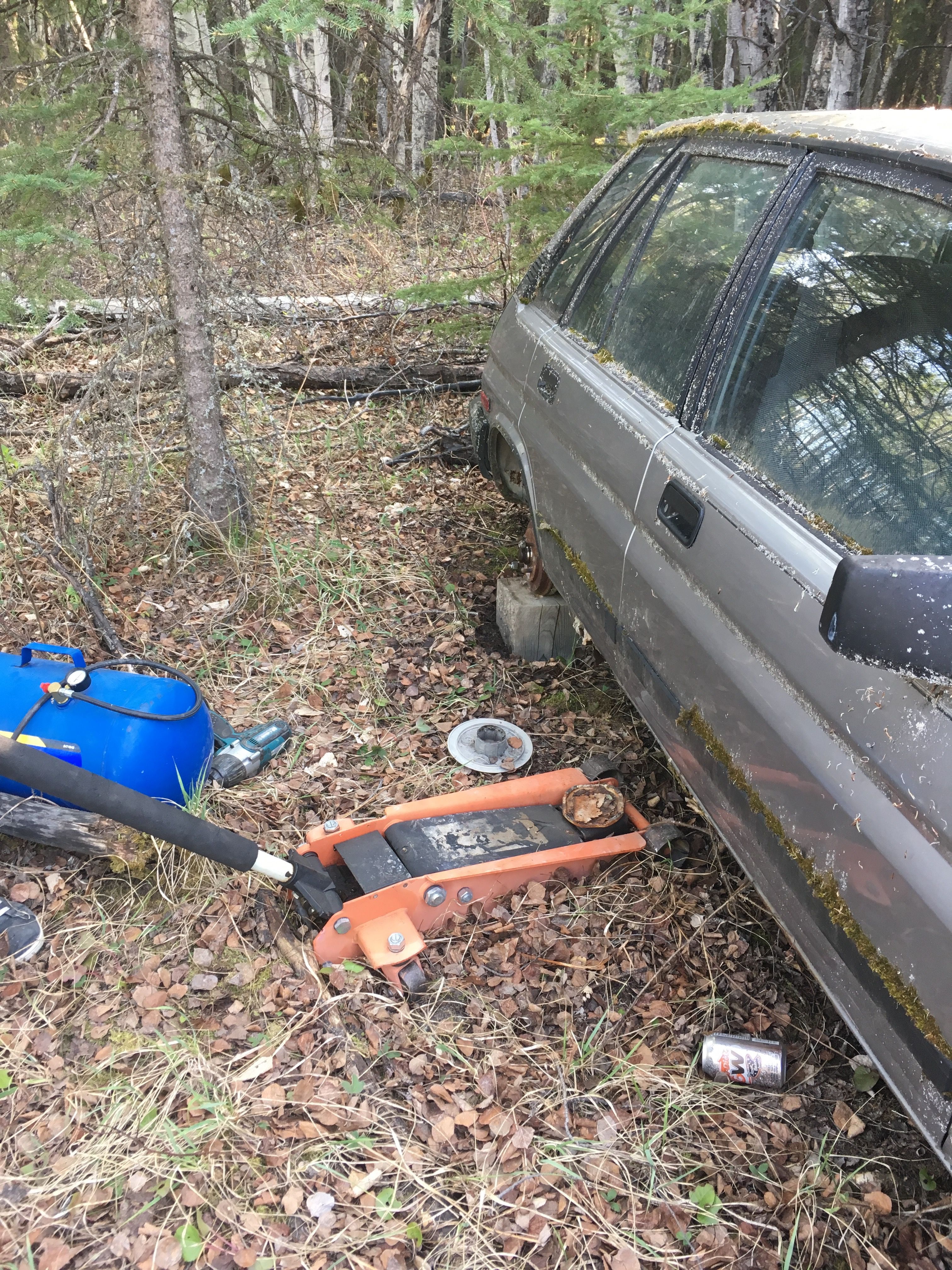 With tires on the sauna, I can get it sitting right on my trailer it will be easier to take off and move around later.

Apparently, I was a cunt hair off in my measurements, 😂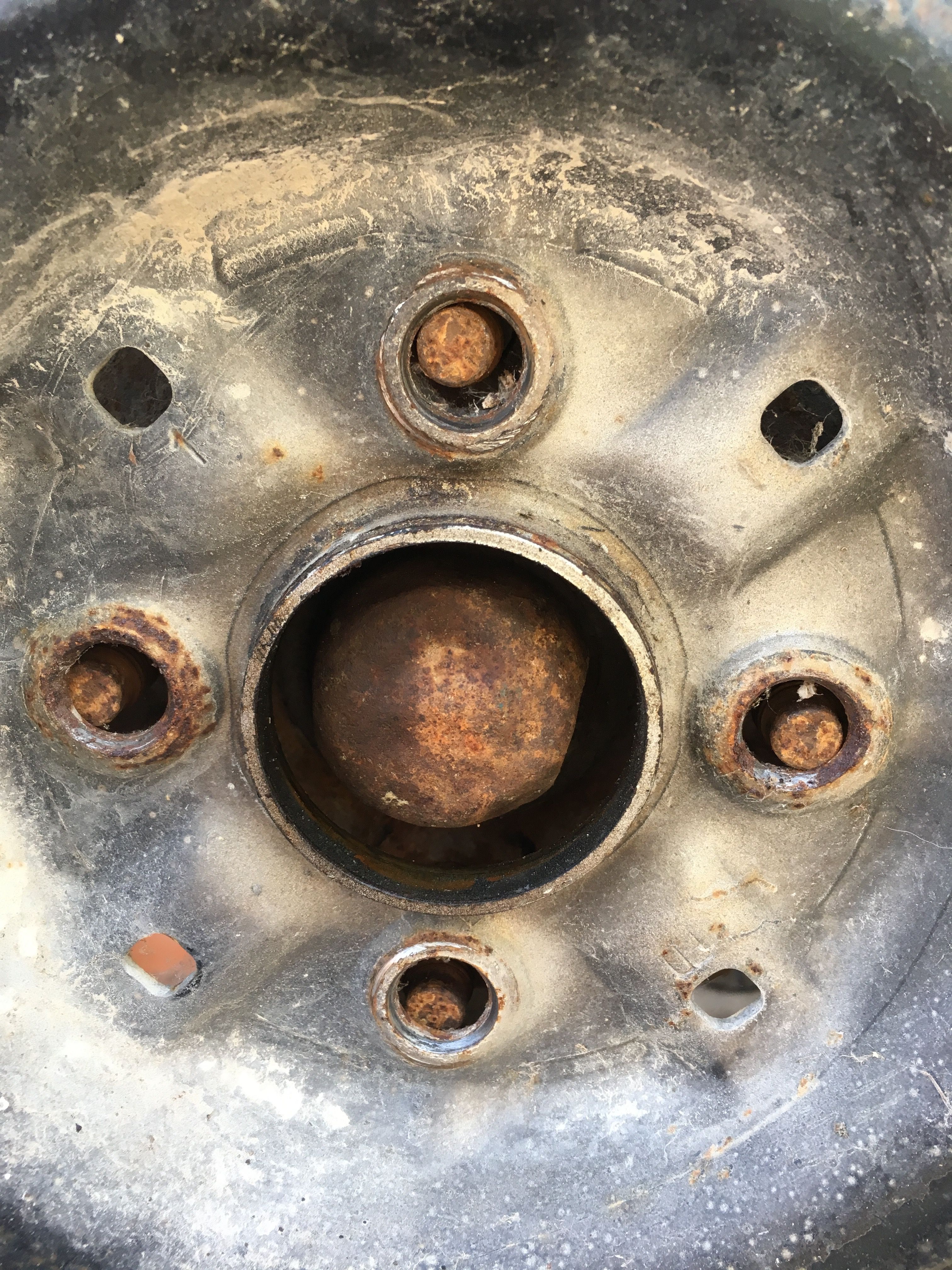 I took the rim/ski over to the scrap yard down the highway maybe he has two rims and tires that will work, still waiting to hear from him.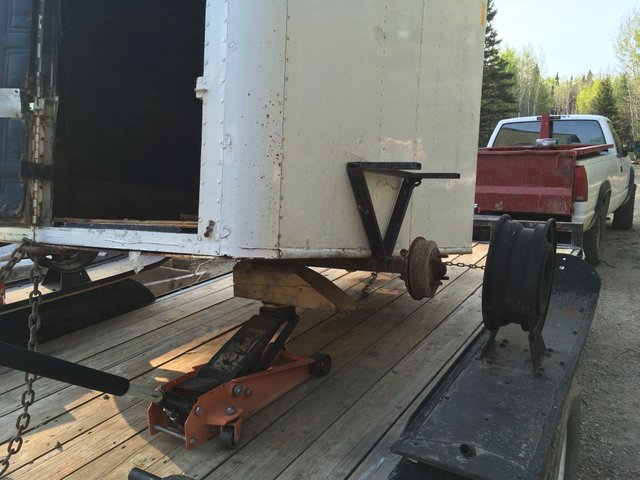 I have it blocked up now, without that jack
Some inside pics. The boxes are full of seasoned spruce cut in lengths to fit in that stove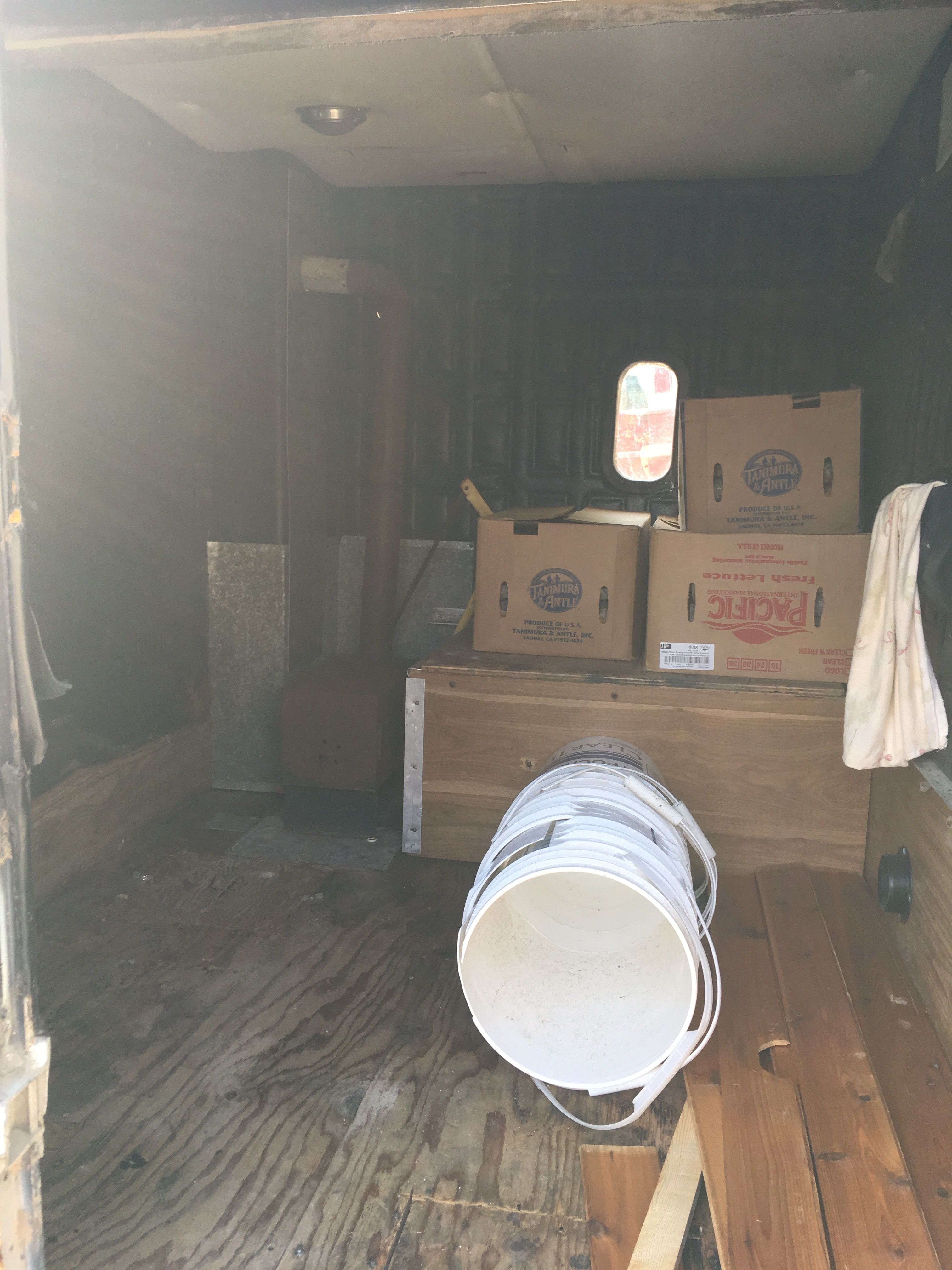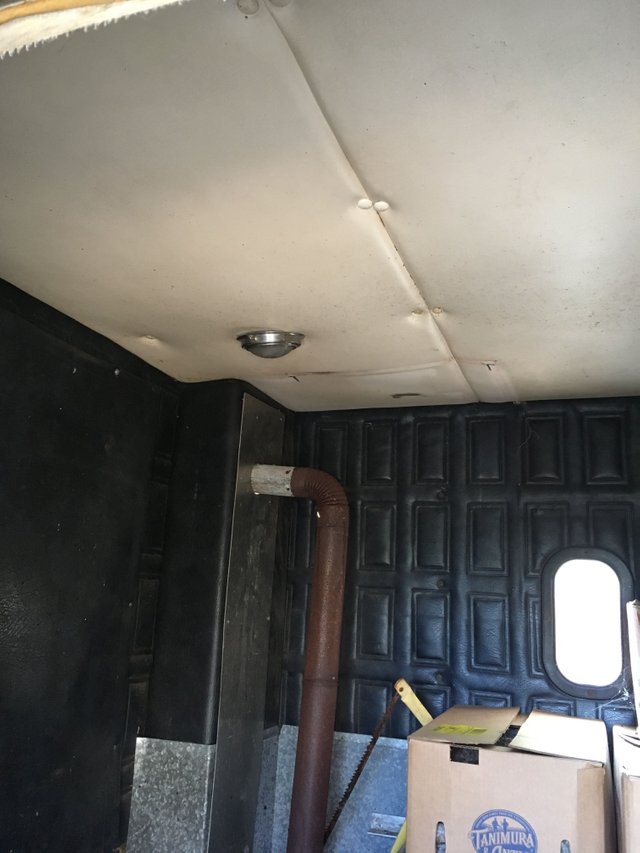 Of course, I had to unscrew some to have a look behind it, their plan is to gut it and put in tongue and groove cedar.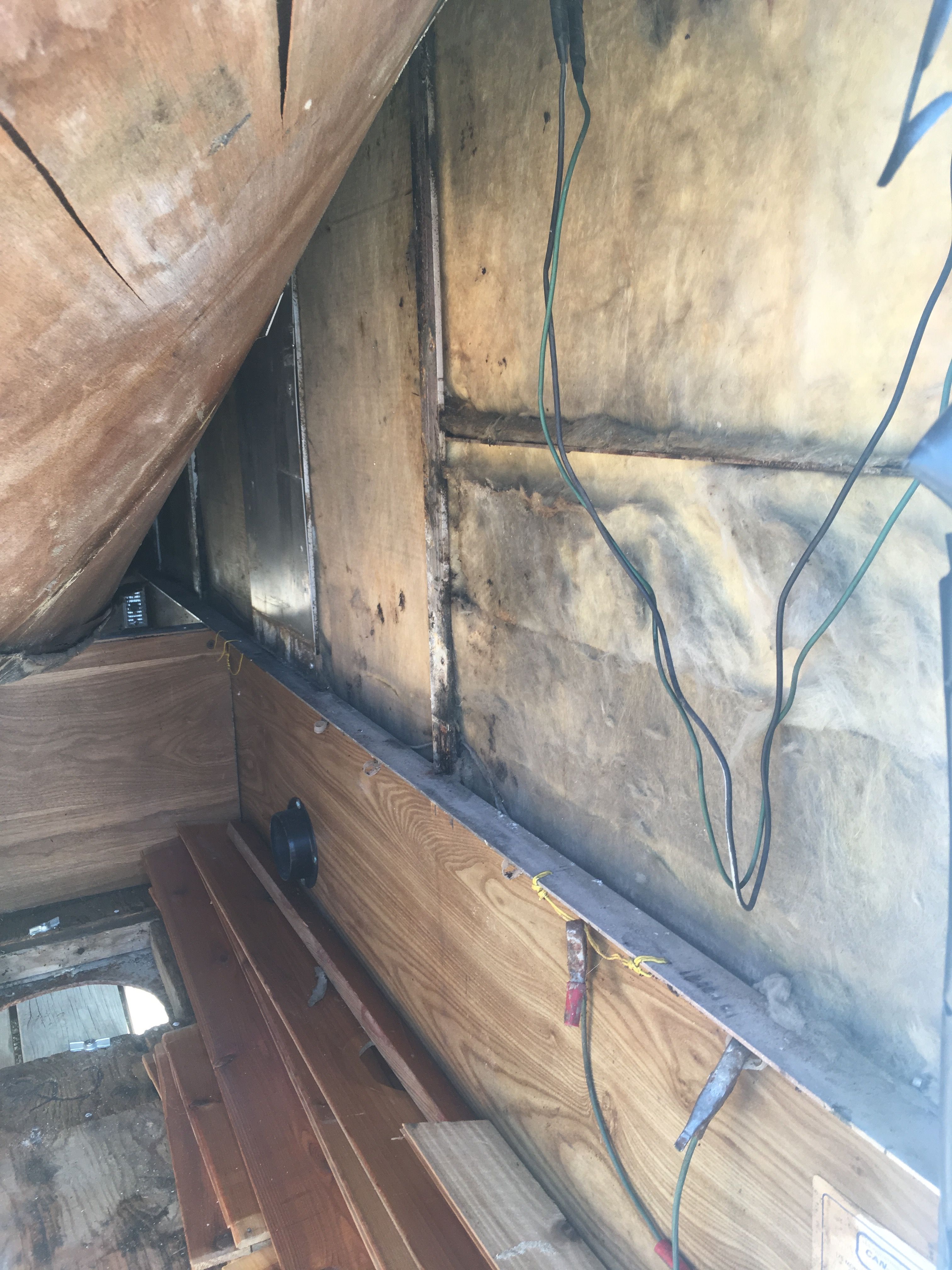 Well, until the guy from the scrap yard gets back to me I am going to get this house back in order again and get some cabin stuff packed and ready before Jay gets home tomorrow evening! 😃