@oracle-d, gathering and coffee together (bilingual)
Assalamualaikum warahmatullahi wabarakatuh, congratulations good night steemian wherever you are, hopefully everyone is in good health.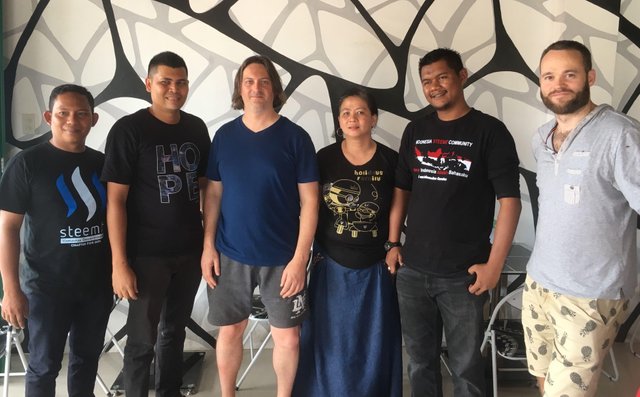 Today is the most historic day for me or in the world of steemit because I can meet directly with Matt Starkey or @starkerz and Dylan Leighton or @anarcotech from @ oracle-d.
The day before the party from @ oracle-d held the Sixth Economic National Seminar which took place in Cut Meutia Campus, Bukit Indah Hall, Lhokseumawe, Indonesia and I could not attend there because there were routines that had to be completed.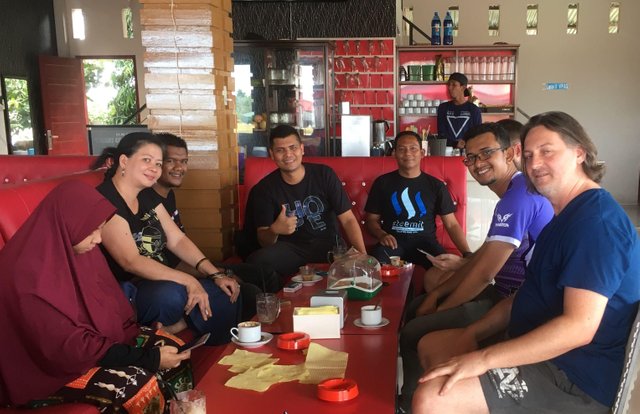 Morning around 8:00 am I was called by @rizasukma and he invited me along with @aiqabrago (Indonesian Curator) to have a coffee together or a gathering with Matt Starkey or @starkerz and Dylan Leighton or @anarcotech from @ oracle-d, a blockchain-based institution in London, England, and also present @ mariska.lubis, @akbarrafs, they arrived around 9.00 WIB.
The arrival of @ oracle-d representatives made me feel moved and could talk directly even though my English was lacking, but with @ mariska.lubis and @akbarrafs it made the atmosphere even more lively because they were the ones who could talk to @starkerz and @anarcotech.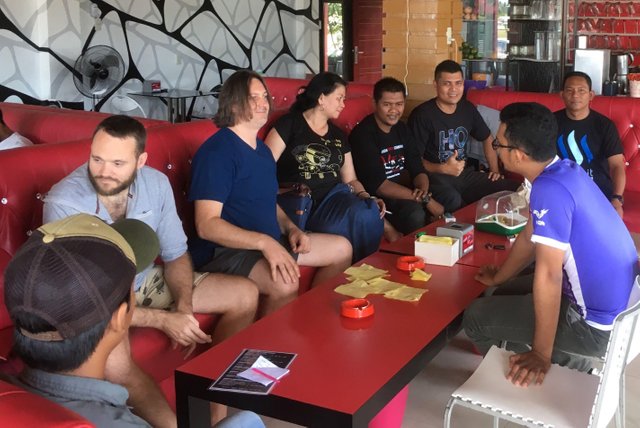 What I can learn from the discussion is about blockchain technology and its application in various fields, especially financial and business. "Blockchain technology has been implemented in internal banking transactions in Indonesia. In the future, blockchain will be a mainstay in various fields, with more effective and efficient results because of the advantages of blockchain, "
Maybe so far there are still many people who don't know how to use blokckchain, so let's let the steemians share things or understanding to the public so that all parties can understand the presence of blokckchain.
Life is full of challenges and don't give up before competing, extraordinary enthusiasm, be patient waiting for success, skilled in sharing, doing everything you can, praying in humility, giving thanks in simplicity all we have to live.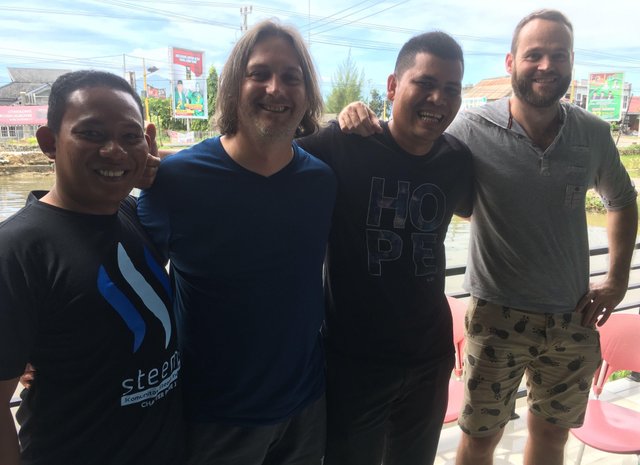 Pidie Jaya, 21 October 2018
@teukukhaidir
BAHASA INDONESIA
Assalamualaikum warahmatullahi wabarakatuh, selamat malam para steemian dimanapun kalian berada, semoga semua dalam keadaan sehat wal'afiat.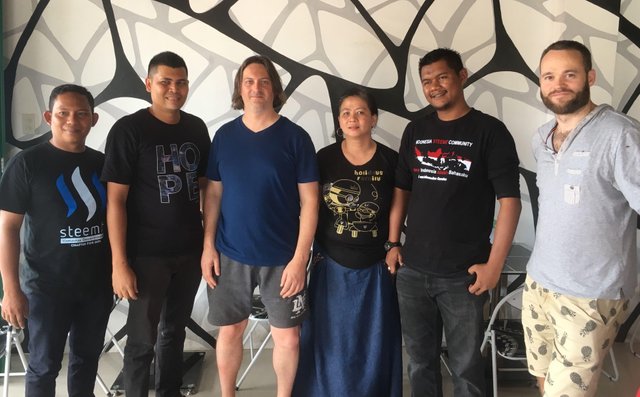 Hari ini merupakan hari yang paling bersejarah bagi saya atau di dunia steemit karena bisa berjumpa langsung bersama Matt Starkey atau @starkerz dan Dylan Leighton atau @anarcotech dari @oracle-d.
Sehari sebelumnya pihak dari @oracle-d mengadakan Seminar Nasional Ekonomi ke-VI yang berlangsung di Aula Cut Meutia Kampus Bukit Indah, Lhokseumawe, Indonesia dan saya tidak bisa hadir kesana karena ada rutinitas yang harus diselesaikan.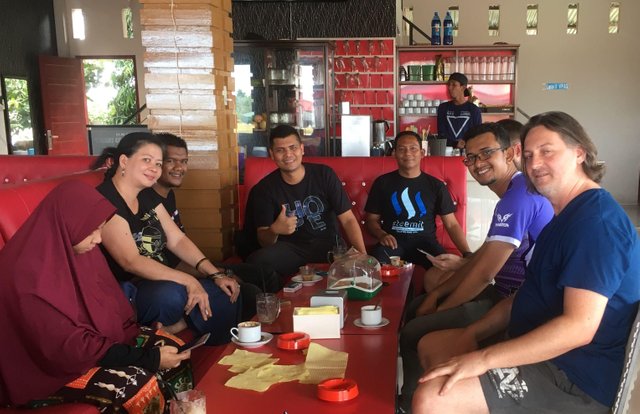 Pagi sekitar jam 8.00 WIB saya di telepon oleh @rizasukma dan beliau mengajak saya beserta @aiqabrago (Curator Indonesia) untuk ngopi bareng atau ajang silaturrahmi bersama Matt Starkey atau @starkerz dan Dylan Leighton atau @anarcotech dari @oracle-d, sebuah lembaga berbasis blockchain di London, Inggris, dan juga ikut hadir @mariska.lubis, @akbarrafs, mereka tiba sekitar jam 9.00 WIB.
Kedatangan perwakilan @oracle-d membuat saya terharu dan bisa berbincang secara langsung walaupun bahasa Inggris yang saya miliki sangatlah kurang, akan tetapi dengan adanya @mariska.lubis dan @akbarrafs membuat suasana makin hidup karena merekalah yang bisa berbicara dengan @starkerz dan @anarcotech.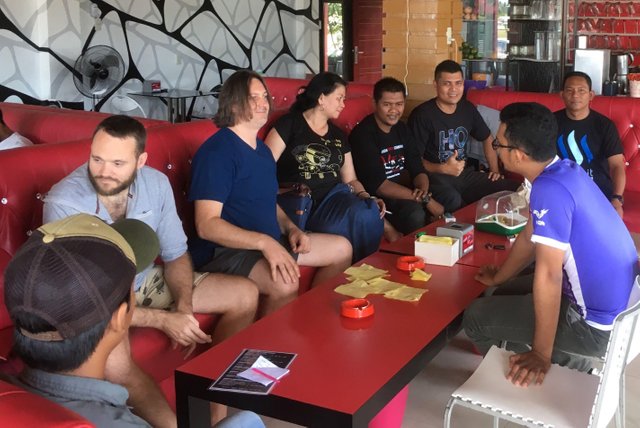 Hal yang dapat saya pelajari dari perbincangan tersebut dengan yaitu mengenai teknologi blockchain dan penerapannya dalam berbagai bidang, terutama finansial dan bisnis. "Teknologi blockchain sudah diterapkan dalam transaksi internal perbankan di Indonesia. Ke depan, blockchain menjadi andalan dalam berbagai bidang, dengan hasil yang lebih efektif dan efisien karena keunggulan blockchain,"
Mungkin selama ini masih banyak masyarakat yang belum mengetahui bagaimana menggunakan blokckchain, maka dari itu mari kita para steemian membagikan hal ataupun pemahaman kepada masyarakat agar supaya semua pihak bisa mengerti dengan kehadiran blokckchain.
Hidup penuh dengan tantangan dan janganlah menyerah sebelum bertanding, semangat yang luar biasa, bersabar menanti kesuksesan, piawai dalam berbagi, berusaha sekuat tenaga, berdo'a dalam kekhusyukan, bersyukur dalam kesederhanaan itu semua harus kita jalani.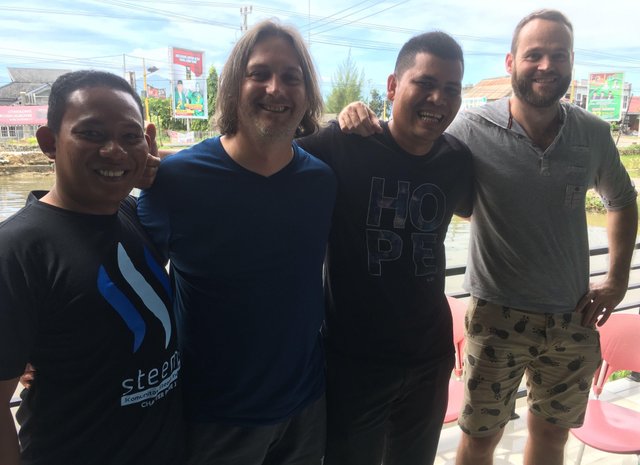 Pidie Jaya, 21 Oktober 2018
@teukukhaidir