OpenSea - A peer-to-peer Marketplace For Scarce Digital Goods (Review)
Introduction
The battle of centralization and decentralization continues on the internet with so many decentralized versions of centralized platforms being created. It just does not stop at having decentralized social media applications like Steemit, Scorum and Whaleshares, but continues with decentralized e-commerce applications like OpenSea. OpenSea is a project that is looked up on as a decentralized version of the very popular and centralized ebay. As it stands, OpenSea is set to take over the mainstream if decentralization becomes a priority of all internet users.
Source
About OpenSea
OpenSea is an open source decentralized platform where people can buy and sell digital goods in the form of collectibles, game items and features, virtual art designs and software licenses that are backed by the Ethereum blockchain. Opensea is built on the ethereum blockchain and was founded by Devine Finzer and Alex Atallah in November, 2017.
For someone who wishes to sell a digital product, he/she can simply place a sell order or open an auction that can last up to 7 days. You can equally place your product on sale such that selling price decreases with time in a case where there are no offers that meet your ask. This option provides a better opportunity for the product to be sold.
For someone who wishes to buy a digital collectible, Opensea is convenient marketplace (also known as the ebay of crypto assets) where you can buy such products. There over 120 categories of products/goods with over 3 million goods.
OpenSea is currently ranked at the 50th position among all dApps listed at the state of the dApps, a platform that ranks all dApps across Ethereum, POA, EOS, Gochain and Steem blockchains. Check out OpenSea at the said platform: https://www.stateofthedapps.com/dapps/opensea
Getting Started With OpenSea
First, visit the website here

Next, click on my account at the right hand corner on the top bar menu.

You will be asked to install one of these three browser extensions (if you do not have any installed);

I will recommend you to install the metamask browser extension, which is what I am using.
After a successful installation of your metamask extension and creating a wallet, you need to authorize metamask from the OpenSea platform.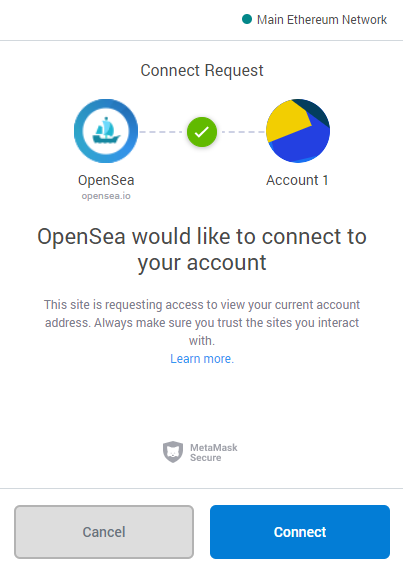 Click on connect, after which you will be granted access to explore the OpenSea platform.
How to Buy a good on OpenSea?
To begin with, you need to fund your metamask wallet with Ethereum that would be sufficient for your purchase(s).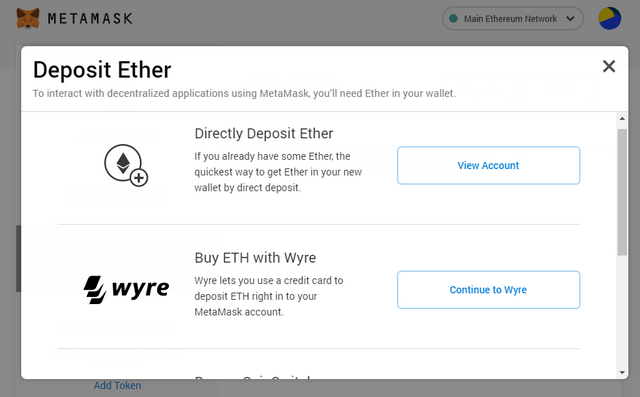 Next, click on Browse, located at the top bar menu on the OpenSea website and select the category of good you wish to purchase.

Next, select the desired good, make an offer then click continue.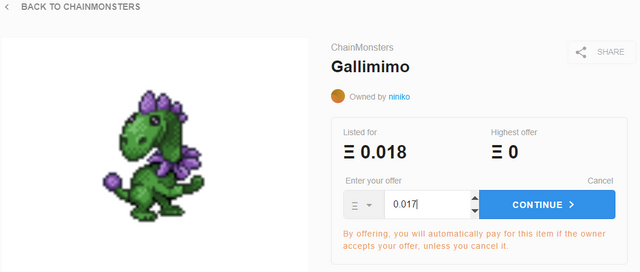 A next page will apppear. Choose your preferred expiry period for your offer and wrap your ETH to W-ETH under the W-ETH station menu to the right of the page.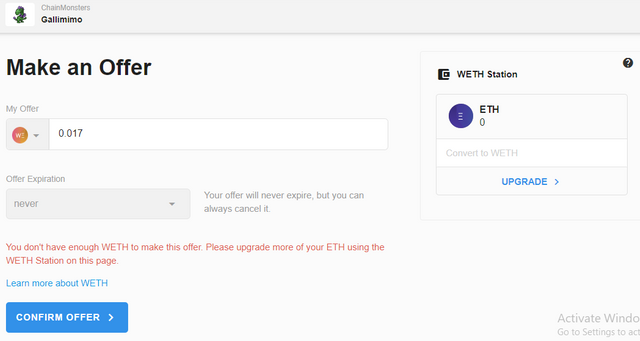 Finally, click confirm order and wait for it to be accepted by the seller.
How to Sell a good on OpenSea?
On your OpenSea homepage, click on my account and select Sell a bundle from the poll down menu that will appear.

Choose the item(s) you wish to sell and fill in the information as required in the image below;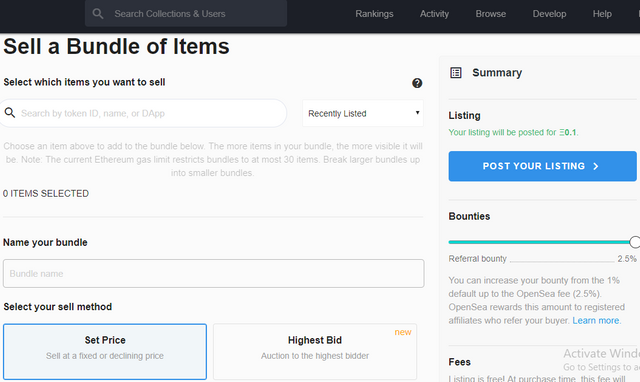 Finally, click on post your listing to publish your sell offer to the market. Note that listing is free but a 2.5% fee on the sale amount will only be deducted at purchased time.
Key Features of OPenSea
Search Icon: The search feature enables users to easily filter out good(s) of interest as well as other users.

Rankings: This feature provides a ranking of the various dApps on the platform from the most performing to the least performing dApp.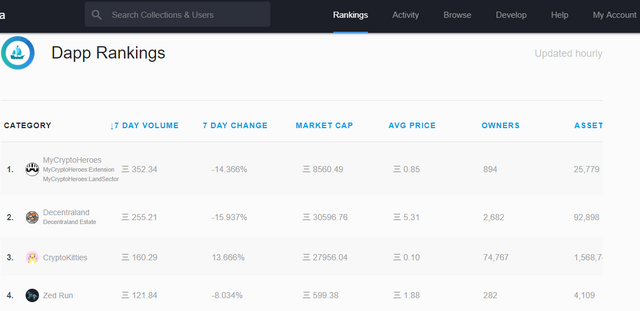 Activity: The activity feature shows the most recent transactions on the platform. This includes wallet transfers of digital goods and ETH.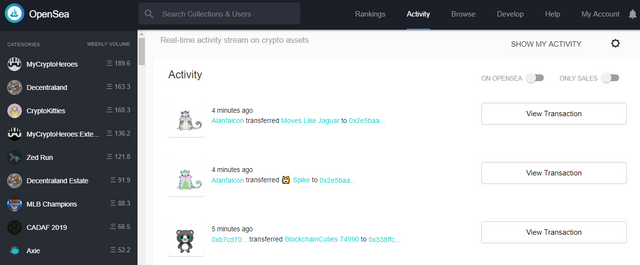 My Account: This is a customize feature that provides user account details and account settings.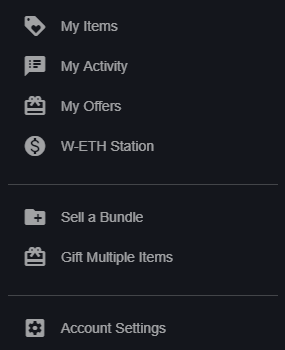 Bell Icon: This feature is an extract of my offers under the my account menu. It basically displays user offer(s) and provides instant notifications when the offer(s) is (are) accepted and filled by another user.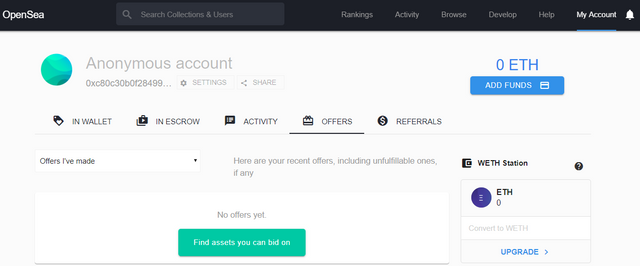 Browse: As previously demonstrated above, the browse feature helps users to select the good(s) they wish to purchase.
OpenSea's Bounty Program
OpenSea has put in place an bounty program, as a strategy to promote the platform. OpenSea allows users to share their referral links with third parties, inviting them to make purchases from the Opensea platform. This way, users get paid 1% to 2.5% of the total purchases made by their invitee.
Why I Like OpenSea?
The platform's interface is simple, user-friendly and very responsive.

The OpenSea marketplace has a wide variety of goods placed under many different categories. It is considered to be the largest in the crypto industry, reason why OpenSea is referred to as the ebay of Crypto assets.

There are several types of sales as well as many options for people interested in participating in the affiliate program.
Transactions are very safe thanks to the use of smart contracts.

Transactions are secured, saved and transparent thanks to the smart contracts technology employed by ethereum.
Suggestion for Improvement
OpenSea only operates on the ethereum blockchain and all transactions (buying and selling) are carried with Ethereum (ETH). As it is, most people are not yet familiar with Cryptocurrencies and the procedures to purchase ETH to fund their metamask wallet. As such, It would be better to make it possible such that users can deposit with fiat and other cryptocurrencies and I think this can lead to a mass adoption of the platform. This is a problem that has been well addressed by a similar platform called Steem Monsters (a digital collectible card trading and gaming platform on the Steem blockchain)

Also, looking at the fact that Steem Monsters has been able to expand and integrate the Tron blockchain into its platform, OpenSea should equally integrate other blockchain platforms in order to expand its market.
Conclusion
I personally love the idea behind OpenSea and what OpenSea is offering. It is no surprise that OpenSea is the ebay of crypto assets because the project is very well polished with a great affiliate program in place. It is obvious that if the blockchain industry has to grow and gain mass adoption, platforms such as OpenSea will get to the mainstream and become very popular like other platforms like amazon and ebay offering similar services.
Rating
Based on my analysis and experience while using the platform, I rate OpenSea at 4.5/5
For more information, visit;
Disclaimer
All images are screenshots from the OpenSea official website.

This review should in no way serve as a financial advice. The information shared are basically my findings, do your own research and invest wisely.
Thank you for your time!
@akomoajong 10/05/2019