It's time to get serious. Last week I attended protests in London staged by Extinction Rebellion. I have been conscious of environmental issues for decades, but the pace of change seems to be accelerating and we may only have a decade or two to take serious action. There is only so much we can do as individuals, but collectively we can get media attention and get people talking about the issues.
On a 'bridge with trees'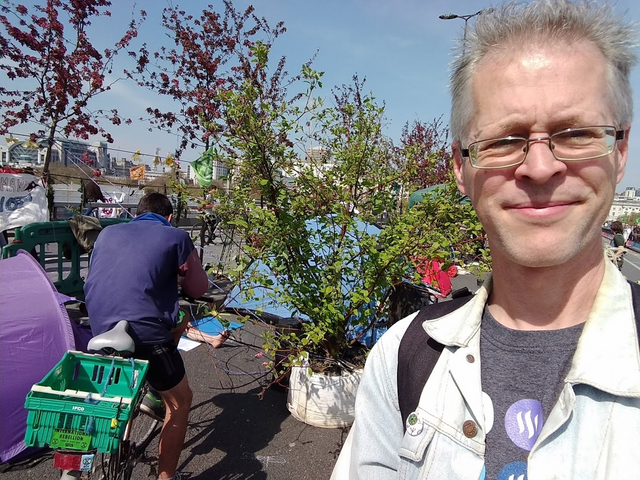 This song was inspired by the protests and some programmes that David Attenborough has been making. There's also a bit of influence from Woodie Guthrie who I watched a documentary about last week.
I hope people enjoy the song, but I want you to listen to the message too. There is a lot of skepticism and cynicism around the internet and in politics about climate change, but our negative impact on the environment cannot be denied. Even if thousands of scientists are wrong about the climate we are poisoning the seas and destroying habitats.
I am entering this in the Open Mic contest run by @luzcypher where it may reach some more listeners.
Rebel!
Lyrics below:
I went down to London
On a sunny day in April
To join some peaceful people
On a bridge that had some trees
They are trying to build a better world
As time is getting short
We've got to find some ways
To turn this world around
Chorus
We're running out time
It is going to the wire
The tears of David Attenborough
Can't put out a forest fire
This planet needs rebellion
To pull us back from the brink
We need to face reality
That we could go extinct
Our children are all worried
About what the future has in store
They are seeing politicians
Help the rich and not the poor
The coal and oil industries
Want to squeeze out every drop
This raping of our planet
Has finally got to stop
So get yourself out on the street
And make your voices loud
The time for change is running out
So join a protesting crowd
We have to keep this in the headlines
Until real change has come
It's no use crying afterwards
About what we could have done
The geeky guitarist and facilitator of the 10K Minnows Project.