Take a moment, right now, and think of all the people you're grateful to have in your life...
If you do so, you WILL find a small smile forming on your lips as you recognize just how fortunate you are.
As social beings, one of the foundations for our sense of belonging and a happy countenance is recognizing the value we have, as defined by the important part that we all play in one another's lives.
😊
Ok!
Are YOU ready to get Recreationally Outraged?!?
This one's going to knock your socks off:
Today's post is a TWOFER!
We have TWO examples of a subtle demonstration of gender inequality that is unnecessary, degrading, and an INSULT to our intelligence because the emoji makers got this one COMPLETELY wrong!
Try and guess which two micro aggressions against the female gender were demonstrated here which I'm sure has you all recreationally outraged right now: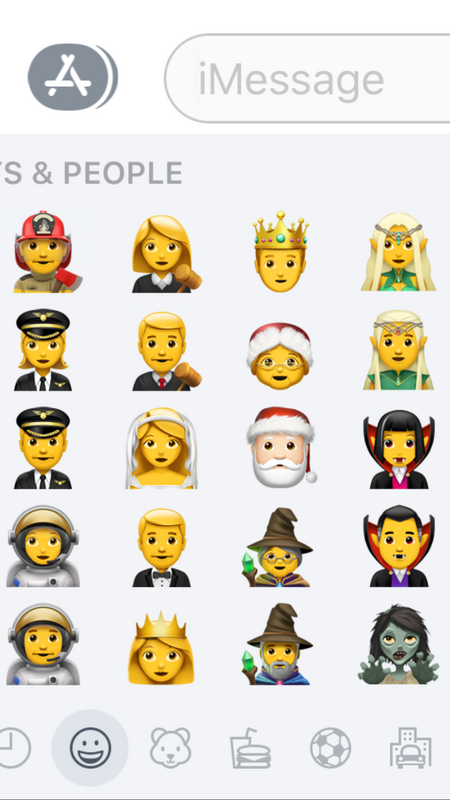 DO YOU SEE BOTH EXAMPLES?
Here's a closer look:
Head slowly shaking from side-to-side in incrementally mounting RECREATIONAL OUTRAGE!
Look at those emojis!
WHAT are all the young, impressionable minds of fine young ladies, all across the WORLD, supposed to think about themselves when compared to a man as they grow wiser with their years?
THAT, compared to a man, they have a handicap waiting for them compared to their male counterpart?!?
Again: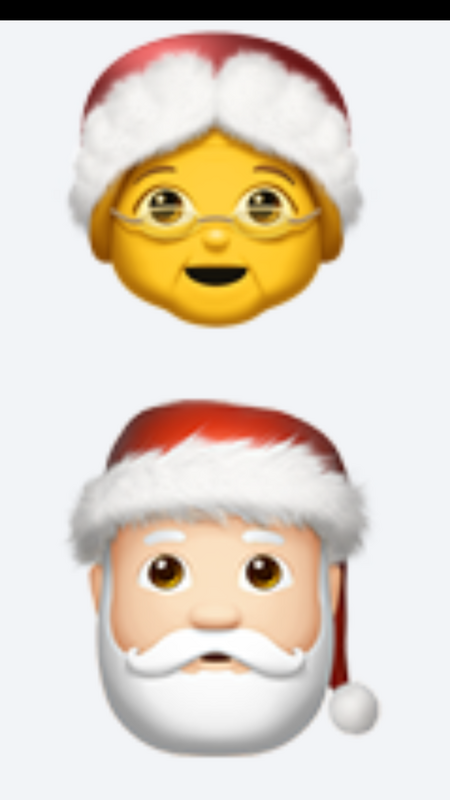 AND,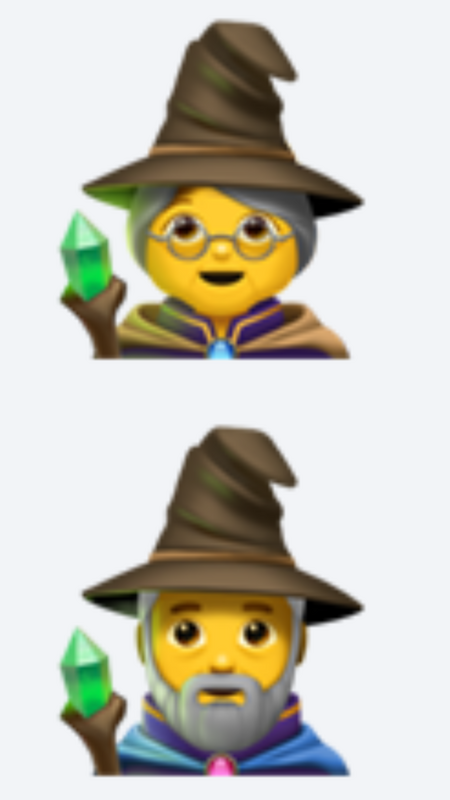 OUTRAGEOUS!
Try explaining this to your young daughter, who one day may ask you:
"Father, Mother, why is it that Santa Claus 🎅🏻 looks young, without any wrinkles on his face, and is blessed with perfect vision, but Mrs. Claus 🤶 has bifocals and wrinkles on her forehead and wrinkles on her mouth?"
"Does she suffer from progeria (accelerated aging syndrome) secondary to differential diagnoses of Werner Syndrome or Hutchinson-Gilford Syndrome?"
Kids are super clever these days; that could be a real question.
Good LUCK coming up with a good answer when your 3 year old daughter throws a zinger like THAT in your direction!
How about our next example: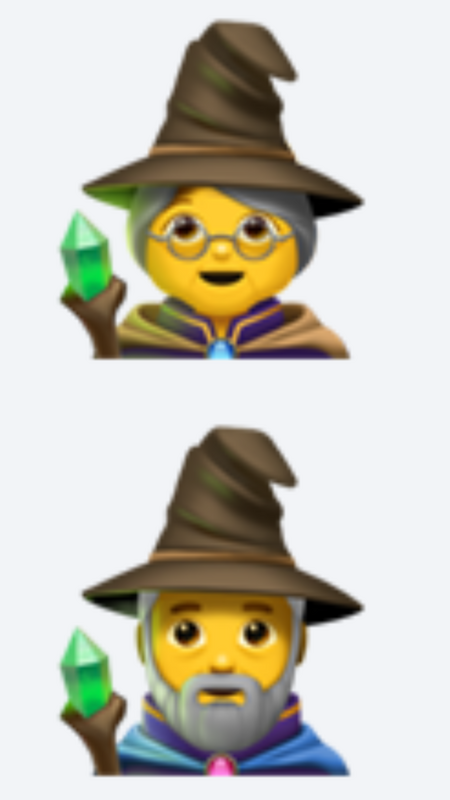 SAME THING!!!
Oh, great - All Powerful WIZARDS get to look forward to impaired vision when they age...
If you're a LADY!
Gandalf's doing just fine!
What, he's not willing to share the spell for "Perfect Vision" with his female associate?
Does HE have sole access to the magic of contact lenses and won't share THAT magical secret?
Does Hermione Granger know about this?
She'd avrakadavra the shit out of emoji headquarters if she knew about this horrific example of sexism in the magical realm, just a few finger clicks away...
The absolute WORST part of this recreational outrage post: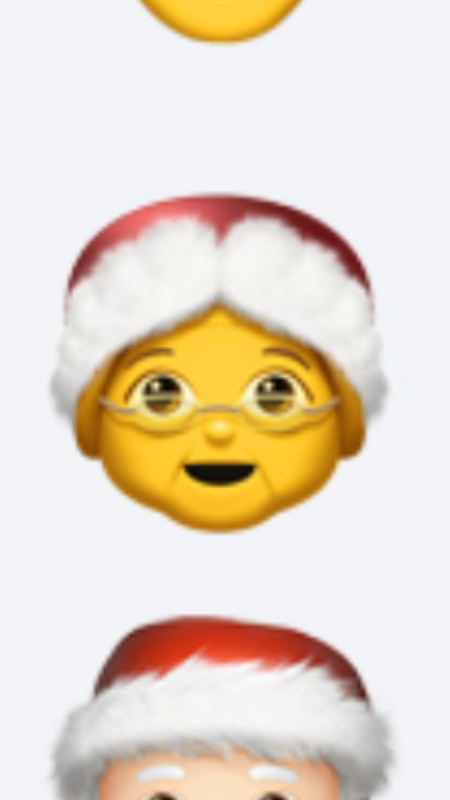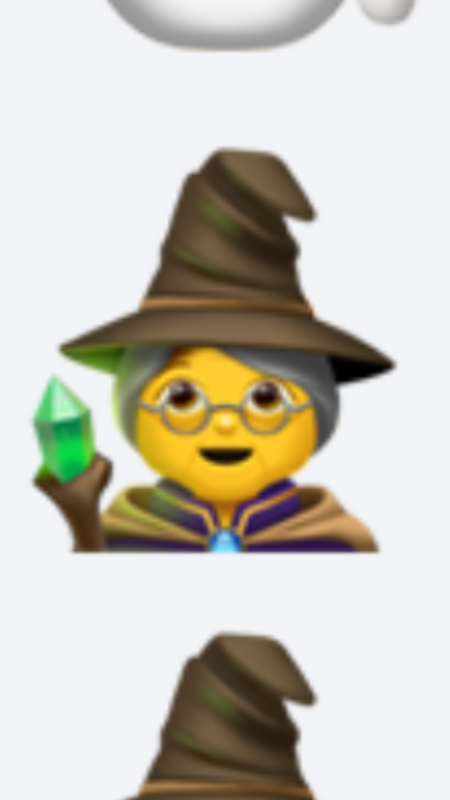 EMOJI MAKERS MADE -DIFFERENT- GLASSES!
They knew what they were doing when they made the ladies visually impaired!
To the point where they got crafty and digitally reproduced DIFFERENT eyewear!
I'm so recreationally outraged I want to get lasix surgery!
BREATHE
In through your nose, out through your nose...
Ok.
My fellow Steemians, thank you for recognizing yet another example of recreational outrage at hurtful emojis, that serve to slowly dissolve the bonds of polite society and equality among individuals.
TOGETHER, WE WILL OVERCOME!
Let's all watch for an emoji update, coming sometime in the near future, where these absolutely heinous examples of subtle human subjugation of the sexes are updated, corrected, and made fair for all concerned.
"I have a dream..."