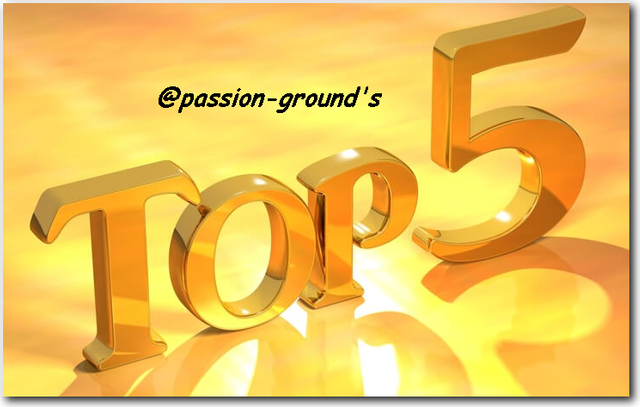 88-weeks and Counting!
Despite all odds, Open-Mic just keeps on kicking-ass like nobody's business! I dunno why that is – maybe it's because of the community at large, or the administrative team running the venue, or a combination of the two – but whatever it is, I for one am sure glad to be a part of it!

As is quite typical for an Official Open-Mic Judge, the outstanding entrants for week 88 - once again - presents a most formidable challenge from which to select a short list of 5 artists from the many talented musicians who have entered this week.

With regard to such challenges, I encourage everyone who has not yet fully read "how I judge," along with the associated link found further down in this post, please take the time to do so. Therein, you will find some illuminating insights as to how I personally come up with my Top-5 selections each week.

As a reminder of such, I wish to give major props to the "C.O.T.C" as it were, which stands for "Cream of the Crop." That's right; there is most certainly a formidable constituency amongst us, who are most consistently outstanding in presenting their artistic gifts, along with their most generous willingness to share their performance entries with the rest of the community.

I'm speaking about the likes of @nathankaye, @breakoutthecrazy, @samidbarid, and @pedromrmourato just to name a very scant few of such artists – there are so many, many more of you who fall into this rather special and elevated category. So many in fact, that it's rather mind-blowing to be quite honest.

You guys know who you are, and yeah, sometimes, no matter what, I just have to "place you" despite such gifts, recent wins, and advantages, simply because there is no other option for me to consider or give sway to. It is what it is, - subjectively, and otherwise.

On other occasions, this special group will most likely find themselves somewhere within my Top-10 or at the very least, within my 20 additional honorable mentions, which quite honestly, puts them in a place where they could have easily ranked within my Top-5 – and as such, their respectively noted performances indeed had everything it took to gain my number-1 spot for the week! It's that simple.

Likewise, and sort of related, their also seems to be a group of standing community "favorites" as it were. Yes, they are "favorites" for a reason, and it's because they strike a very special chord with many of us, and as such, as judges, we are emotionally swayed to vote for these community favorites in kind.

Naturally, quite often, there is a clear overlap between the "C.O.T.C, and the "community favorites" as it were. In both cases, I tip my hat with the utmost of respect to each contingent, however, as a judge; I have to do my best to represent the broader majority of participants as well.

As mentioned in "how I judge," I suspect all such community "favorites" alongside those residing within the "Cream of the Crop" realm will be ever so gracious in sharing the limelight on regular occasion with their fellow aspiring musicians who may at present, might not be quite as gifted or popular perhaps as those who have already reached and earned such status.

As mentioned in "how I judge," you guys, a.k.a as the "popular favorites" and (the "C.O.T.C,"), are the inspiration for us all! Without you, we'd have no stars or aspirations to reach for! As such, I trust that each of you blessed to reside within these very special categories understands the basic mechanics and intentions behind my weekly selection process.

Okay, with all of that out of the way, let's move on!

Please, VOTE for These WITNESSES...
IMPORTANT: Before we move on, please don't forget to vote for @Pfunk as witnesses! @pfunk is our biggest supporter, and plays a major role in helping to fund, the Open Mic contest each week.
In addition to @pfunk, I am also adding @curie, @ausbitbank, and @aggroed to my short list of "must-vote-for" witnesses who support the Open-Mic venue.
You can vote for both of these witnesses right now by going directly to this link: https://steemit.com/~witnesses

With all of that said, following some further insights as to how I judge entries, let's get on with it, shall we?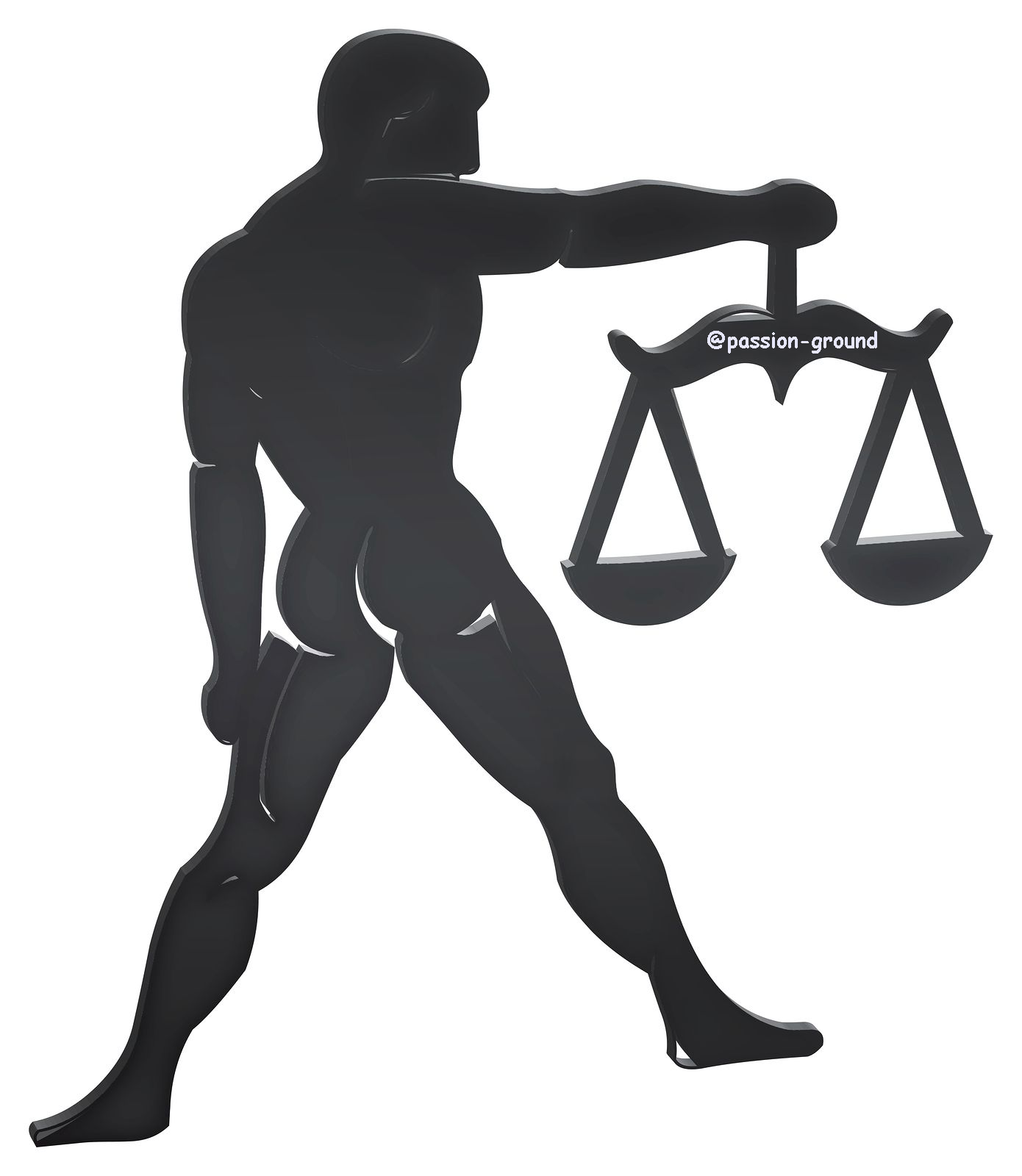 My Process

As one of the esteemed Open Mic judges, it is my job to come up with (or "curate" as it were) a short-list of my top 5 entrants each week. With all of the great talent here, that is by no means an easy task. Sure, tossing in another 5 honorable mentions helps, but not when my weekly list starts out with 100 or more of my favorite entries... You guy's rock - I'm tellin ya!

Yes, I am a Libra – so I have an inherent drive deep within me to be fair and balanced – good qualities for a "judge" if you ask me. That being said, I'm still human – filled with emotion and subjective feelings – just like you. So, in order to mitigate my subjective tendencies to the best extent possible, I've come up with a method by which to narrow down my selections in a more objective vs. arbitrary manner.

Here's how I go about my personal judging process: I first start out with a list of 100 or more of my most favorite entries for the week, and score them (yes, subjectively) in six distinct categories via a spreadsheet. The categories I've selected for scoring are in general harmony with those explained by @luzcypher in his post titled How We Pick The Top 3 Entries, referencing such.

To get a more in-depth perspective as to how I personally go about selecting my artists, please refer to What I go through as an Open-Mic Judge.

Even though it's still a "subjective" process – diligently going through each scoring category to come up with a "total" score for each entrant helps to minimize any overzealous subjectivity that I may harbor with respect to any specific entrants.

Quite often, this exercise doesn't give me the exact results I would personally prefer to see – but that only means that my system of judging is working as intended and designed. With all of that said, here are...
My Top-5 Picks in Order

FIRST PLACE: @lecocoramos – Can't See My Love - (Original)
Coco explores the depths of pain, anger, and sorrow in her heartfelt and impassioned performance of "Can't See My Love!" This well-crafted song not only contains an F-bomb in its lyrics but more importantly, it is filled with interweaving melodies and expressions that are simply beautiful and quite tender to the touch.
https://steemit.com/openmic/@lecocoramos/steemit-open-mic-week-88-coco-ramos-can-t-see-my-love-original-song

SECOND PLACE: @darrenclaxton – Breathe - (Original)
Darren's lyrical take on the old axiom, "do as I say, not as I do," in "Breathe," is written with his children in mind, whom he obviously loves dearly. The garden setting, the brilliant drive of his magical guitar playing, the soothing melodies, and the birds singing back-up make for quite the perfect stage! Though Darren is certainly a community favorite and is well-cast as an esteemed member within the "The Cream of the Crop," I just couldn't find anyplace else better suited to rank this wonderful and loving song.
https://steemit.com/openmic/@darrenclaxton/steemit-open-mic-week-88-original-song-breathe-by-darren-claxton

THIRD PLACE: @joseacabrerav – Necesaria - (Original)
As the opening image eludes, magic is exactly what we get when crossing the incredibly talented Jose Cabrera with the musical brilliance of Funk Media! Jose's "Necasaria," or ("Necessary"), in my view, explores the struggle, confusion, and pain that is often necessary to better understand one's journey and move forward despite any chaos or insanity. The lyrics are quite personal to Jose', however, I'm 100% convinced that each of us has our own special version of this story to tell. What's most beautiful to me in spite of the challenging lyrical content, is the sheer joy and passion Jose' expresses while performing here with two of the boys from the infamous Funk Media!
https://steemit.com/openmic/@joseacabrerav/steemit-openmic-semana-88-necesaria-original-esp-eng

FOURTH PLACE: @belenlopr – Hello My Baby - (Cover)
Wow – this song was written in 1899 when fewer than 10% of U.S. households had a telephone! The Chordette's released their version of the song in 1954, and though this was way before my time, through older films that included performers such as the Andrews Sisters, today, I can reminisce with utter joy in recalling this type of music throughout my early youth. @belenlopr's creative production and rendition of this classic blast from a long-gone past is nothing short of spectacular! From costume to props, she made this entry a very special experience for all – no matter what their age! Her vocal harmonies are exquisite as are the subtle audio shifts tracking the retro black & white footage with the full-color footage. Simply wonderful!
https://steemit.com/openmic/@belenlopr/steemit-open-mic-week-88-hello-ma-baby-cover-vintage-style

FIFTH PLACE: @p4ragon – Elastic Heart- (Cover)
I think @p4ragon might have let the cat out of the bag with her forthright honesty in clearly explaining her use of "Smule," a popular karaoke app, in putting together her entry. Had she not been so honest in her post description, I suspect her stunning vocal performance would have gone under the radar like many other entrants. Fret not, however, as our grandmaster @luzcypher clearly noted that there are exceptions in accepting one's voice as their artistic instrument, and @p4ragon's outstanding rendition of "Elastic Heart" was clearly one such exception. Dang, not only can this girl can sing – but she feels it so good - and with such passion – that she simply could not be ignored! Bravo, girlfriend!
https://steemit.com/openmic/@p4ragon/steemit-open-mic-week-88-cover-elastic-heart-sia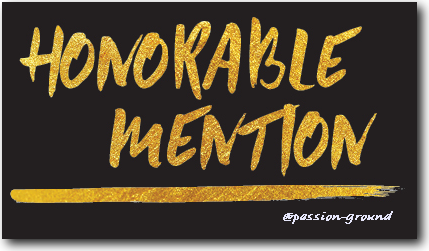 My Top-5 Honorable Mentions in Order:

First: @nathankaye – Wicked Game - (Cover)
https://steemit.com/openmic/@nathankaye/steemit-open-mic-week-88-wicked-game-woman-in-you-cover-mashup-in-342hz

Second: @mfxae86 – Waiting for My Real Life to Begin - (Cover)
https://steemit.com/openmic/@mfxae86/steemit-open-mic-week-88-cope-cover-colin-hay-waiting-for-my-real-life-to-begin

Third: @wilins – Revolver - (Original)
https://steemit.com/openmic/@wilins/steemit-open-mic-88-revolver-original-song

Fourth: @danne10 – Nada es para siempre - (Cover)
https://steemit.com/openmic/@danne10/steemit-open-mic-week-88-nada-es-para-siempre-luis-fonsi-cover-by-danne10

Fifth: @steembirds – EOS vs. Steem - (Original)
https://steemit.com/openmic/@steembirds/steemit-open-mic-week-88-eos-vs-steem

Thank you for reviewing my selections for this week's Open-Mic contest. If you find this content I've curated entertaining and of value to you, then please consider up-voting and/or re-steeming it.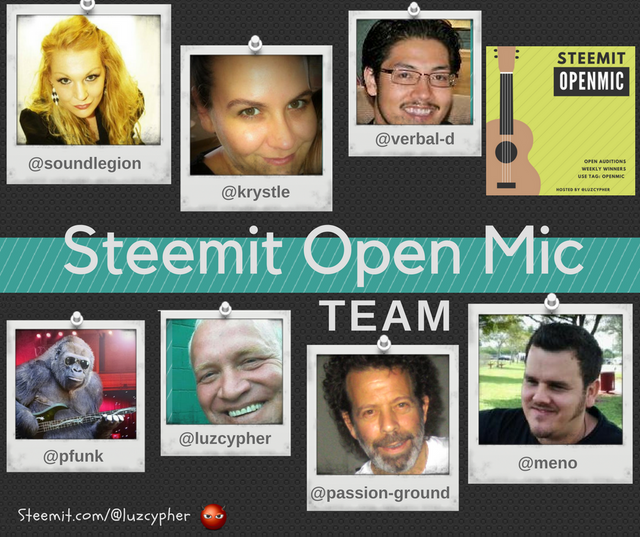 Peace, Love, and Justice for All

A Very Special Shout Out To:
The following 20 artists who were very much on my radar, each within a splitting hair of making it into my overall top-10, and whose performances I loved, cherish, and respect most assuredly. This special list is very much an extension of my most honorable mentions.

They are - in no particular order:


@breakoutthecrazy, @melavie, @johannesburghart, @pedromrmourato, @shookriya, @thebugiq, @samidbarid, @lostgalaxy, @elliotjgardner, @jaredkhamanah, @tribedownsouth, @carljohn, @dinoromanelli, @katrina-ariel, @leomolina, @nilssonleiva, @dustinseth, @aidarojaswriter, @minuetoacademy, and @mayneth!


Another Special Shout Out To:
The following artists whose performances I very much enjoyed this week.

They are - in no particular order:


@yetxuni, @maycorjerjes18, @andreabortone, @gibber, @naiyagarcia24, @camuel, @alcoholisedbsoul, @laviq, @mariajruizb, @jessalin, @mcmusic, @almagatuna, @honeymoon-1611, @rjcha, @lk666, @brendahcaroline, @veckinon, @juanmolina, @calule7, @elisonr13, @nurhalima, @camporr, @jonmagnusson, @marcosjerjes, @miguelblanco, @giselemusic, @soykatonline, @ennimariana, @miguelarl, @dianakyv, @endee, @danielrr, @merygrohl, @wethepatsies, @arbi666, @thesimpson, @duocover, @carlosvidal, @adrianjordaz, @cezanne, @edwardstobia, @yisusgtr, @yrmaleza, @caracortada, @graceleon, @dreamrafa, @beeflomein, @esteliopadilla, and @lorenzopistolesi!


Much love and thanks to each and every one of you who have touched a part of my heart and soul - not only this week but forever!