Openmic 132 - Latin Xangô (Siete Rayos).



PukuSaludos para todos y todas.
Les presento mi participación en el Openmic #132
En esta ocasión les presento mi canción original: Latin Xangô (Siete Rayos).
Esta canción es de género Salsa rock, jazz progresivo y funk experimental e instrumental.
PukuGreetings to all.
I present my Openmic #132 entrance.
This time I present my original song titled: Latin Xangô (Siete Rayos).
I record this track with an experimental sound. Salsa rock, Jazz progresive, funk instrumental and experimental genre.
Nahu Padilla:
@nahupuku
Guitarra/Guitar & Drumz (PukuInstrumento)
Bajo: Gustavo Pradet
Grabado en / Recording in:
Caracas, Venezuela.
Abril 2019.
Esta canción esta inspirada en Santana (su estilo musical), y la banda The Mars Volta, y su guitarrista Omar Rodríguez-López.
Importante: Cabe acotar que este es un experimento sonoro, no un tema de religión santera, Yoruba ni nada parecido, solo un título y una historia que me inspiró a realizar este experimento musical.
Esta canción es la segunda parte y continuación de esta otra grabada hace un año, en el Open Mic Semana 81:
https://steemit.com/openmic/@nahupuku/steemit-open-mic-semana-81-orisha-aye-cancion-original-original-song
Sángó.
Changó, Shangó (en yoruba, Ṣàngó ), es el orishá de la justicia, de los rayos, del trueno y del fuego. Fue rey en la ciudad de Oyo, identificado en el juego del merindilogun por los odus obará y ejilaxebora y representado material e inmaterialmente en el candomblé a través del asentamiento sagrado denominado igba xango. En la santería sincretiza con San Marcos y Santa Bárbara. Pierre Verger da, como resultado de sus investigaciones, que Shangó o
Changó, como todos los otros imolè (orishás y eboras), puede ser descrito bajo dos aspectos: histórico y divino.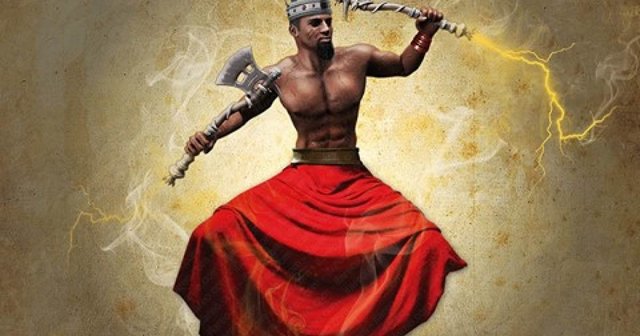 Fuente/Source
También se le considera dios del fuego, del rayo, de la guerra y de los sagrados tambores bata. Es el típico titán valeroso, por quien se guían los que van al combate. También le caracterizan la laboriosidad y la hermandad. En él se entremezclan casi todas las virtudes y las fallas humanas. Es vidente y saludador. Es condescendiente con sus hijos siempre que ellos lo sean con él.
A Changó se le reza de esta manera: "Shango, Shango, lube bara lube Oba Oso Kiseku Olufina Koke Aya La Yiki Obanbio Yo Eleku Ase Ozain Akakamasi Ogodomasi Olufina Aya La Yiki".
Pertenece al Panteòn Yoruba.
Festividad 4 de diciembre
Atributos: Los truenos, los rayos, la justicia, la danza y el fuego.
Patronazgo: Dueño de los tambores, del baile y la música
Apodos: Ṣàngó, Changó, Changó, Jakuta, Siete Rayos.
Para ver más:
https://es.wikipedia.org/wiki/Chang%C3%B3
https://es.wikipedia.org/wiki/Mitología_yoruba
https://www.cibercuba.com/lecturas/chango-dios-del-trueno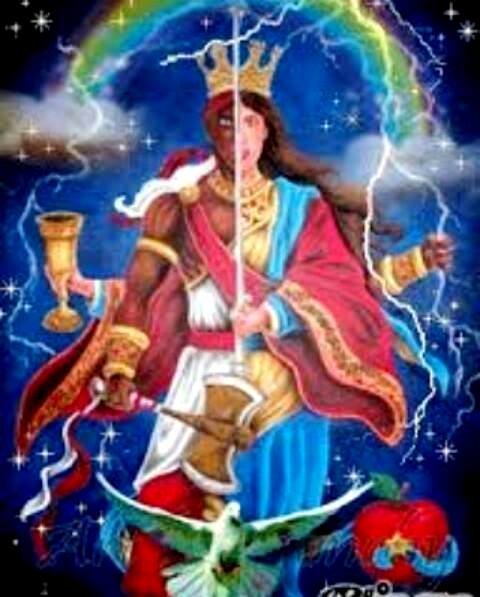 Fuente/Source

Pukuinstrumento:
Percusiones creadas por @nahupuku para generar sonoridades de batería y tambor: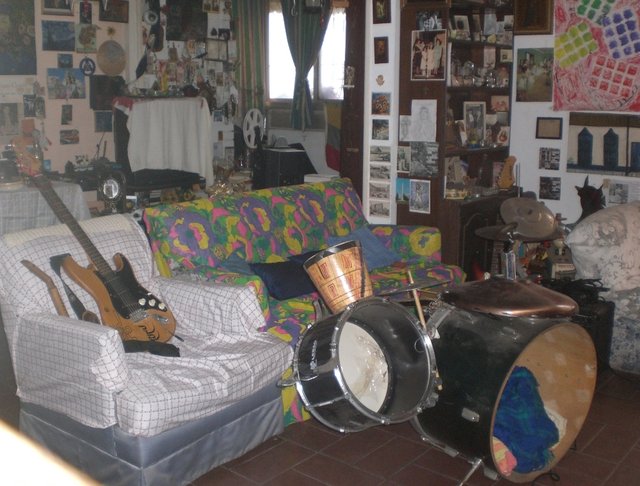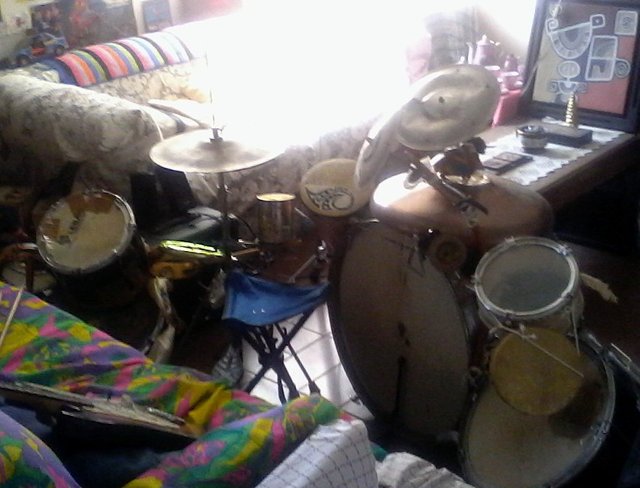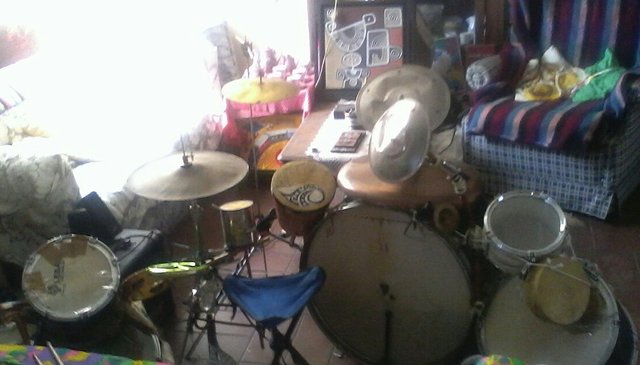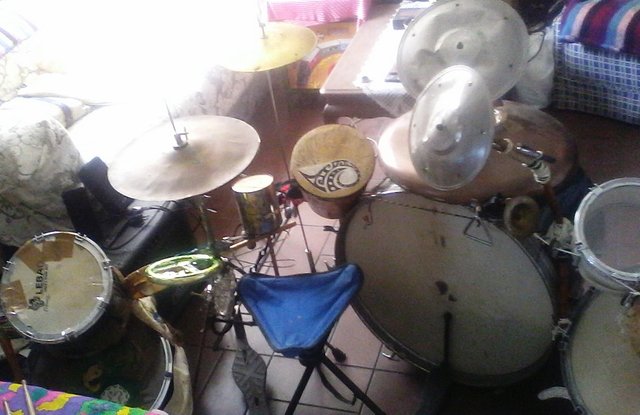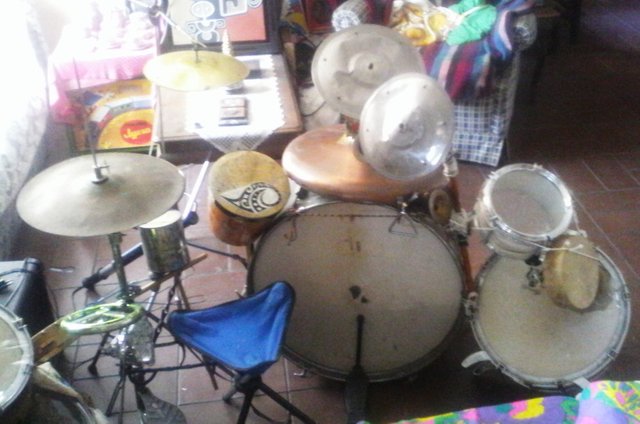 Proceso de Grabación:



Grabé la batería de mi PukuInstrumento musical a oído y luego procedí a grabar la guitarra y mi amigo Gustavo Pradet grabó el bajo y finalmente, utilizando el efecto pantalla dividida añadí los vídeos en conjunto.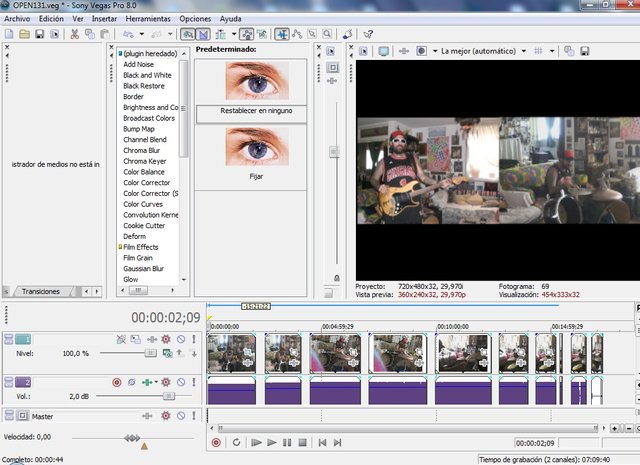 Y por último rendericé el vídeo y lo subí a mi canal de Youtube Puku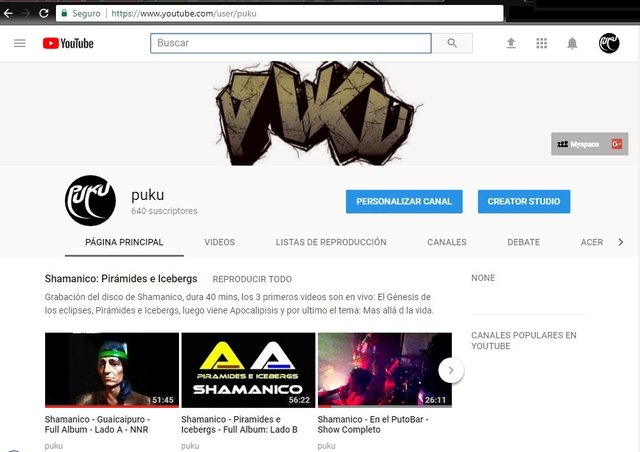 Influencias:
Tambores de santa barbara de moron Santa Barbara:

EL CHACAL - Shangó [OFFICIAL VIDEO]:

Santana - Soul Sacrifice 1969 "Woodstock" Live Video:

The Mars Volta - L'Via L'Viaquez:

The Mars Volta - Tira Me A Las Aranas:

Omar Rodriguez Lopez - Victimas del Cielo:

Omar Rodriguez Lopez & Ximena Sariñana - Desarraigo:

Para ver más:
https://es.wikipedia.org/wiki/Carlos_Santana
https://es.wikipedia.org/wiki/Santana_(banda)
https://es.wikipedia.org/wiki/The_Mars_Volta
https://es.wikipedia.org/wiki/Omar_Rodr%C3%ADguez-L%C3%B3pez

NahuPuku - Sobre la realidad de los músicos en Venezuela
Apoya a tus artistas locales!!!
Como hacer música en medio del caos y la crisis en el país!!!
Posts de mi música mas recientes/ My new original songs:



https://steemit.com/openmic/@nahupuku/openmic-125-me-pregunto-si-tal-vez-i-wonder-if-i-might-celebrando-1-ano-en-openmic-my-first-year-in-openmic
https://steemit.com/dtube/@nahupuku/1ijiu7xq
https://steemit.com/dtube/@nahupuku/as8onmgu
https://steemit.com/dtube/@nahupuku/rs71ii7r
https://steemit.com/spanish/@nahupuku/mi-experiencia-despues-de-dar-un-concierto-conceptual-con-mi-banda-diarreapuku
https://steemit.com/spanish/@nahupuku/plan-de-fuga-nahupuku-y-alfonso-monasterio-guitarras-y-poesias-2012-retropuku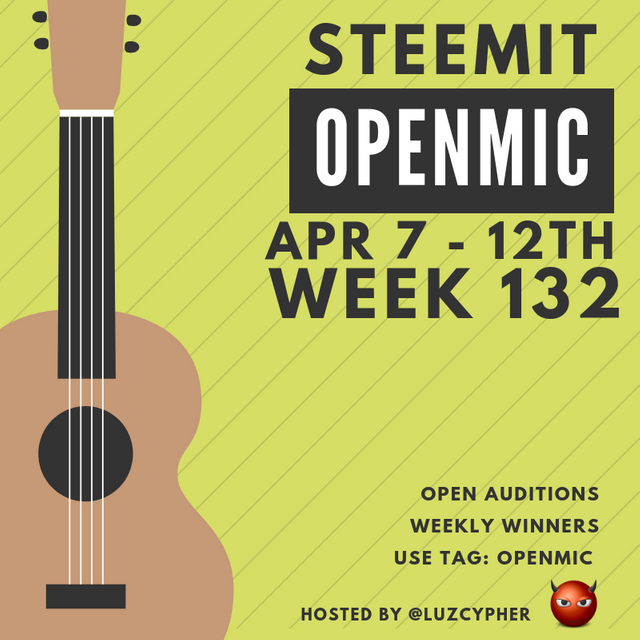 Contest Link:
https://steemit.com/openmic/@luzcypher/steemit-open-mic-week-132-record-your-performance-and-win-steem-sponsored-by-pfunk-and-luzcypher
Gracias a: @luzcypher, @pfunk, @krystle, @verbal-d, @passion-ground, @meno, @soundlegion, @tcpolymath, @stephenkendal, @curie & @cervantes
Support me in Patreon:
https://www.patreon.com/nahupuku
Bendiciones y gracias por ver mi post
Blessings and thanks for watching my post