Saludos comunidad, en especial a los seguidores de Open Mic. Esta semana es un gusto compartir con ustedes mi primera entrada en el concurso con una canción titulada "Poema de Salvación" del cantante Pablo Olivares quien es uno de los artistas que escucho desde muy niño. Espero que lo disfruten y estoy convencido de que el contenido de esta adoración los impactara como lo hizo conmigo.
---
Agradezco primeramente a Dios todo poderoso y a mis familiares (que pronto se nos unirá a esta maravillosa comunidad) por el apoyo y hacer este proyecto posible a pesar de las dificultades.
---
No obstante, agradecido con el equipo de Open Mic y sus patrocinadores por hacer posible este concurso.
---
Música: Poema de Salvación
Cristo moriste en una cruz
Resucitaste con poder
Perdona mis pecados hoy
Se mi señor y salvador.

Cámbiame y hazme otra vez
Ayúdame a serte fiel
Cámbiame y hazme otra vez
Ayúdame a serte fiel
---
---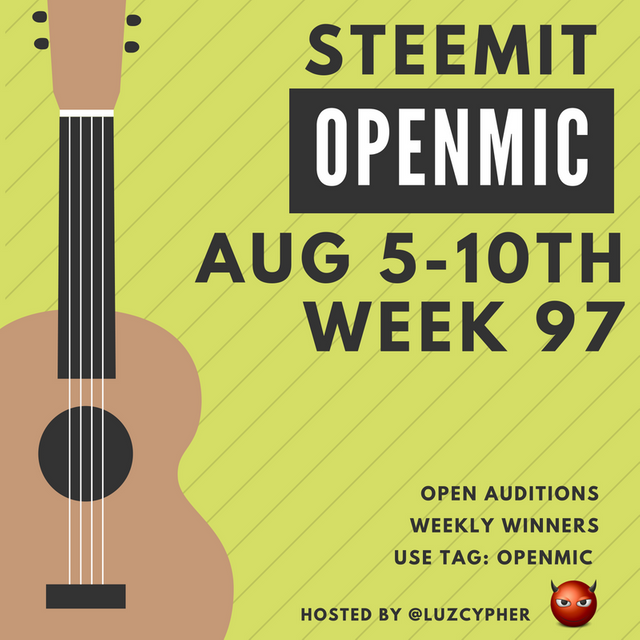 ---
Greetings community, especially the followers of Open Mic. This week it's a pleasure to share with you my first entry in the contest with a song entitled "The Salvation Poem" by singer Pablo Olivares who is one of the artists I've heard since I was very young. I hope you enjoy it and I am convinced that the content of this adoration will impact you as it did with me.
---
First of all I thank God Almighty and my relatives (who will soon join us in this wonderful community) for the support and make this project possible despite the difficulties.
---
However, grateful to the Open Mic team and its sponsors for making this contest possible.
---
Music: The Salvation Poem
Jesus You died upon a cross
And rose again to save the lost
Forgive me now of all my sin
Come be my Savior, Lord, and Friend.

Change my life and make it new
And help me Lord to live for You
Change my life and make it new
And help me Lord to live for You