Steemit Open Mic Week 113 | No Hay Nadie Mas(acustico)- Sebastian Yatra by @Ceheiberg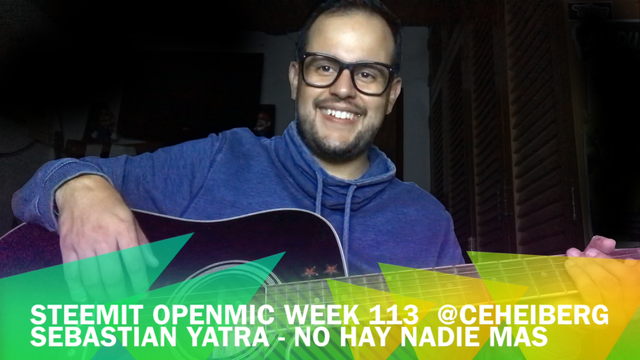 Hello Steemit community, I present my entry to the Steemit Openmic week 113 with a song that is being popular at this days but had not paid attention until this week and I liked it.
Hola comunidad de Steemit, les presento mi entrada al Steemit Openmic semana 113 con una cancion que esta siendo popular en estos dias pero que no le habia prestado atención hasta esta semana y me gusto mucho.
This song is called '' No Hay Nadie Mas '' or ''There's No One'' by the Colombian singer Sebastian Yatra, this time I wanted to perform his song in acoustic, but I hope to play it soon with a friend and at least with an electric guitar, as the original song sounds .
Esta canción se llama ''No Hay nadie Mas'' del cantante Colombiano Sebastian Yatra, en esta ocasión quise interpretar su canción en acústico y solo, pero espero pronto tocarla con algún amigo y al menos con una guitarra electrica, como suena la canción original.
I thanks @pfunk and @luzcypher for being part of this excellent initiative to support the musical talent here on the platform of Steemit. I hope you can continue doing it and I wish you every success. help them to be witnesses of all of us in this link https://steemit.com/~witnesses.
Agradezco a@pfunk y a @luzcypher por ser parte de esta excelente iniciativa de apoyar el talento musical aqui en la plataforma. espero puedan continuar haciendolo y les deseo el exito posible. ayudenlos a que sean testigos de todos nosotros en este link https://steemit.com/~witnesses.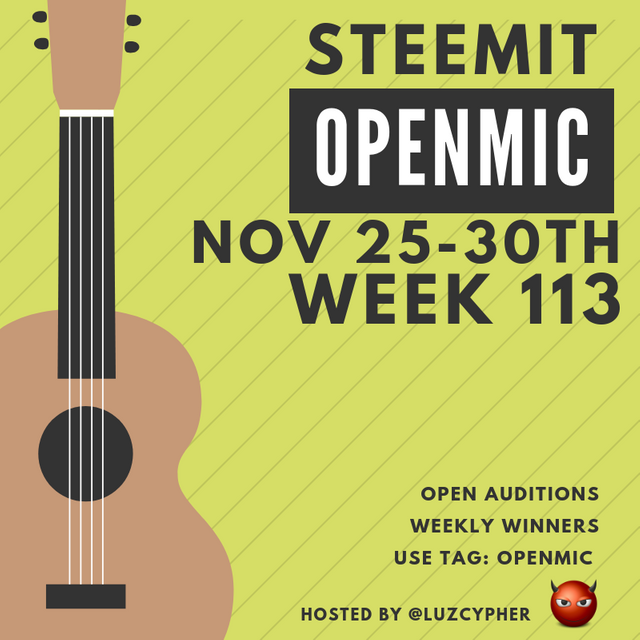 Sebatian Yatra- No Hay Nadie Mas
Recuerdo aquel día
como si fuera un hoy
No hay nada como ella,
ni siquiera me encontró

Recuerdo todavía
la vez que la besé
Fue mi primer amor
y ahora escribo su canción

Hay algo más
inexplicable como su mirada
Inigualable como la manera en que me cela
Y trata de disimular que no está mal

Voy a cuidarte por la noches
Voy amarte sin reproches
Te voy a extrañar en la tempestad
Y aunque existan mil razones para renunciar

No hay nadie más

No hay nadie más
Se llevó todo, se llevó tristeza
Ya no existe espacio en la melancolía
Porque a su lado todo tiene más razón

Me llevé sus lágrimas, llegaron risas
Cuando estamos juntos la tierra se paraliza
Se paraliza

Hay algo más inexplicable como su mirada
Inigualable como la manera en que me cela
Y trata de disimular que no está mal

Voy a cuidarte por la noches
Voy amarte sin reproches
Te voy a extrañar en la tempestad
Y aunque existan mil razones para renunciar

Voy a cuidarte por la noches
Voy amarte sin reproches
Te voy a extrañar en la soledad
Y aunque existan mil razones para terminar

No hay nadie más
No hay nadie más
No quiero a nadie más, oh oh
No hay nadie más
No hay nadie