Steemit OpenMic week 116 - original song - Donde siempre hay luz
Hi guys!
This is my entry this week 116, it's a poem of one friend (Theater director) who ask for words on IG. I suggest "Luz", he made an amazing poem with this word. So I just add some music to this great lyrics.
Hola mi gente, esta semana he decidido ponerle música a un poema que me hizo el maravilloso Dairo Piñeres con una palabra que le di en su Instagram. Él pedía una palabra y la convertía en poema. Yo le sugerí "Luz" y el me respondió con ese poema que decidí convertir en canción.
---
This is the history of IG that Dairo answer to me.
aquí les dejo la imagen de esa historia que compartimos en Instagram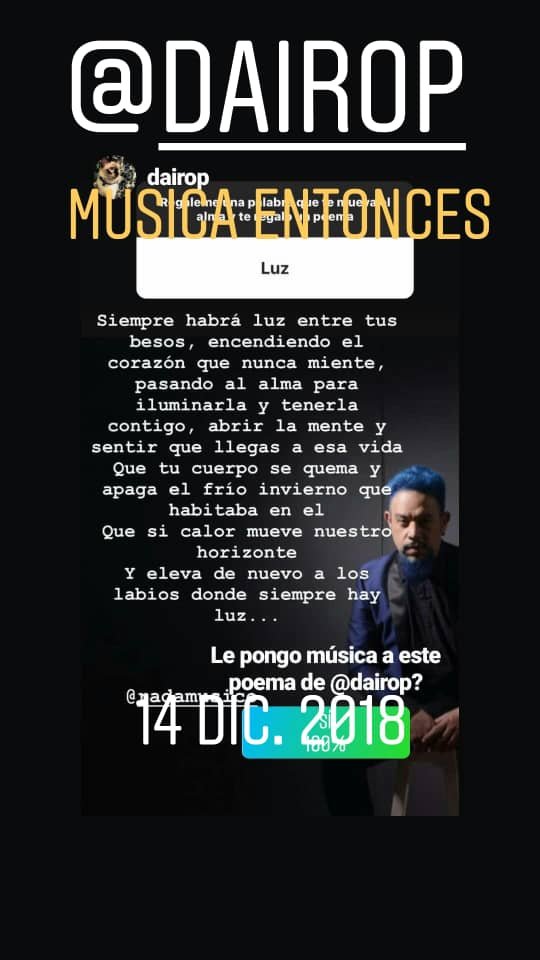 Si desean seguirlo y aprender mucho de teatro y arte entren aquí. https://www.instagram.com/dairop/

Thanks so much
Gracias a todos