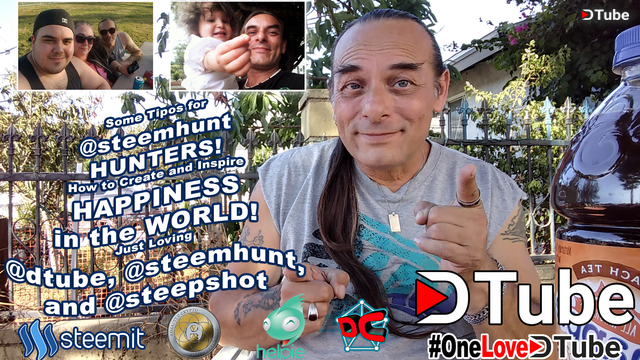 ---
Tips for @steemhunt Hunters - Just Loving @dtube, @steepshot, @steemhunt - How to Encourage Happiness in the World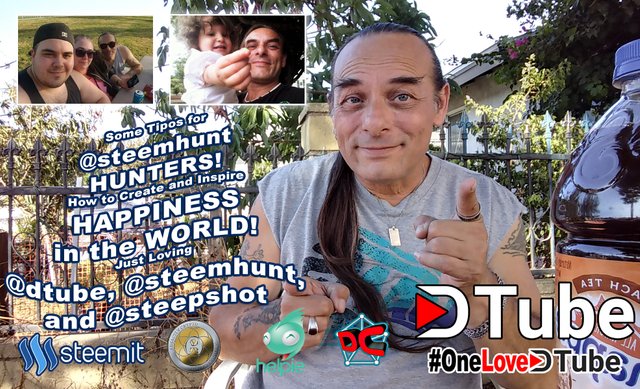 Hello #steemians and #dtubers,
I am having an Amazing time on @steemhunt. In this video, I will let you know about some tips I recommend for all of you #steemhunt #hunters.
I also give some "Tips for Life" on how to "Encourage, and Inspire Happiness" in the world where ever you may be, and whomever you may be with. Doing this really helps the world be a much more Beautiful and Happy Place. It really helps others to have a better day and be happy in their life. It will always become very contagious and inspire them to do the same.
Loving @steepshot. Really appreciate the support from them. I was upvoted by them and that really made me so Happy. When posting to #steepshot. Try to get the best photo you can. Make sure it isn't blurry or out of focus from the subject your shooting.
I am really loving @dtube. I am so comfortable in front of the camera and I am so happy that #dtube exist on the @steemit platform. This is where I love to live and try my best to help others always. I always try my best to help others have a much better "Quality of Life" and a much "Better Day" every Day. @dtube really helps me to do this with their Amazing Platform.
Big Shout Out to @nathanmars for all of his amazing videos of travel. They really encourage me to strive harder to get to the place I want to be. All of his genuine desire to want to help people on the @dtube and @steemit Platform. He really is an amazing person and I am happy to have his friendship and support through this amazing platform.
I always give a big thank you to My Beautiful Fiance Vanja for all of her love and support, Our Two Wonderful Children, David, and Angeles for all of their Love and Happiness, and all of My Family from Norway, Thailand (@stewsak, and his family), Mexico, and here in the USA. I Love All of you So So So Much.
Thank you to all of you Amazing #steemians, #dtubers, @dtube, @onelovedtube, @helpie, @steemit, @dcooperation, @vladivostok and @adsactly for all the wonderful comments, friendships, love, and support every day. Always Much Love to All every one of You.
Talk again soon. @jeronimorubio
---
▶️ DTube
▶️ IPFS