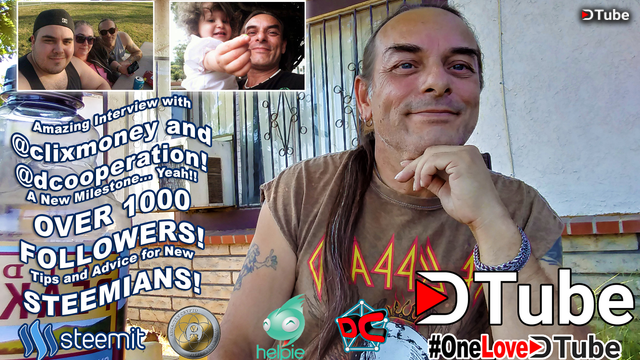 ---
New Milestone, over 1000 Followers - An Amazing Interview with @clixmoney and @dcooperation - Tips for New Steemians Part #2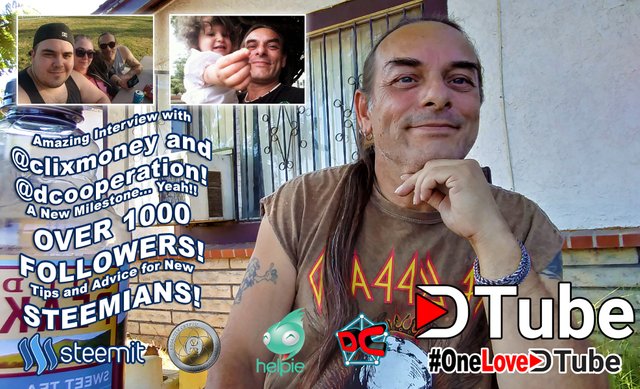 Hello, #dtubers and @steemians,
A New "MILESTONE" - I Reached over 1,000 Followers! A HUGE Thank You to all of you Amazing Love, Comments and Support every day. I truly am humbled by all of you.
Had an Amazing interview with "@clixmoney and @dcooperation" today and it was so much fun. I truly appreciate both of them for all they do here on the @steemit and @dtube Platform.
In this video, I also give out a few more "Tips and Advice" about how to become more successful here on the #steemit and #dtube Platform. I really want to try to help as many people as I can. That is what "Community" means. One Love. One Tribe. Helping each other and supporting each other. I follow several "Curation Trails" and I delegate SP to several communities as well. Every little bit will help the communities of this platform. And as I grow I will do more and more each time I can.
Loving @steemhunt. Had a hunt that is doing well and I am excited about the #dapp. It really is an amazing platform as well.
I am not worried about the price of #steem or anything like that. I am only interested in supporting this community and helping it to GROW for MILES EVERY DAY!!!
A HUGE SHOUT OUT to @kawaiicrush for introducing me to the @dcooperation group. I truly appreciate you. Thank you for all of your support as well.
Peace and Godspeed everyone. May all of your Dreams and Journeys end with happiness and success. Always love yourself because you deserve it. You are a miracle of life. Always prosper in Peace, Happiness, and Love first.
Thank you to all of my Wonderful and Amazing Family. My Beautiful Fiance Vanja, Our Two Wonderful Children, Daughter Angeles, and Son David, and all of My Family from around the planet like Norway, Thailand (@stewsak, and family), Mexico, and here in the USA. I Love All of you Every Second of Each Day, and with Ounce of Love, I Have Inside.
Thank you to all of you AWESOME #steemians, #dtubers, @dtube, @onelovedtube, @helpie, @dcooperation, @vladivostok, @steemit and @adsactly for all the wonderful comments, friendships, love, and support every day. Always Much Love to All every one of You.
Talk again soon. @jeronimorubio
---
▶️ DTube
▶️ IPFS