Join us in this conversation as we get into how we can organize to implement creative solutions to the many issues we face in this modern world.
Adventures In Healing's Alex and Graeme sits down with author and educator Bob Podolsky for an information packed lesson!
Non-hierarchical groups called Octologues & Holomats are explained as well as ways to increase peace, prosperity, happiness and freedom in our lives and communities today. And finally, ways of tapping into the creative energy of the universe through group meditation.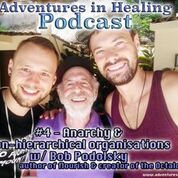 For the full conversation go to our podcast on soundcloud (sorry for the low volume).
Find more of Bob's work and his book Flourish: An Alternative To Government and Other Hierachies at titanians.org
Hope you enjoy! 💓
Graeme
Pocasts:
https://soundcloud.com/adventuresnhealing
Youtube:
https://www.youtube.com/channel/UCg0HixSWsqP_LwiK90JWYSQ
Articles:
https://steemit.com/@adventurehealing
Facebook:
https://www.facebook.com/adventuresnhealing/