---
Aztec Ruins, NM
On my unplanned journey to meet the people of my tribe I started writing about it on Steemit.
---
If people have not read my experience from the start here is a small review. This all happened unexpectedly and will be the outline of my book, so anyone interested will get to see firsthand the reunion that will happen towards the end of this adventure.
First, a little background ...
As many Native Americans in the United States our families were separated approximately around the year 1850 give or take. Many of our women were sold off as slaves and my great great grandmother was one of those selected for that life experience. This was on my mother's side of the family, and these records are all but lost minus the Hopi oral history.
Typical of Natives Americans today it has not been easy to keep the traditional family together, including my lineage. My father is a wanderer and an independent soul who did not reveal my Apache history until I was older and afterwards started teaching me our ways. Since I was raised primarily American and always had a feeling I was different, it was not until dad told me everything did I find inner peace and an understanding.
---
Aztec Ruins, NM
My journey so far and links to previous writings.
---
Which brings me to the topic of this blog and my visit to Aztec Pueblo, a continuation of my adventures into the Canyon of the Ancients this past summer.
---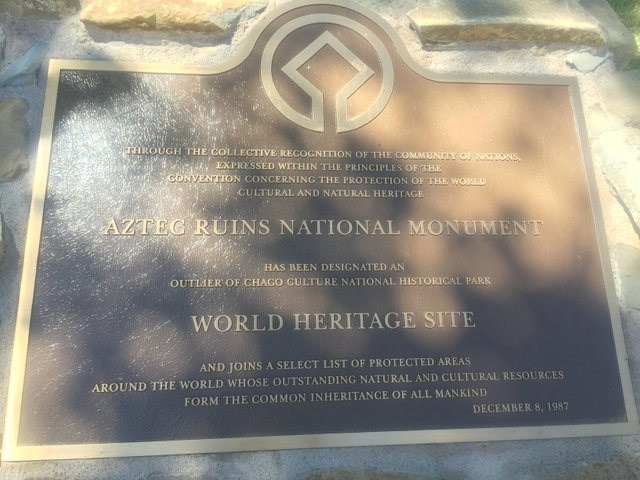 Driving to New Mexico and finding this piece of my ancestry was a pleasant surprise.
---
As with many but other Native American lands now taken over by the government, historical instruments displayed are from other Pueblos.
---
However, every single time I see these pieces of encased history I feel a mix of sadness that they are not with the families lineage and a sigh of relief they are not completely destroyed. The realization that someday I may be able to hold some of these pieces is comforting.
---
The simple pottery lines and earthy textures brought a feeling of homecoming.
---
Since a very small child I have dabbled with pottery, not as much as I would have liked but the feeling is there. So when gazing at these lovely jars I can only travel back in time with a dreamlike fantasy, hoping someday my tribe will show me ancient techniques. Now that will be a day worth living for, having ancients hands hold mind as we create a legendary piece of art.
---
Preservation is something to be thankful for, art must be cherished.
---
Most people would agree that as humanity evolves our art, history, and growth should be documented and saved. We learn so much from our past and this is what makes us unique as a species. When we look at a piece of history it brings teachings; whether it is joy, sorrow, or anger they are still life lessons and the importance is vital. How else can we grow?
---
Aztec Ruins layout
The land.
---
Once I finally got outside and felt the land it was obvious to me these lands were again a seasonal home for many. The time spent in this location would be very specific and in celebration of an event. Today, the area was very dry and water scarce, however, after some research amd study this area was once flowing with water.
The kiva structures had small entranceways amd ladders. One would think little people were the inhabitants of long ago. Sometimes I sit in mediation and wonder over bloodlines and the amazing cultural ties we all share. What we have today may not have been what our ancestors imagined who we would become, but here we are.
---
When walking through ancient architecture built with hands, wonder and pride filled my heart.
---
Even though we are taught that slavery or common hierarchy was in place during ancient builds, a feeling of purpose and finality were words that came to my mind as I continued walking the land.
---
This aged bush caught my eye and I circled it the ancient way and spent some time honoring.
---
Oftentimes, being connected to nature can make one feel slightly odd and out of place. As I honored this vegetation I could feel people watching me, and awkward would have been the word, yet when I remember the connection I held at that moment it was a story I will share one day. I will say this, the plant form helped me to ground and center with the land.
---
I even got to see a lizard.
---
Out in the desert to see anything other than dirt is almost a miracle. So to see ancient structures, lizards, and plant life was certainly something to appreciate. To a Native American we notice the small things and appreciate what people say are signs, when these occur my connection with this land was evident.
---
The circle found me.
---
In many cultures we have the ancient circle and for the Native American we look for it wherever we go, especially when we walk our lands. Sometimes we see it right away and other times they find us.
---
As time passed it was easy to imagine celebrating with my Ancients.
---
The land had been preserved as best as it could be and if one had a good imagination it was easy to visualize a warm celebration with drums off in the distance. Men chanting in the Great Kiva and food preparation at the outdoor fires by the women who were singing and scraping corn. Yes, if one had an imagination all this was easy to see.
---
Out of all the lands I have visited this had the most kivas.
---
Interestingly, this particular location had many kivas and the Great Kiva collapsed. The Great Kiva shown in this blog was reconstructed by an archeologist from memory. To the Native American the Kiva was and still is a place of meeting, worship, and very sacred.
---
Ancient tools left behind.
---
One of the most fascinating things I found were these tools scattered everywhere. Some of these corn meal grinders were placed for tourists to play with but they were literally spread out along the outer perimeters. True, these could have been thrown or just placed there over the years. Let me just say that I touched as many as I could find, and sat at all the meeting places open to the public. There were many.
As I continue my story to meet my people, who I have now found in Arizona. I invite you to join me. My next blog and final for this past summer will be Chaco Canyon. Come back to read another Journey To My Ancestors. Thank you for reading!
More about me ...
Thank you for stopping by to read my blog. I an a Certified Indian Blood member of the Hopi & Apache Native American tribes, Reiki Master-Teacher, Medicine woman in-training, paralegal, researcher, and writer based in the mountains of Colorado, USA. I work closely with fellow planktons and minnows in a few groups by helping them adjust to Steemit and create quality content. I am especially interested in finding others who love natural medicine originating from ancient practices, gold and silver, and energy work. Additionally, I'm the creator of Red Radio, #FreedomFriday, and #MedicineCardMonday so if you are interested in receiving a Native American Medicine stop by my blog every Monday to say hello!
A'OO, Eagle Spirit