Technical Analysis of EOS/USD- 06/01/2020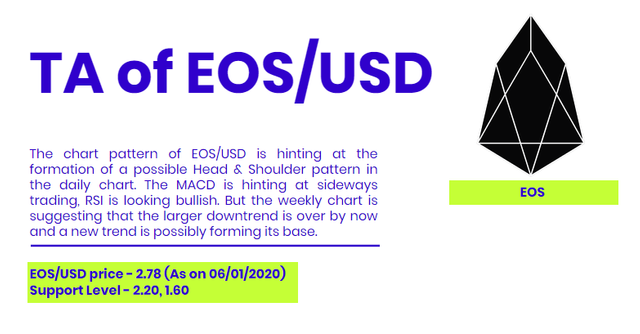 ---
EOS/USD is now trading at 2.78 and is trading sideways at the moment. But in the larger time frame (1D Chart), the pair seems like building the base above 2.20 level and in the coming days, weeks or months we may see a sustained bull run above this level(2.20 level). In the past also 2.20 level has been a strong support for EOS/USD. So as long as the price of EOS remains above 2.20 level, it will either trade sideways or may correct higher. In a nutshell, the current chart pattern is a part of the larger consolidation as well as the formation of a larger base for a new trend.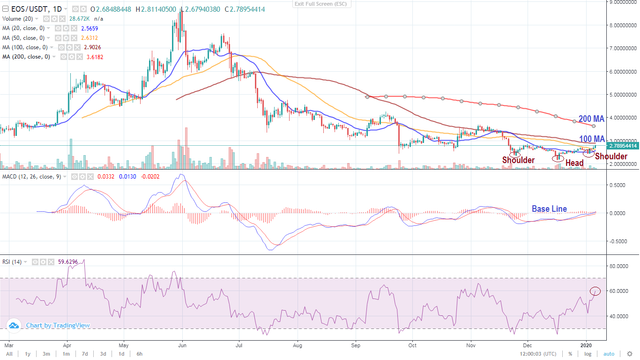 In the candlestick pattern of the 1D chart, we can see the formation of a possible reverse Head & Shoulder pattern with its head at 2.20 level and the shoulder at 2.40 level. If this pattern would remain valid then EOS/USD could rally into 3.60 level in the short term and that is also the level which coincides with 200 moving average.
For both short term and long term, the 2.20 level is going to be solid support for EOS/USD.
So let's get into the technical part of this pair. We will analyze it on the basis of moving averages and also we will apply trend indicators for clarity on the direction of this pair.
Moving Average
We will plot SMA(Simple Moving Average) 20, 50, 100, 200 SMA.
| SMA | Level | EOS/USD price | Trend |
| --- | --- | --- | --- |
| 20MA | 2.56 | 2.78 | ⇧ |
| 50MA | 2.63 | 2.78 | ⇧ |
| 100MA | 2.90 | 2.78 | ⇩ |
| 200MA | 3.60 | 2.78 | ⇩ |
As evident from the graph, the price of EOS/USD is now trading at 2.78 which is above 20MA & 50 MA & just below 100 MA. The immediate resistance for this pair will be 100MA followed by 200MA. The 100 MA level is 2.90, 200 MA level is 3.60. So in the short term, the resistance level for EOS/USD will be 2.90 followed by 3.60.
MACD
MACD (12,26,9) has already turned positive for EOS/USD in 1D chart. But the 12 period EMA and the 26 period EMA are not giving any indication of strong momentum in the 1D chart, suggesting sideways trading for the pair at the moment. The histogram has already started plotting above the baseline of MACD, the confluence of 12 period EMA and 26 period EMA are trying to get above the baseline(although not yet). But once this confluence gets above the baseline and once these two EMA gets wider with a crossover, then there will be sufficient upward momentum for this pair. Till then it is sideways trading for EOS/USD.
RSI
RSI(14) is also showing bullish sign as it is now approaching 60(current reading of 59.62) and it is suggesting upward movement for this pair. If in the coming days RSI will be able to stay in this range and keep its reading in the range of 60 and above sustainably, then it would get further bullish for EOS/USD. The sustainable reading of RSI in this zone(60 and above) will further hint about the making of a bull run for EOS/USD pair.
What could be the possible chart formation from here on!
In the 1D chart of EOS/USD, it clearly shows that the 2.20 support level has been respected multiple times. Below 2.20 level, the next support is 1.60 level which is multi-year support. In the daily chart, there is also a possible reverse Head & Shoulder pattern forming right now, so in the coming days, we may see EOS/USD to get out of this sideways movement and may trade decisively upward.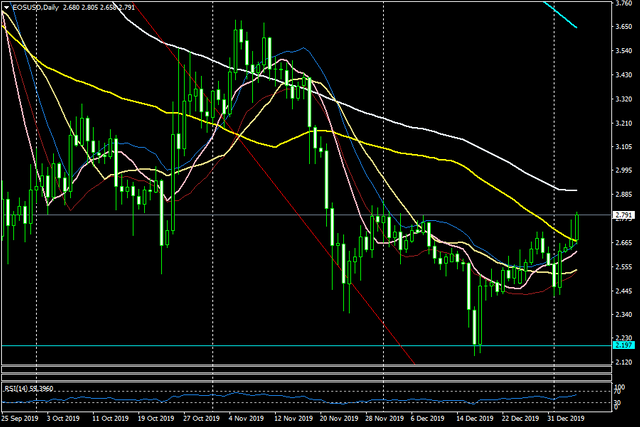 In the weekly chart, both 2.20 level and 1.60 level looks very firm as strong support levels. Other than that the falling downtrend line appears to be completed by now and the chart has already started consolidating at the base of 2.20 level and above. So the larger downtrend is over if we consider this chart & a fresh and new trend may be in the making and will unfold in the future.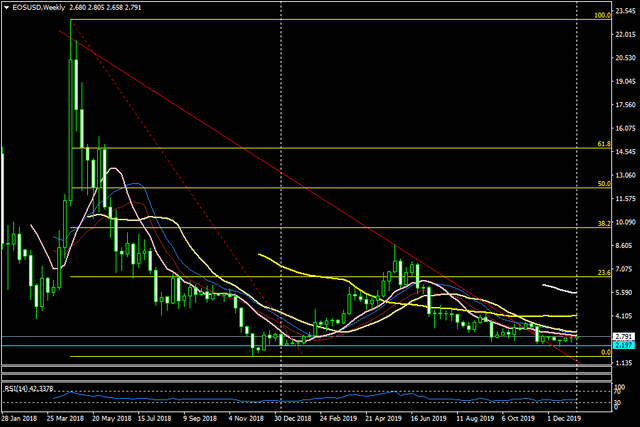 If we look for the short term, then 3.60 is an obvious level to watch out for. In the long run, the multi-year projections will be 6.54, 9.64, 12.22, 14.74, 23.00, 34.45 levels.
Whatever be the case, one thing is very clear - that is - EOS/USD has already completed the last major downtrend and a new trend is in the making and for that, it is clearly building its base at around 2.20 level and above.
---
Disclaimer
This is not financial advice, nor a guarantee or promise in regards to any result that may be obtained from using the above content. The information provided here is for informational and entertainment purposes only. It should not be considered as financial and/or investment advice. No person should make any kind of financial decision without first consulting their own financial adviser and/or conducting their own research and due diligence.
---
The analysis & the infographics are my original works
---
Shared in other Social media