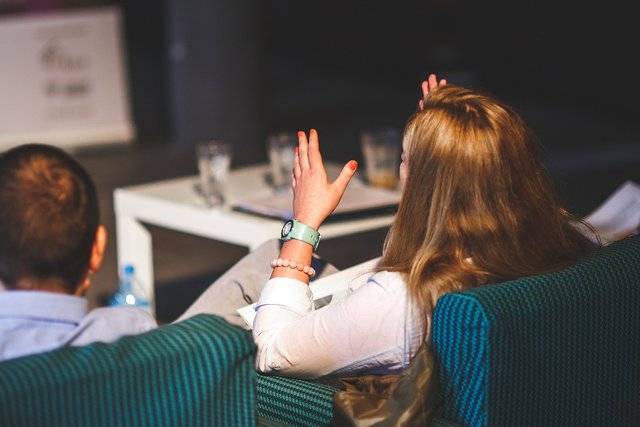 Photo by Kaboompics .com from Pexels
If you're a semi-legitimate looking couple walking around any vacation spot, chances are you've been approached to sit through a Time Share Presentation in exchange for a substantial gift - such a free cruise, a week's vacation in a condo, or tickets to an expensive event.
My husband and I have been through a couple of them over the past several years and every time we say it's the LAST TIME we're going to succumb to the temptation of earning a nice prize for sitting through a couple of hours of presentation (and harassment at the end). One time we went to Cancun, Mexico and when we disembarked from the plane we were hailed from a counter at the airport offering us maps and guidance. We thought they worked for the airport - NOT - and before we knew it we'd agreed to take a look at a very beautiful property in the hopes that our next stay we would like to vacation with them. Only 90 minutes of our time, a free breakfast, and tickets to two different expensive local attractions. And just like that, we had an appointment to be picked up at our resort at 9:00 am the next morning.
That evening we got a nice call from the registration desk (we thought) asking us how check-in went, how we liked the accommodations, and if we were all set for our "tour" in the morning. To make a long scandalous story short, this call was from a rival "timeshare team" who paid people to drum up targets to go for their company's presentation. He said our appointment time had been changed (by a half-hour earlier) so we ended up being picked up and taken to a different presentation than we agreed to. No honor among thieves, lol. Who would invest in a company with such unscrupulous practices?
Recently we attended a BBQ Fest in downtown St Louis and there were all kinds of booths, vendors, and displays. We were hailed over to a booth by a pretty young thing to "spin the wheel" for a chance to win a vacation or a cruise. I hit the jackpot (imagine that!) for some kind of 3 day-2 night getaway, but I made the mistake of saying "Oh darn, we were thinking about taking another cruise...that's what I really wanted!" Well, right away we were informed that she could hook us up with a 5-night cruise - for just the cost of the port fees and taxes! We looked at each other and said "Time Share!" and started laughing. The more we laughed and scoffed, the harder she talked. We finally walked away and said we would talk it over in private and be back.
After talking it over and considering the deal, we actually DID go back. I had been pricing a cruise and it was a little over $1,000. The presentation was being held there in St. Louis the next day and we were already spending the night, so what's a couple of hours of a high-pressure sales pitch for saving quite a bit on the cruise? We had it in writing (1) the cost would be only the port fees and taxes (2) we had our choice of 3 cruise lines (3) we had 90 days to book the cruise for any sailing date up to a year from now. And we would receive a $75 Visa cash card at the end of the presentation. Woo Hoo, we can do this!
Actually the presentation wasn't too awful. We had a brand new salesman for our sales pitch and he wasn't nearly as aggressive as some can be. It was held at an upscale hotel in downtown St Louis on the 13th floor and I actually got some nice photos of downtown and the Gateway Arch while we were up there. Vic discovered Mango Pepsi (he's all for anything mango!) in their hospitality suite as a bonus and we got out of there in the promised 2 hours with cruise certificate and Visa cash card in hand. Success, and with the sales pitch out of the way, we didn't have to take any time from the actual vacation to hear it.
Everything went great - UNTIL - I tried booking the cruise. You call a separate company called Privileges Redemption Center and they set you up an account to go online and browse the cruises that are available. So far, so good. All three cruise lines were represented as we had been told, with choices of ports, locations, and dates. Most of the cruises had "included in certificate price" as the cost, but there were some that you could get at an upgraded price. It would say, for instance, "an additional $57 per person required".
I picked a cruise leaving New Orleans because we wanted to spend a few days there before and after and we love New Orleans! I picked one with "included in the certificate price" because the whole idea was to save money. After you decided on your cruise, you had to call the company's 800 number and talk to an agent to make the booking. And this is where the trouble began. The booking website shows the per person port fees and taxes, in this case, it was a little over $80 each, which should have made my total $160 roughly. A little more than the $150 maximum we were told, but I can deal with that.
After a 40 minute conversation with our "agent" where I selected the cruise and we picked the cabin, and onboard dining times, and a few other details, it was time to make the payment. He quoted me $480! The ensuing conversation revealed that he had charged me $159 for travel insurance, without discussing or even telling me about it. I made him take that off, then he told me the price was $430. Okay, even in my head I can subtract better than that! Next, I was informed about the $100 "redemption fee" and a $25 "processing fee". I argued vehemently that I had it in writing that the ONLY cost was to be the port and taxes fees. After going on hold to talk to his supervisor (neat little car salesman trick!) he came back and said they would "waive the $100 redemption this one time only" out of the goodness of their heart. Now I only owed $316 - which is still twice what I was supposed to pay. By this time we've been on the phone for an hour and I'm livid. And he's about got me convinced that the $150 maximum I was supposed to pay was per person instead of total. So I finally give up and pay the $316, which is still a substantial savings, but not the point, and I'm not a happy camper.
But it's not over yet. I received a detailed receipt in my email a few days later :

Cruise fare of $135??? The port fees and taxes were exactly what I was expecting pay, and I was willing to overlook the $24.95 processing fee even though that wasn't in the deal. I immediately called the redemption center back. I was told that only the booking agent who assisted me would be able to correct any mistake and he was currently not answering his extension. I asked to speak with a supervisor. Hmmm, he was away as well. The original booking agent did finally call me back later and told me there was nothing wrong with the bill. I argued until I was blue in the face and finally demanded to speak to his supervisor. And the supervisor backed him up! He spent 30 minutes explaining to me how that line item was NOT for "cruise fare" (even though it says so) but that it's for ADDITIONAL port fees that are somehow not included in the line specifically for that. I told him I was looking at Carnival's website and that they gave a very explicit explanation of what was covered in that line item, there were no "OTHER PORT FEES".
Bottom line - he refused to acknowledge that I should not have been charged an addition $135 and was not willing to make any adjustment. I'm sure the agent gets a commission to "upgrade" the travelers because he tried really hard to tell me on an upgraded cabin and added on that travel insurance on the sly. What to do now? I'm not through yet, I've contacted their corporate headquarters by email. At this point, it's the principle of the thing!
So how about you, have you had any good or bad experiences with Time Share presentations and gifts? Have you ever bought into any of their plans while attending one of them?

If you enjoy writing short fiction stories (less than 1,000 words) I'd love to have you join me on Narrative. Don't abandon STEEM - there's room in your life for both! Here's a link directly to my page featuring Flash Fiction:
This blog was originally posted on Narrative
Get in on the ground floor and see what it's all about. If you have any questions, feel free to ask me in the comments.