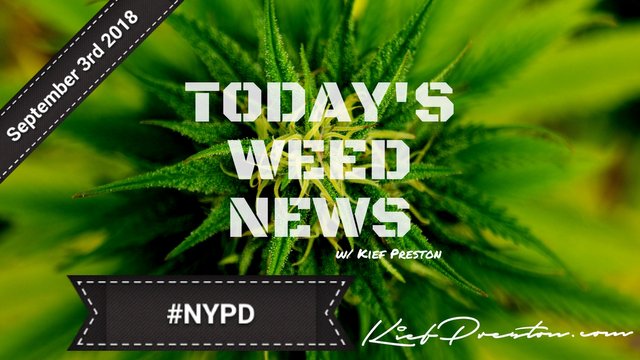 For today's weed news we go to the great city of New York.
Starting last Saturday, the New York City Police Department has announced that they are implementing a brand new way to deal with cannabis on the streets of New York.
The new policy that went into effect last week aims to cut down on the number of simple drug possession arrest in New York and is instructing police not to arrest people just for smoking cannabis out in the open.
The main idea behind the new policy is to "level the playing field". Even though countless studies have shown over and over again that cannabis use remains about the same across all races and demographics, arrest records show that people of color are historically far more likely to be taken in for this "crime".
"Our new policy, we're going to see a humongous drop in people in communities of color being arrested for marijuana... And that was one of the whole goals of this whole new policy," said NYPD Chief Rodney Harrison.
Effective immediately, NYPD officers are going to have the choice whether to take people in if they catch them smoking weed in public.
The NYPD is warning people that there are some cases in which arrest are still going to be made. Circumstances that could lead to potential arrest include having outstanding warrants, driving while smoking weed, and/or failing to show ID to an officer when asked.
It's always good to see even small improvements and forward movement when it comes to relaxing cannabis laws. I'm glad that New York is getting with the times and moving away from treating cannabis users as criminals.
Although I like this new approach, I must say that it would make me feel much better if the officers were forbidden by the law from arresting people for cannabis rather than just given the discretion not to do so if they decide.
But either way, this is a change for the better.
And that's what's up New York!
source: bit.ly/2Nw2Opp
"Take Action Today to Help Legalize Weed Tomorrow" -Kief Preston
START HERE: kiefpreston.com/
Wanna GROW? Free GROW BIBLE – https://bit.ly/2podIAg
NEED A VAPE? VaporNation has Da Buddah Vaporizer and ALL the BeSt Brands + FREE SHIPPING - https://bit.ly/2L6hOFp
SURFSHARK UNLIMITED No-Log VPN - https://bit.ly/2NKwPPn
If you enjoy my content please leave a comment, ask a question, like it, share it, and subscribe for more! It will help me grow my blog and motivate more people to stand up for cannabis and start enjoying its' many benefits.
Stay UP! -Kief
▶ STEEMIT steemit.com/@kiefpreston.com
▶ Pinterest – pinterest.com/kiefpreston
▶ Youtube Channel – bit.ly/2GPQg64
▶ Kief Preston's Time-Tested Edibles Cookbook Series http://bit.ly/2EXIwAZ
▶ My website KiefPreston.com
▶ You can also support the cause by shopping on Amazon for ANYTHING you need using this link amzn.to/2GrxPog
More FIRE TRACKS from LMR & Mr Go Hard https://bit.ly/2plIWbe
▶ Hear me on Smoke Radio here: https://bit.ly/2JTCgJw
》》》FOLLOW and LIKE the Weekly Weed News 2.0 Podcast on Spreaker: bit.ly/2HjLf99 or on Itunes, Stitcher, Soundcloud, iHeartRadio AND nOw on Spotify!