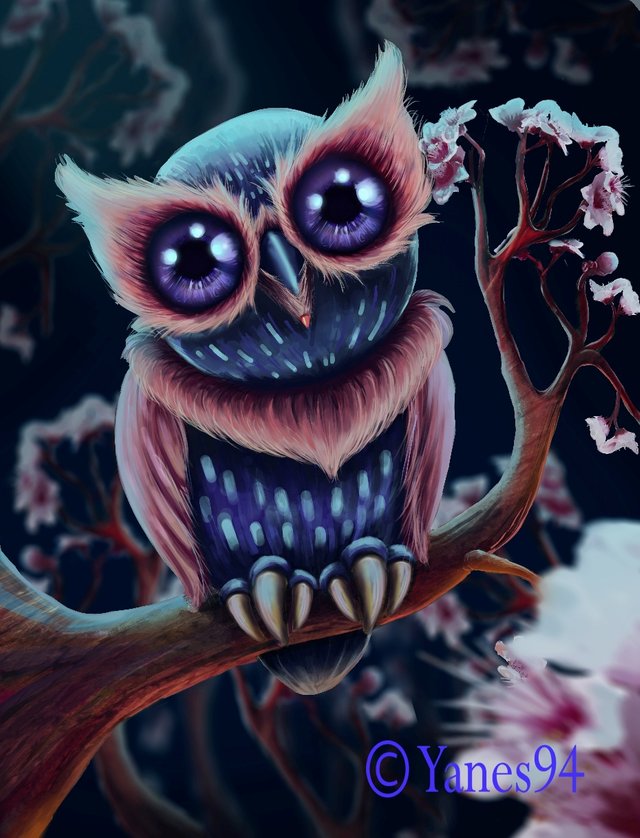 ---
---
Good afternoon dear friends Steemians!!! <3 <3 <3
Yesterday after arriving from the Cyber ​​where I was publishing, I set out to create a sketch for my next job, I spent time and time thinking what to do and I did not get any good ideas, I made several sketches trying to get something good until they were made like 7:00pm and I had to go to my sister's house... she had a small celebration for my son for his 8th birthday.
Upon arriving there were some uncles and cousins ​​in addition to other family members, soon another of my uncles arrived with my cousin named David, he besides being a nice person, kind and very talented is Autistic, he loves to draw from very small. A long time ago I saw his works and they are many!!!, Really, they are quite the drawings he has made in his 16 years and they are incredibly good... Most of the time his drawings come out of his head and he does not need to see something or look for references to create your designs, you only need a sheet, a pencil and start working on your art.
Some time ago I decided that when I went outside where I would take my little sketchbook and my agenda for incomplete designs... both made by myself with recyclable materials (this is Venezuela) and my pencil and eraser, you never know where it can be born the inspiration and get a good idea to perform and it is bad not to have something in hand at the time to work it, to leave it for later when I get home, I forget... (That's me... LOL), returning to the subject, my Cousin David saw my notebook and diary and borrowed my diary and immediately started drawing and after an hour I had a cute and magical Owl ready.

Drawing by David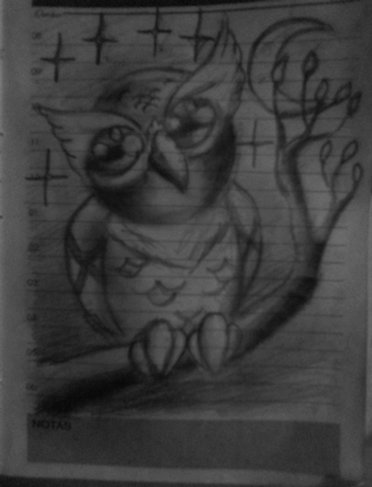 When I saw him, I liked it so much that I told him that I was going to make it digital to do it and publish it here for all of you, besides, I have thought if he wants it, to create an account for him and to publish his designs in this community and make known his Talent and his pretty personality.
Below, you will see the design of it and my digital version, I hope you like it all... and what do you think about David being part of the #Steem blockchain? Is it a good or a bad idea?
---
---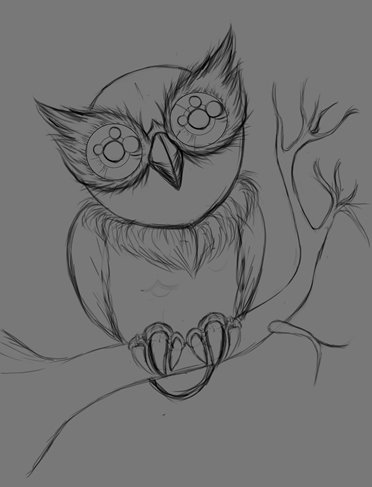 When I got home at night, I took some pictures to make the sketch in Ps, I made some modifications not so many to tell the truth.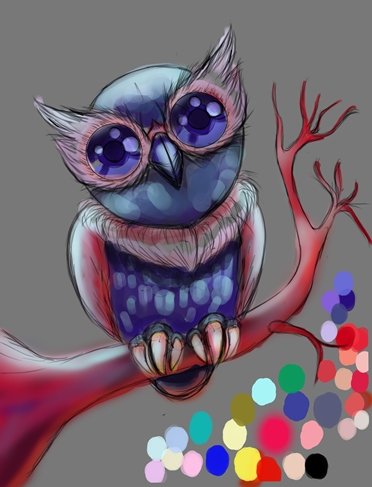 When I started painting I wanted it to be in pastel colors, so the color palette I chose had many of that type, I think I almost [To never say] work with that kind of color palettes, but I wanted it to be tender and carry the essence that he made.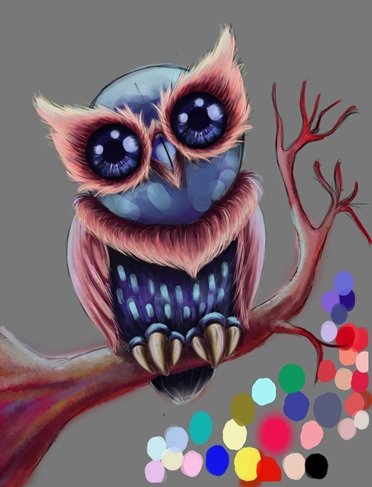 I spent a while making the eyes of the owl [It always takes me a long time to make them] and the feathers, which look a bit like lol hair, but no, they are feathers.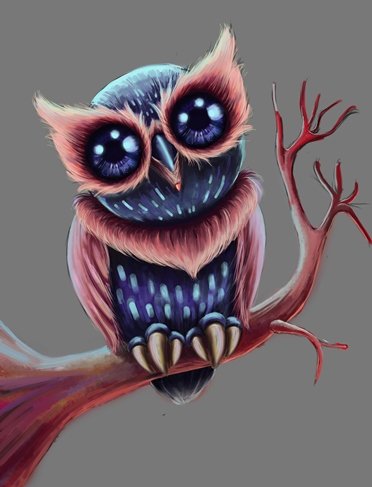 To make the owl I only used a single brush with some transparency and transfer, I made some feathers on the face and body, also a little texture on the tree.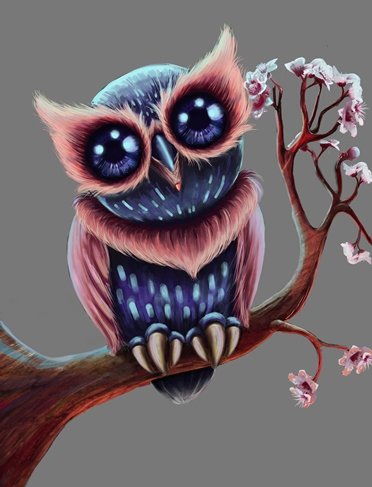 Add some textures to the tree and the flowers, because it didn't have to be clean and David had made some flowers to the drawing.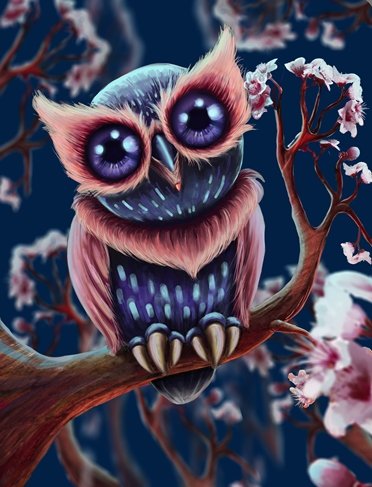 I wanted a more nocturnal environment, so I made some adjustments and lights to get what I was looking for. For the background I copied and pasted the tree several times and put a little blur.
FINAL RESULT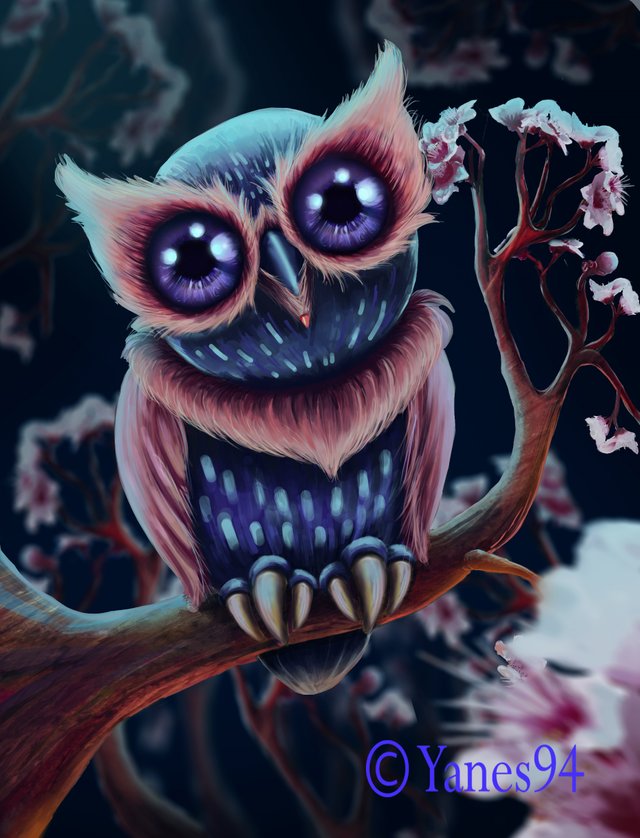 ---
---
MATERIALS USED:
Recycled sheet for sketch
Olimpus camera
Laptop
Photoshop
Wacom Bamboo Create tablet.
---
---
Grateful to all of you for seeing and supporting my new work, I would be very happy if you leave me in the comments your opinions and criticisms regarding this style or my work. His criticisms help me to grow and encourage me to work harder to improve my art.
---
---
See you soon dear community, thank you for viewing and supporting my publications. 😜
Copyright @yanes94 - All rights reserved.