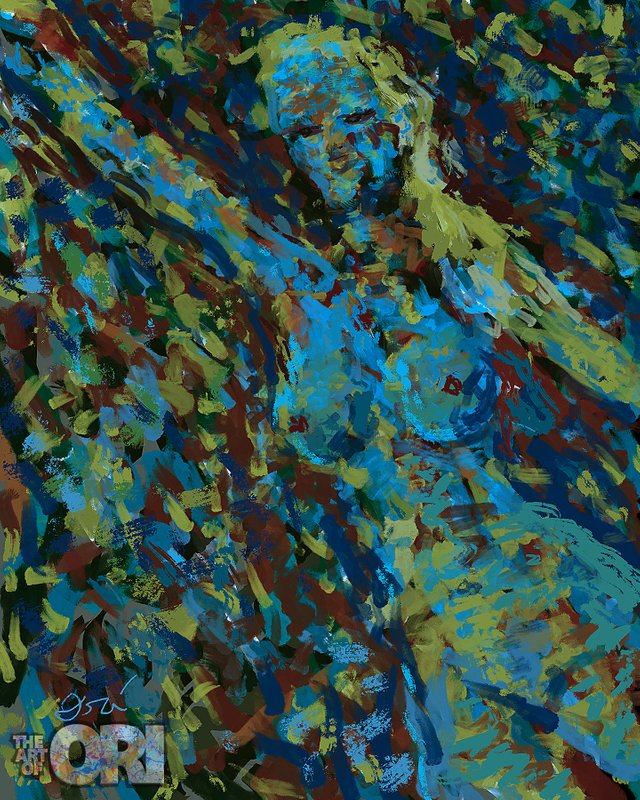 There's not always a fancy story about where a painting came from.... I create art every day (over 2,660 days now) - many pieces take longer than a day to do, others I get done in a day... but regardless of how long it takes, a piece has to end up as something... Many times I don't know what I'll paint - but.... I'm in it for mastery. One thing that I can never practice enough, and I have not mastered yet (to the degree which I'd like) is the human form....
People are tough to paint / sculpt. Why? Well... there's complexity to us --- many pieces that twist and turn, and they change form as they do... The skull alone has 22 bones! But, regardless of Complexity, the reason it is hard to paint/sculpt a human is that we all know exactly what a person looks like... we see oe in the mirror every single day. So, if there is something wrong, people can tell. They may not know what specifically is wrong... Just that something is off.
That said, if ever I need to make art, and I don't have an idea or a client piece, I often paint the human form (coincidentally, that often translates to naked women).
There is another thing that I try to master... though, I'm not sure mastery is the word here... It's more of discover than master. That thing is my style. What is the style that I shall be known for? You'd think after a few thousand pieces I'd know, but... I don't I'm not sure that there will ever be one, since I thrive on change. When things get too stable, I shake the little snow globe that is my life, and see where the pieces fall (my parents just wish that I would get a regular job, stay in one place, be in a relationship -- you know... white picket fence, and all that crap). I am pretty sure that it applies to everything in my life -- including my art.
So exploration of style.... if you go through my art
http://TheArtOfOri.com/year8
http://TheArtOfOri.com/year7
http://TheArtOfOri.com/year6
http://TheArtOfOri.com/year5
http://TheArtOfOri.com/year4
http://TheArtOfOri.com/year3
http://TheArtOfOri.com/year2
http://TheArtOfOri.com/year1
you can see hundreds of different styles (and... hundreds of naked women (I'll save you asking --- no, they did not all pose for me... no, I did not date them all.)). And yes, I have heard "Paint me like one of your French Girls" enough times to be sick of it.
Side note: Did you know, James Cameron was the one who actually drew the drawings that Leonardo DiCaprio's character was showing in Titanic. They were looking for an artist to do it, but the artists they got were too professional, and DiCaprio's character was supposed to be decent, but... poor, a working man... Thus, not classically trained, and so they couldn't be too good. So Cameron did them himself. Another fascinating piece of trivia, Cameron made the entire movie only because he wanted to take a sub down to explore the Titanic, and he wanted someone else to front the bill.... So, the entire movie was made just for the opening shot, where you see the sunken remains of the Titanic. One last thing about James Cameron -- if you want a chuckle at all his many accomplishments, watch Season 1 of the series called "Future Man" - it's hillarious... totally different than most shows you've ever seen. And... there's an episode or two completely dedicated to praising James Cameron. Seaon 2 was good, but not quite as good as Season 1 -- but.. .that's just my opinion.
Ok.. back to art.
Exploration of style is important. Practicing the human form is important (even if you want to make it more abstract, etc... you need to know the real anatomy / form / etc and then modify... As they say, "You need to know what the rules are before you break them").