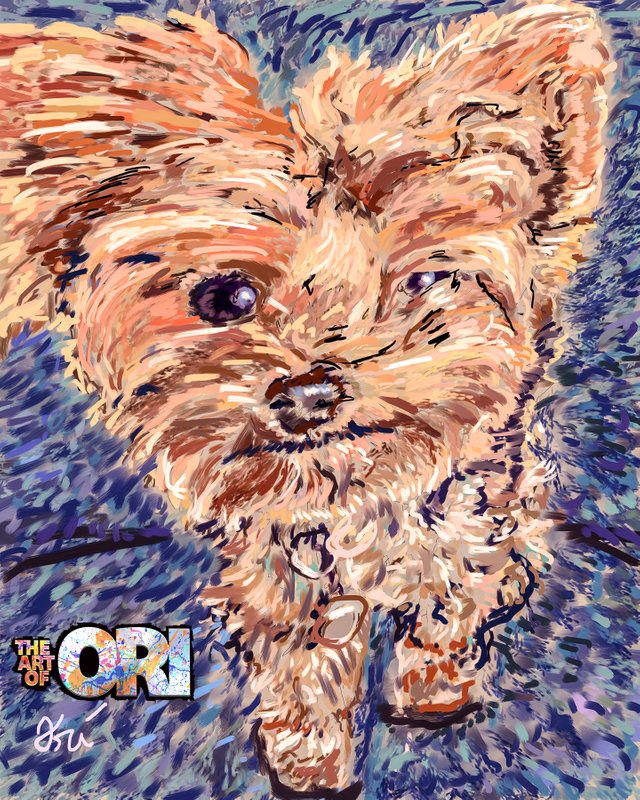 Hey Steemians! You following me yet? ( If not, why not? You're missing out on great content - I pour my art/heart out daily. ) So... this is sort of a sequel to a previous post. The mermaid and the Sea Horse -
In the last post I wrote how I surprised my buddy's wife with a huge painting.... She had no clue about it, and now it's the centerpiece of their home. I'm pretty proud of that... but, it's not the whole story. You see, it's a mountain-cabin type home. My buddy had just moved his family there, and I came to visit him -- before his wife came back - so that I could measure to make sure the painting fit, and also to welcome him to his new home. While there, he mentioned that his dog, Sherlock, has been missing for a few days... but the search is on.
I haven't had reason to mention this, 'cause... it's not a thing you really say to people out of the blue, but... I think that the sound of Coyotes howling is beautiful... it feels like they are singing for me. I've lived in Oro Valley, Arizona (near Tucson) - and there were Coyotes there in the mountains... they'd howl at night, and I'd chillax on the patio, look at the stars and listen. There... now you know something about me that most people do not know.
When I visited my buddy at his new place, I could hear coyotes... This time, they were closer than any time I've ever heard them howling before. It was still beautiful. You know what isn't beautiful? The sound that they make when they actually catch something. That is the sound of brutal slaughter, as a group of canines masacre a much smaller creature. It's a bit bone-chilling actually. Well, I heard this too when I was at my buddy's place.
Sherlock was a small dog, and while I'm an optimist, I suspected that there's a chance the Coyotes got him... I noticed that there was a photo of Sherlock on the fridge, so I took a photo of it on my phone... just in case.
Here's the reference photo: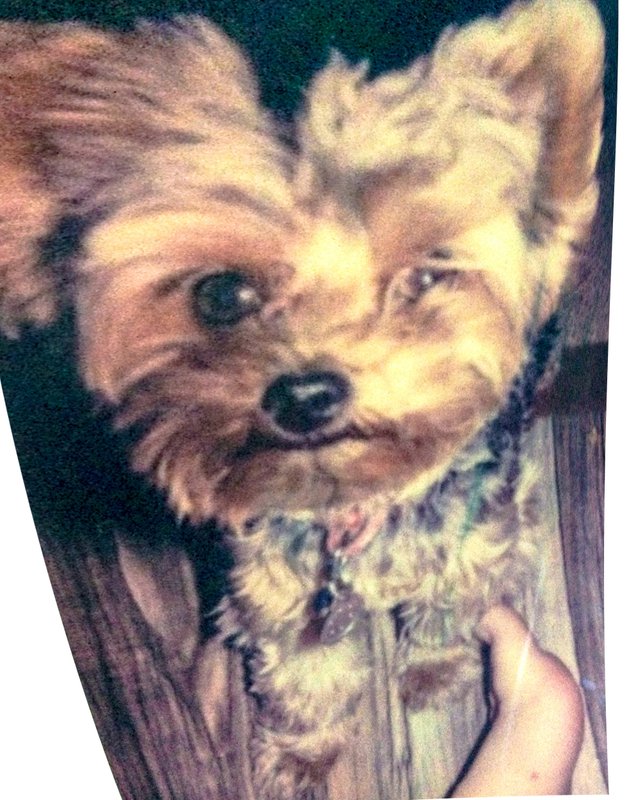 I got home, and made a painting of Sherlock, and I mailed it to my buddy.
Since it was a surprise, I mailed it in the slower (cheaper) way. Before it got there, I spoke to him. I asked how it's going... he said many good things, but... also that they found Sherlock's collar... Meaning the coyotes probably got him... and they (the family, not the coyotes) are crushed. He was the family dog, and they all loved him very much.
Another day or two later, and the painting arrived. They were all grateful, and in tears.
They later sent me a video, of how they surprised their son with the painting, and I actually got to see all 3 of them crying.
"I make grownups cry" -- it's my unofficial slogan. It's usually tears of joy from a great surprise... I help my clients plan the surprises for those special people... Or.. I just surprise people...