Handmade application for blouse made with beads
♥ Welcome to my blog ♥
Thanks to the
@nTOPAZ
community for the realization of this incredible contest, since I can make known part of the work that I like and love so much, it is worth noting that my skills are developing as I am in constant practice.
For this second entry I bring you a butterfly application for a blouse, made with a totally handmade mostacilla, it is very easy if you have the materials and complete instruments, in my case I managed to make the embroidery drum but finally I could solve and bring today this beautiful piece.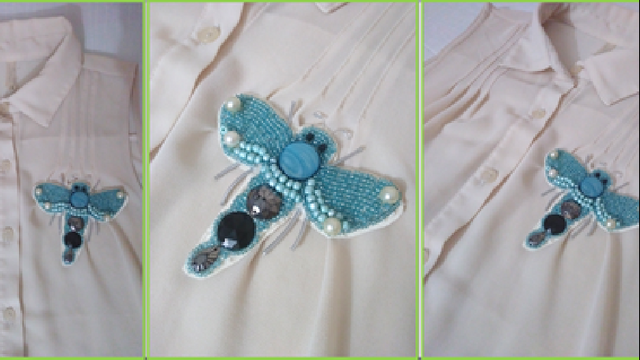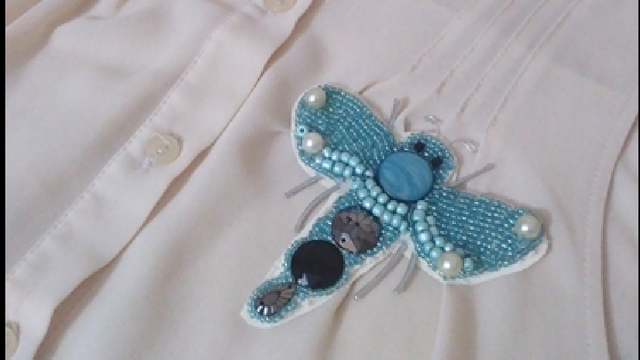 ---
Materiales:
Tela.
Silicón líquido.
Mostacillas pequeñas de color azul ( o de su preferencia).
Mostacillas azul mediana.
2 mostacillas negras para los ojos.
4 perlas para los bordes.
3 chapas negras y 1 azul.
Alambre ligero para las antenas.
Hilo elástico plateado para las patas.
Tijeras.
Yesquero.



Parte 1
Dibujamos en un papel nuestro diseño que deseamos como punto de partida y luego lo pasamos a nuestra tela para tenerlo de referencia y por allí es que vamos a trabajar con las mostacillas, como se muestra en la figura 1.
We draw on paper our design that we want as a starting point and then we pass it to our fabric to have it as a reference and that's why we're going to work with the beads, as shown in Figure 1.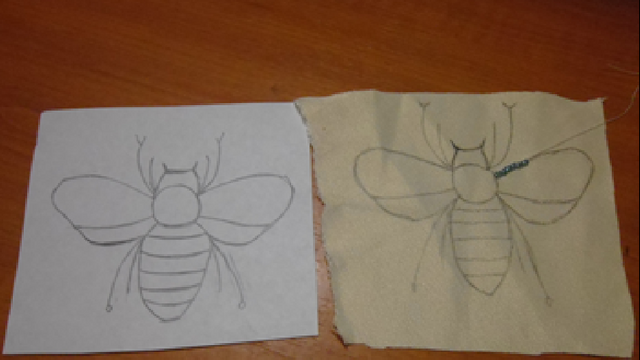 Parte 2
Comenzamos por las alas insertando en nuestra aguja 3 mostacillas y luego trasferirlo a la tela en modo de costura, ayudándonos con la secuencia del diseño, vamos trabajando de 3 en 3 mostacillas a lo largo de las alas, hasta obtener el resultado deseado. Como se nota en la imagen 2.


We start with the wings inserting in our needle 3 mustacillas and then transfer it to the fabric in sewing mode, helping us with the sequence of the design, we are working 3 in 3 mustacillas along the wings, until we get the desired result. As you can see in the image 2.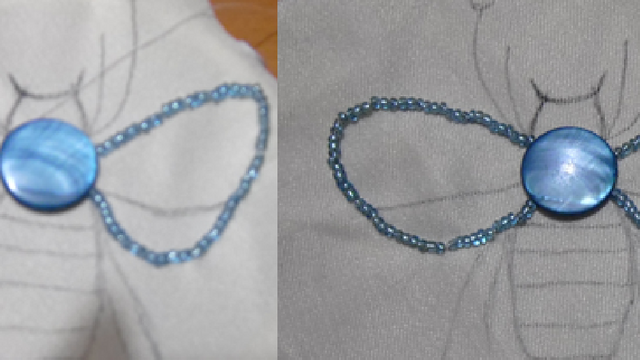 Parte 3
Para la tercera parte nos dirigimos a una de las alas y le colocamos una perla en una esquina y de allí empezamos a bordar toda el restante del ala y la del otro lado, como apreciamos en la imagen 3, dejando un pequeño espacio para colocar mostacillas medianas.
For the third part we go to one of the wings and place a pearl in a corner and from there we begin to embroider all the rest of the wing and the other side, as we see in image 3, leaving a small space to place medium mustards.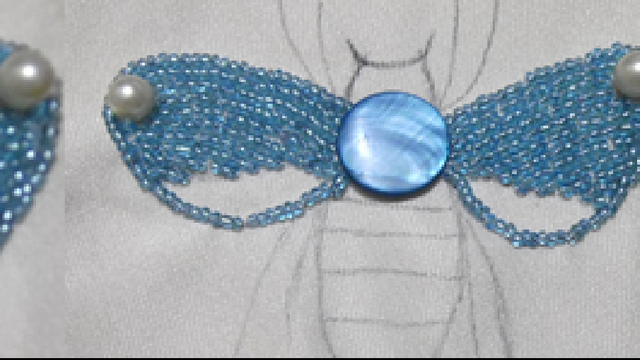 Parte 4
En la cuarta parte rellenamos los espacios vacíos con mostacillas medianas, luego colocamos las perlas, ajustamos detalles y posición, rellenamos si es necesario. Posteriormente con silicón pegamos nuestras chapas negras en el orden que se ve en la imagen y esperamos que seque.
In the fourth part we fill the empty spaces with medium mustards, then we place the pearls, we adjust details and position, we fill if necessary. Subsequently with silicone we stick our black plates in the order that is seen in the image and we wait that it dries.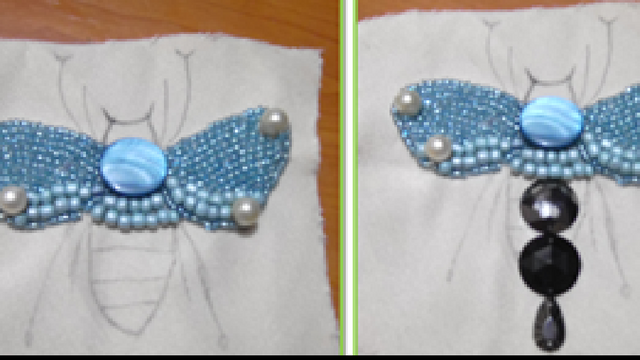 Parte 5
En el siguiente paso rellenamos los bordes de nuestras chapas con mostacilla dando forma a la cola, luego le hacemos la carita con la misma mostacilla y le agregamos 2 piedras negras para simular los ojos, luego recortamos el diseño como se muestra en imagen 5.
In the next step we fill the edges of our plates with mostacilla giving form to the tail, then we make the face with the same mostacilla and we add 2 black stones to simulate the eyes, then we cut the design as it is shown in image 5.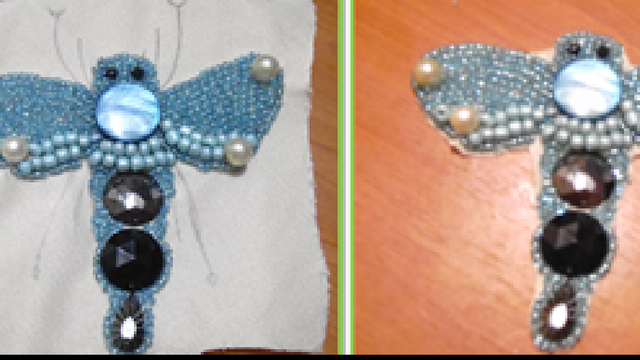 Parte 6
Para finalizar el diseño que hemos cortado, lo montamos en otra tela y pegamos, aquí mismo colocamos nuestra antena hecha con alambre fino y simulamos las patas con hilo elástico, todo esto pegando junto con el diseño en la tela, luego esperamos que seque y cortamos dejando 2 cm de separación, como se ve el imagen 6. Luego terminada la podemos pegar a un bolso, un gancho, una carpeta u otra utilidad que le quieran dar, en mi caso la tome como aplicación de blusa y decidí mi tela de color crema, ya que iba sobre un mismo color.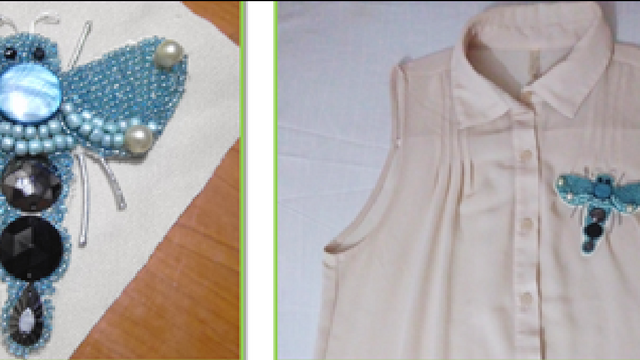 Así de bonita queda nuestra aplicación de blusa, es un trabajo bastante largo y tedioso pero el resultado es excelente. Es mi primera vez con esta técnica y de verdad que me ha gustado mucho, tomare datos para nuevas cosas que renovar como el caso de mi blusa.
---
That's how nice our blouse application looks, it's quite a long and tedious job but the result is excellent. It is my first time with this technique and I really liked it very much, I will take data for new things to renew as the case of my blouse.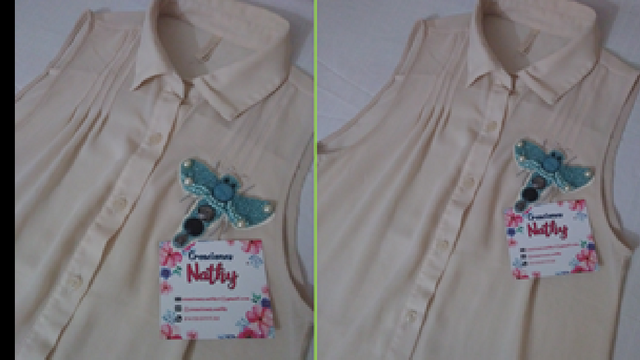 ---
Las fotografías son de mi propiedad y fueron tomadas desde mi teléfono.
Disculpen la calidad en algunas fotografías.
El texto es original de: nathyortiz
// Todos los Derechos Reservados / © Nathy Ortiz //
Separadores realizados en power point por: @nathyortiz
---