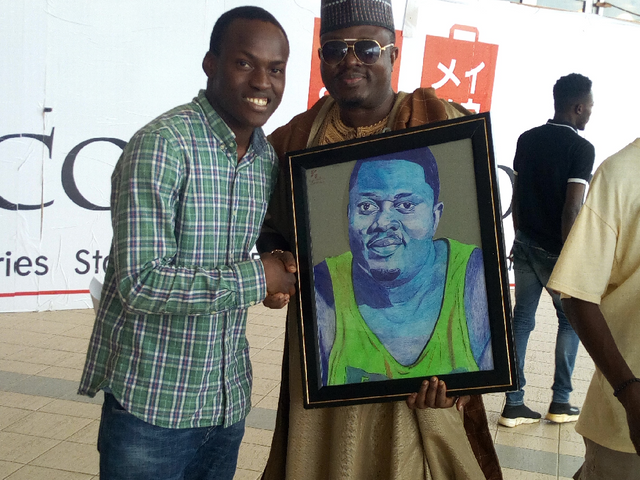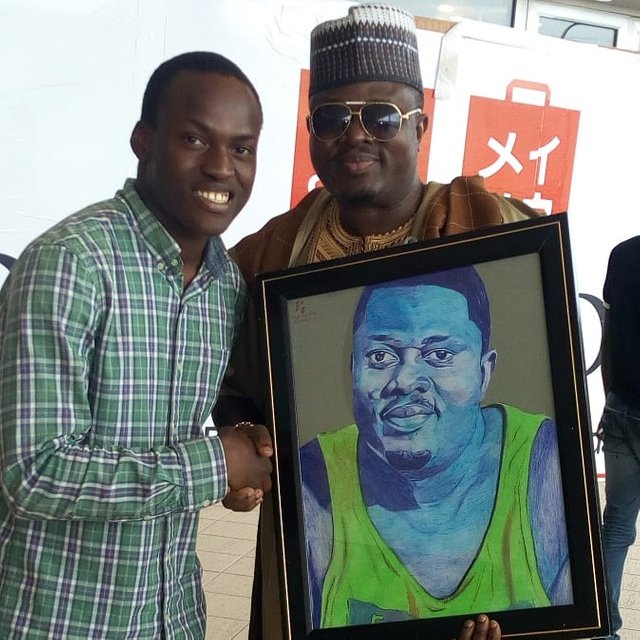 # Hi lovers 💏
Have you really thought about the best experience and feelings am artist can have while delivery his/her work to a client?
Mhm, today I met with one of the most reputable Nollywood movie actor who has inspired me so much with his movies and his skills and I was able to present to him a pen/pastel portrait I made of him and you know what lovers, he loved it so much and he really appreciated it. He showered me love and never looked down on me as a small boy. He created time for me and you know what amazes me the more, he spent more than 3hrs with me. I stood so close to where he was even though I was afraid and was having mixed feelings deep inside of me but still, I summoned courage to be there and anytime he looks at me, he smile ☺, seeing him smile, my heart dissolved as I felt so happy and honestly I must confess, he has made today a memorable day for me and a day I will never forget.
Also, when it was time for his movie to be shown in the cinema, he got me a ticket and said to people around him that I am his SPECIAL GUEST. hearing this, I really felt so important and felt like crying because it made me think of so many things....... Yes I have made portraits for so many people, celebrities but the type of importance he gave to me today really made me know and feel I still have alot to do in this life and that I will get there. I said to him "sir, when I saw you, I kept wondering if truly you are the one behind all these great movie projects I have always watch that inspires me "and he said, it's God and he smiled.
The very person I am talking about is the only man known to be AUTHENTIC bearing the AKA AUTHENTIC MUY having the real name to be MUYIWA ADEMOLA...... honestly speaking,i must confess that the name serves him right and he Worth's it......
Lest I forget, I remember when he told me he will be coming to my location, I had 2 minds thinking he wouldn't be able to make it due to his tight schedules but when I saw his green light 💡........... I said to myself, what a man that keeps to his word. He is a great man and what I wish and pray for him is great prosperity in his other aspiring projects and that he will never know sorry.........
I had a great experience today @authenticmuy. All thanks to you