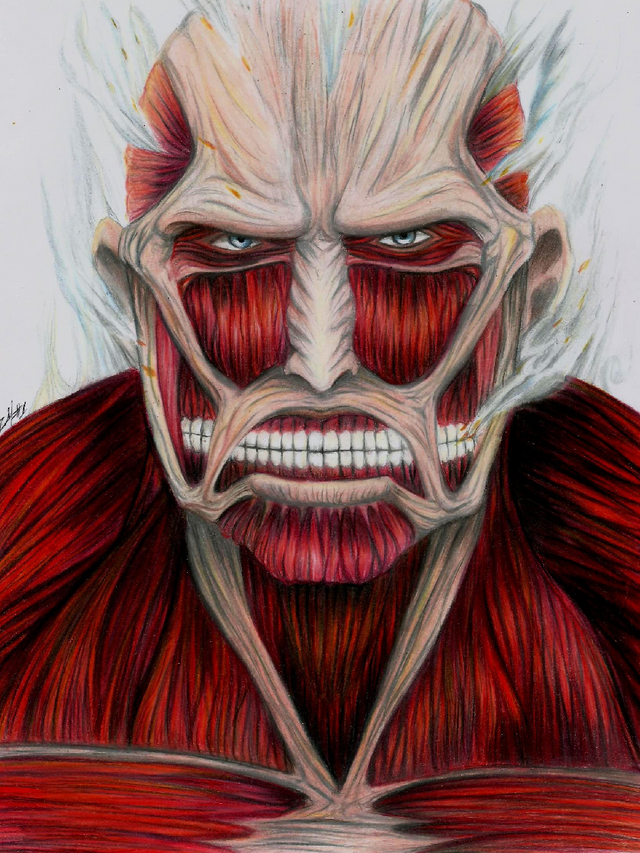 ---
My first year on Steemit!!!
A few weeks ago @steemitboard notified me that it was anniversary (but I always do everything late), that's right, I already did more than 365 days on this wonderful platform. They have been wonderful months, this ecosystem has become very special for me, I must thank large communities like @cervantes, @curie, @votovzla, @c-squared, @ocd, @ntopaz, among many others, for their tireless support to the content I share here, and also thank all those users who strive to create quality content, it is a pleasure for me to delight in their publications and meet them through them.
So to celebrate this first year, I wanted to commemorate one of my first drawings that I shared with you last year. Entitled "A World to Fight For", it was a fairly simple illustration of the anime Shingeki no Kyojin (Attack on Titan), where we can watch the famous colossal titan raze the wall and cannons for the defense of humanity, while Mikasa Ackerman tries to face it. On this occasion, I was only illustrating the titan, as I was anxious to draw it in detail and add a lot of colour to it.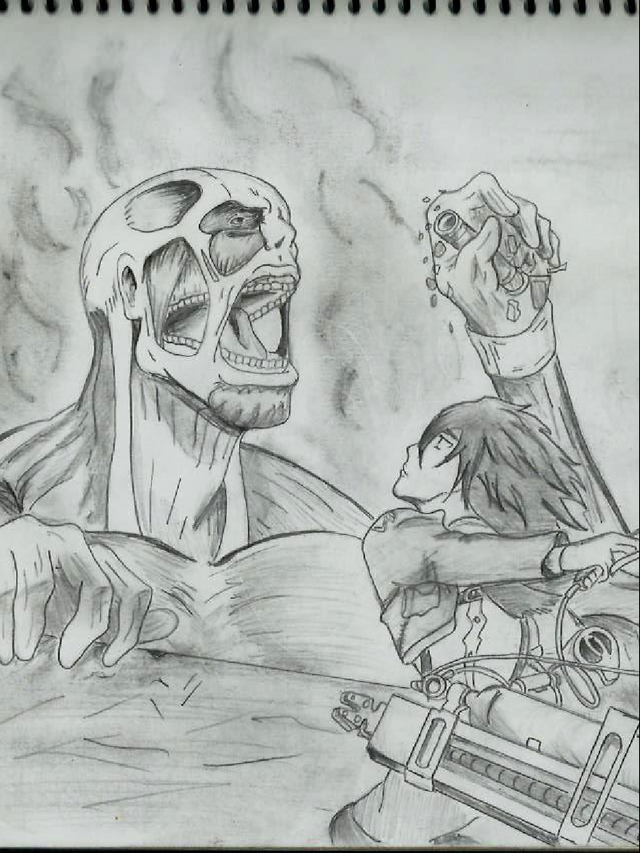 Materials:
Opaline Cardboard 180 gr (A4)
Graphite pencil HB
Prismacolor Premier Colored Pencils
Eraser

Approximate duration: 15 hours

-Step 1:
I started with a simple sketch, in which I defined the structure of the face without detailing too much of the muscle fibers.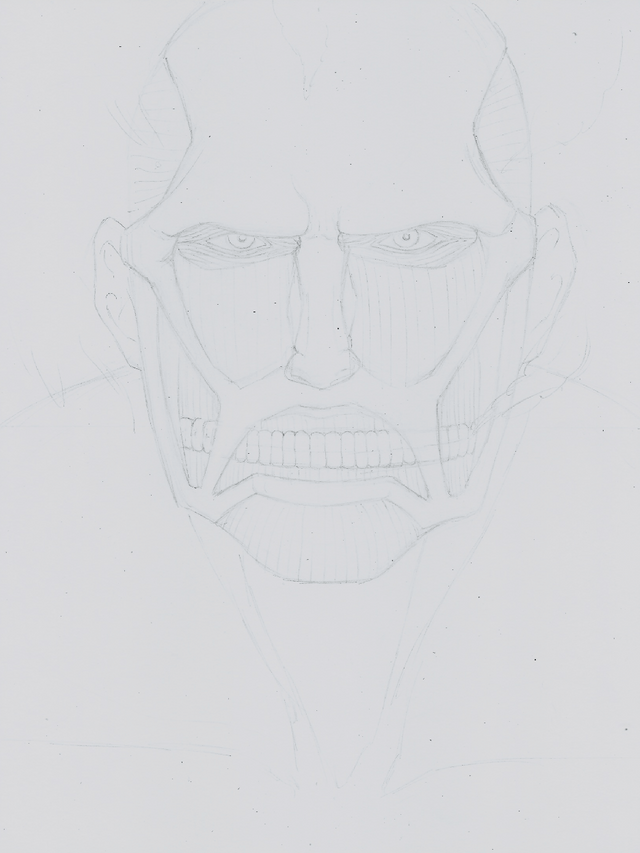 -Step 2:
Using the sketch as a guide, I proceeded to color the eye area, since I wanted to have the titan's look ready from the beginning, and I also practiced muscle coloring.

-Step 3:
Normally I advise to make circular and soft strokes in the coloring, but this time due to the texture of the muscle fibers, I have had to make more linear strokes and with greater pressure to mix the colors.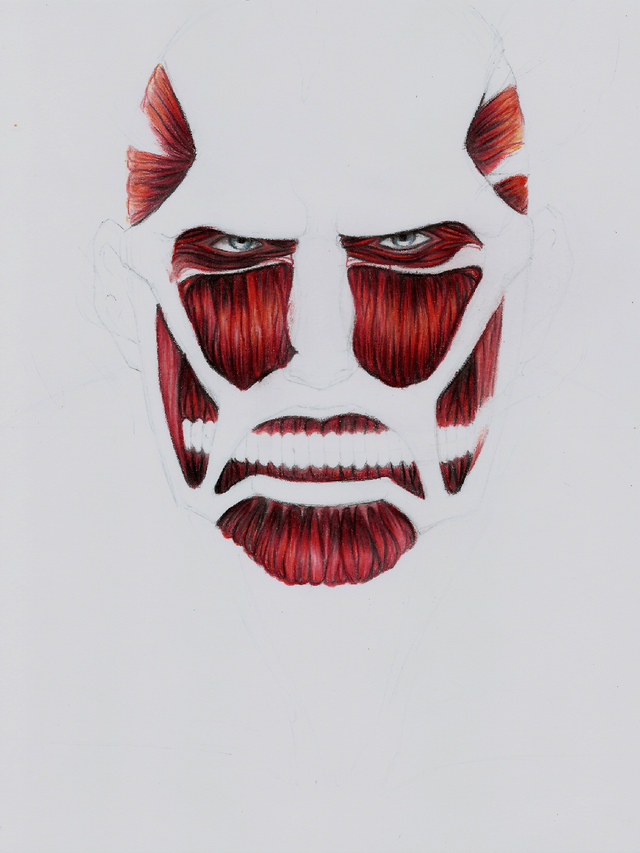 -Step 4:
Once the fibrous part of the face was finished, I proceeded with the areas covered with ligaments? Skin? Cartilage? I really don't know what it is, but I decided to give it a peach tone following the anime based colouring; to these areas I have added a little texture with a grey tone, avoiding making them look flat and simple.

-Step 5:
For the neck and back, I have applied the same coloring method as in the fibrous area of the face, this consists of fixing a base with a black color, which will shape each fiber, then I add several layers of various shades of red, depending on the intensity you want, then pass firmly a peach color to mix the previous tones and finally either orange or yellow illuminate some muscle stripes.

I'll leave you a little gif with the whole process in it, so you can better observe the step by step.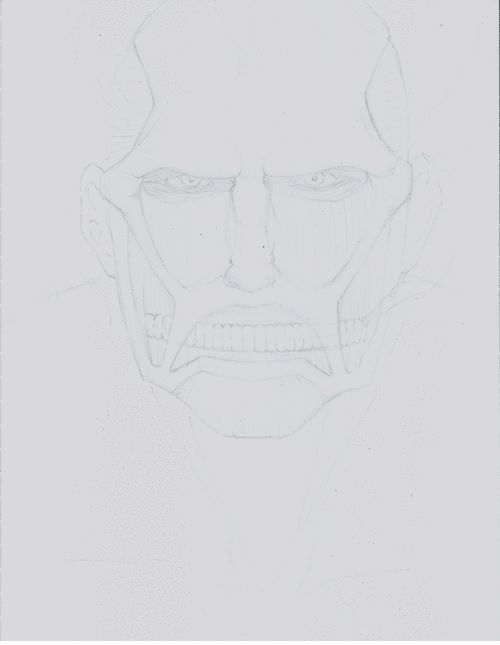 http://picasion.com/

Copyright @hadley4
Thank you for your support