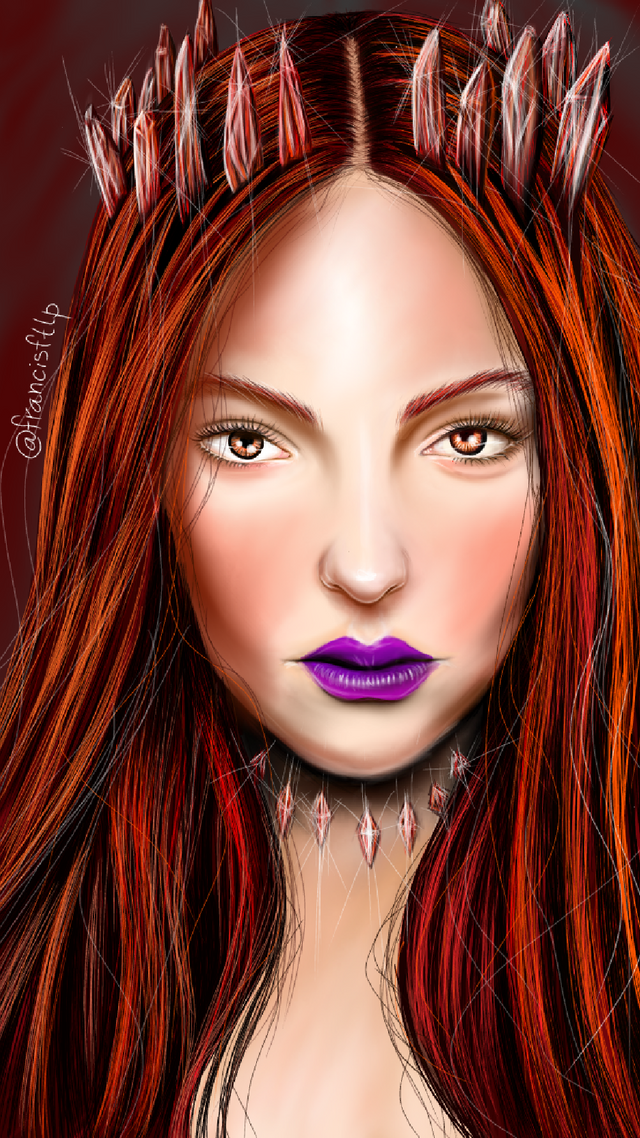 A new Red Queen has been born,
The crown shows that she is the real Queen.
A woman with red blood and crystal bones.
Ha nacido una nueva Reina Roja.
La corona demuestra que es la verdadera Reina.
Una mujer de sangre roja y huesos de cristal.

Hi everyone!
I'm back with another digital drawing. I present an art entitled as: the Red Queen, has a diamond crown, where each diamond sele of his head, this is a symbol of the real red queen, the crown has to be born of it.
I apologize for not posting so often, work has kept me busy, but I try not to stop drawing and update my blog. But when I'm not here, I miss you all know.
In this drawing I was practicing with a lot of emphasis the brightness, and well I enjoyed doing this work because of the variety of red colors that I could combine, I love painting red hair.
Hola a todos!
Estoy de vuelta con otro dibujo digital. Presento un arte titulado como: la Reina Roja, tiene una corona de diamantes, donde cada diamante sele de su cabeza, este es un símbolo de la verdadera reina roja, la corona tiene que nacer de ella.
Pido disculpas por no publicar tan a menudo, el trabajo me ha mantenido ocupado, pero trato de no dejar de dibujar y actualizar mi blog. Pero cuando no estoy aquí, los echo de menos a todos.
En este dibujo practicaba con mucho énfasis el brillo, y disfruté haciendo este trabajo debido a la variedad de colores rojos que podía combinar, me encanta pintar el pelo rojo.

Drawing process./ Proceso del dibujo.
Step 1: Sketch./ Paso 1: Boceto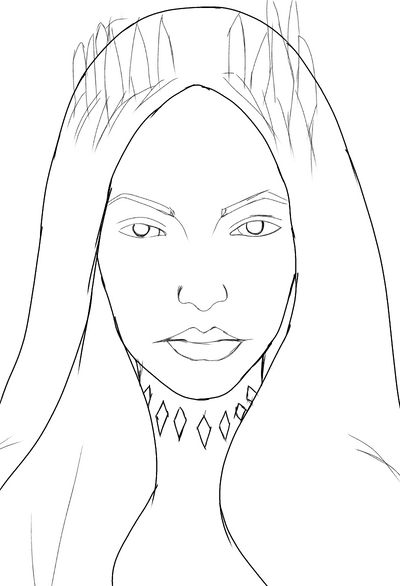 Step 2: base colors./ Paso 2: colores base.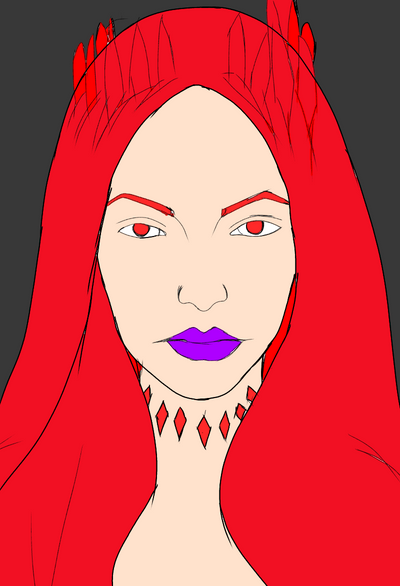 Step 3: Shading./Paso 3: Sombreado.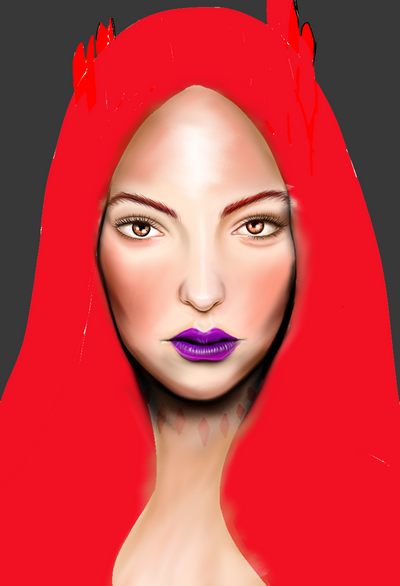 Step 4: Hair./Paso 4: Cabello.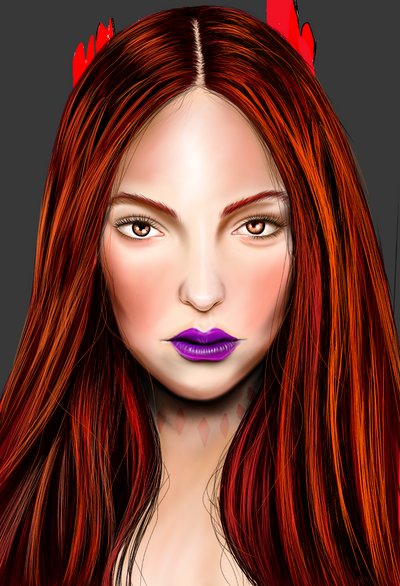 Step 5: Diamonds./Paso 5: Diamantes.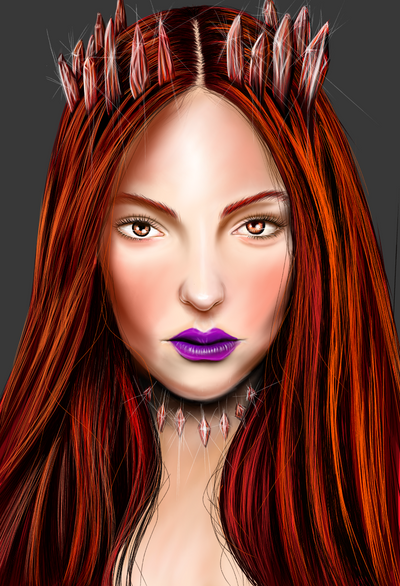 Final drawing./Dibujo final.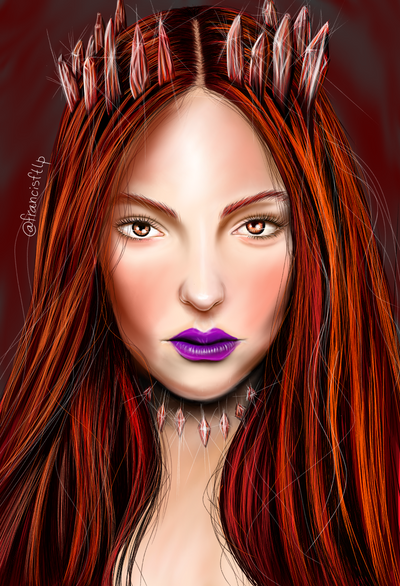 Drawing process in gif animation./Proceso de dibujo en animación gif.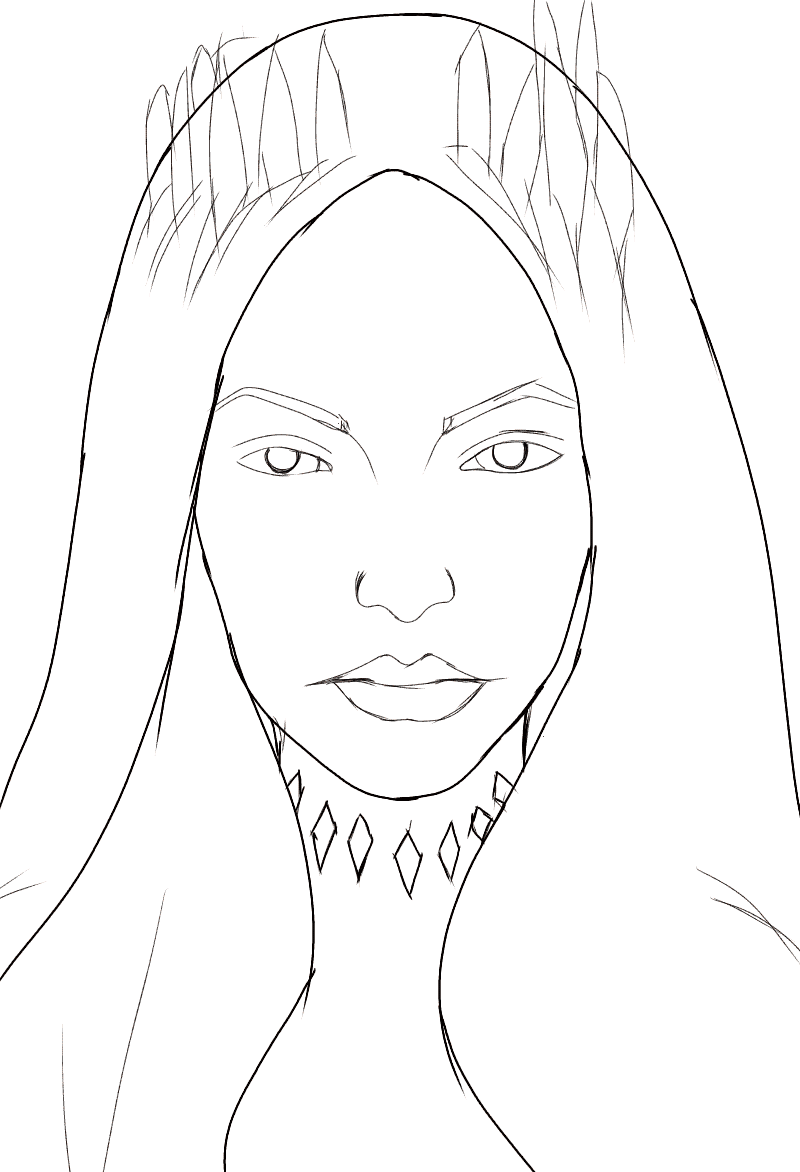 Copyright @francisftlp -All Rights Reserved

Please if there is something I need to improve, I would appreciate it if you told me, I am learning and always constructive criticism help to improve the work. I appreciate that you have read my post, I hope you enjoyed this beautiful drawing. You can support my work with upvote, follow or refeem, I will be totally grateful. You can also leave your comments, I would love to know what you think of my work.
Until next time!
✌
Por favor, si hay algo que necesito mejorar, agradecería que me dijeras, estoy aprendiendo y siempre la crítica constructiva ayuda a mejorar el trabajo. Aprecio que hayas leído mi publicación, espero que hayas disfrutado este hermoso dibujo. Puedes apoyar mi trabajo con upvote, seguir o refeem, estaré totalmente agradecido. También puedes dejar tus comentarios, me encantaría saber qué piensas de mi trabajo.
¡Hasta la próxima!
✌