Hey, Steemit! It's really late and again, I fell another day behind on my intended Trail by Comics post. I want to say "…tomorrow, tomorrow…", which I know is when I'll finally be caught up enough to finish that and my weekly art shaming exchange with @bryan-imhoff and @artistchristian, but that doesn't do anything for the readers in waiting. Just know I'm on it. This has been an exceptionally demanding few days.
Some really good news, my mom, @bonni, is on her way to Minneapolis tomorrow. With the brief government shut down, she decided to book a last minute trip to visit me, @vermillionfox and @guthrie in the Twin Cities. Obviously, the dickheads in Washington worked out their squabbles […for the short term], but we we're like "Fuck it!", and she's coming anyway. 
Tonight's photography is responsible for my Trial by Comics delay. Working with @wcpublishing over the entire last weekend, we eliminated more photos leaving the book with it's near finished appearance. There was one photo that bothered me. Two friends of mine that we shot together in April of last year. It was sexy […they're both beautiful models], but I didn't feel it fit our "Proclivities" chapter. 
A couple of texts with both ladies lead to "…I think we could do better.", which lead to "I think we should do better.", which lead to booking a crazy last minute shoot to fit in the "Dark Pinup" book. Within 30 hours, both girls confirmed, found wardrobe, I booked a crazy talented make-up artist I've had my eye on for a while, and we somehow managed to land one of the coolest shoot locations/bars in Minneapolis; Constantine, downtown!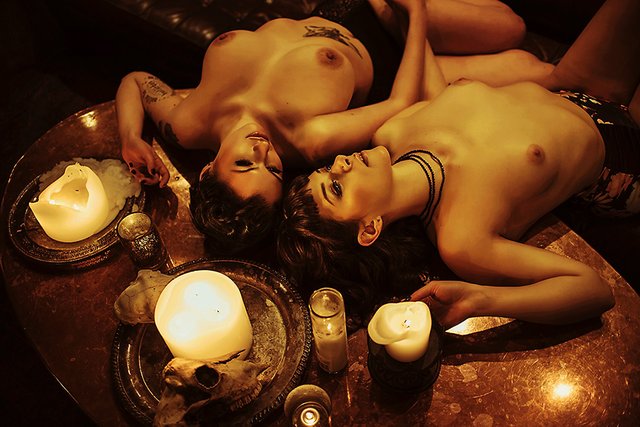 Sometimes incredible shoots just fall in to place. Rarely, but when it happens, it looks like this. We shot some provocative, beautiful dark pinup specifically for the book and Steemit is the only place I'm sharing it other than it's intended publication. Hope you enjoy!
Thanks for reading. I post daily. For more photography, art, illustration and the stories behind the work, follow me here @kommienezuspadt!