Hello Everyone!
Who's excited for Easter? For those who aren't that excited... Prepare to be! For those who already are... Prepare to be over the top excited! As I've got deals and a raffle that all starts TODAY!
Let's get some photos up and then I'll explain more, shall we?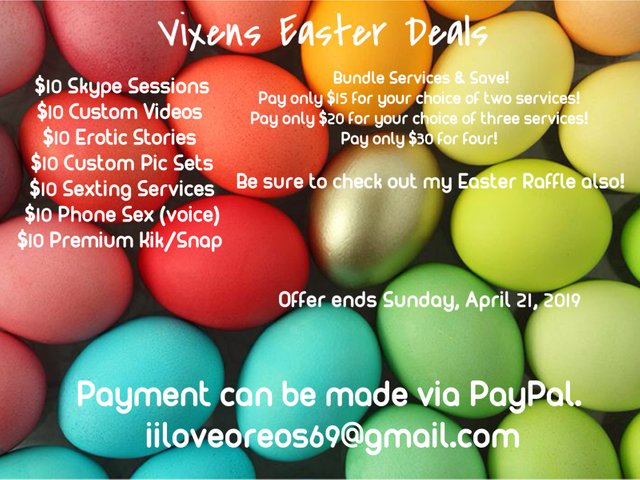 Above you see my deals this holiday, allow me to go into more information.
First off, all the individual services listed are all for a low price of $10 this season. That's 50% off of most and some like Kik for instance is 75% off! Also... There's this handy feature with this already amazing offer. You all have the option of bundling services, to save even more money. For example, bundle a Skype show and a Premium Kik/Snap Subscription... Pay only $15 total. 3 services for $20. 4 for $30.
Skype shows are un-timed. Which means I don't end the show until both parties (you and I) have successfully got off. Not to mention, I don't mind getting to know each other a little more through small talk before and/or after fun. Normally for a flat rate of $20, get this service for $10 individually.
Custom videos are videos that YOU direct. You tell me what your kinkiest desire is, I preform however you want. Normally $20 per 10 minutes of raw footage, pay like $1/minute of the same quality raw footage. When you pay $10 per 10 mins. All videos stay confidentially between you and me, unless you personally specify that you don't mind public distribution.
Erotic stories are personally written pieces that are again, directed by you. I write some of the juiciest stories, so I've been told. Again all stories are 100% confidential. Normally priced at $20 per story, get them for $10!
Custom pic sets are sets of three photos of your choice. You choose the poses, the outfits, everything is up to you as the buyer. If you're looking for something sexy to treasure, this might be an option to consider. Normally $20 a set, get the set for $10!
Sexting services consist of 200 prepaid sexts - consisting of 200 juicy replies from yours truly. I will keep track and let you know when you're down to the remaining 50 texts, in order for you to have the option to re-up if you feel you need more. This service normally costs $20/200, but as of today... Get it for $10!
Phone sex is pretty self explanatory, you pay me... I call you, we then have a DEEP moment of kinky fuckery. Lots of moaning, and buzzing from toys on my part... If you wanna cum to the sound of my voice, this is the option for you. Normally, $20 for 20 minutes. Get this service for $10 for 20 mins.
Premium Kik/Snap is a LIFETIME subscription, where you're NEVER deleted. Talk to me whenever, send nudes, receive nudes... The whole works. Premium users also get $5 off ALL other services. (Discount is still available with this deal! Example being; $5 Skype Shows, $5 custom videos, $5 erotic stories... Etc.) Normally a $30 subscription, get it for $10!
Now that you've got the lowdown on these deals.... Let's get into details over the raffle!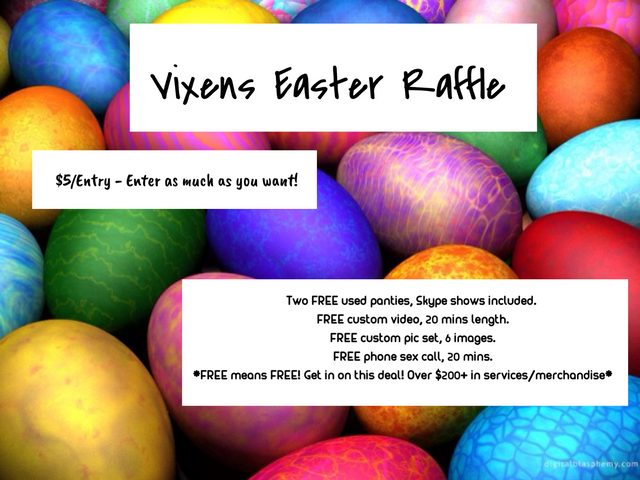 My Easter Raffle is one nobody wants to miss, with a cheap entry (ticket) fee and over $200+ in services/merchandise! You can enter as many times as you want, the more entries the higher odds of winning. For this raffle, there is only one winner. However, the winner will be one lucky kinkster! The winner will receive the following;
Two FREE used panties, with Skype shows included... Just cause, who doesn't wanna be the reason for the creamy undies they receive?
A FREE custom video, 20 mins length... Double the length of a regular custom video.
A FREE custom pic set, consisting of 6 images... Basically two pic sets in one.
A FREE phone sex call, 20 mins length... Cum to the sound of my voice.
Like I say in my personal ad... FREE means FREE! No hidden fees or shipping costs at all. Even if a person enters 8 times at $40, and wins cause the raffle ends up being a bust... It would still be appreciated. I'm going to be cross-posting this message around the net for extra views, and potential new customers. I totally encourage everyone to participate in not only the raffle but the good deals, also. There won't be deals like this again for a total of almost 4 months, well... Not until July 1st, 2019. (Canada Day!)
So even if you're not interested in the raffle, become a premium user and stock up on your fetish/fantasy needs... For a steal of a deal. Keep in mind that I do keep track of customers and when/how much they pay, that way no one gets forgotten about. I then go along and mark those I've completed, and sent off. I try and aim for same day service, but sometimes life has other plans for me… I'm pretty good at keeping up with communication, however.
Give me an honest try this holiday season, it doesn't always have to be the kids that get the treats…
Yours Truly;
Princess Kita xo
P.S. Deadline is April 21, 2019 at midnight!