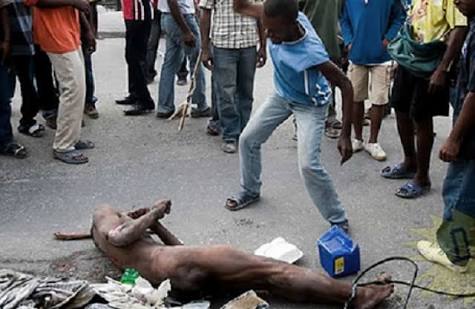 Image source: https://www.google.com.ng/search?q=images+of+mobs+beating+up+a+thief+in+Nigeria&source=lnms&tbm=isch&sa=X&ved=0ahUKEwiOvb29qeHaAhWKBsAKHW1vCysQ_AUICCgB&biw=320&bih=452#imgrc=e2tFY07PDBl93M%3A
This is a throwback story to an event I witnessed in my community exactly two years ago.
The streets were as still as a sleeping and helpless wood supporting the stamina of a roof against a fall as I searched hopelessly for a place to power up my phone battery. It was abt 7:30pm and all hopes of achieving my aim was gradually fading like a burnin candle.
Being a football fan, I decided to check a viewing center to ease my stress. It was Monday and a very decisive game was on duty so I had to just use that opportunity and see the game while I charged my battery as well hence killing two birds with a sling of stone. But it wasn't to be as my candled hope reached the limit when I got there only to find the viewing center locked as if the owners were running frm a terror attack.
I took a consolation pill and made for my abode only to discover a young vibrant guy lying helplessly; surrounded by a council whose hearts were more dangerous than a threatening masqurade. I watched the unproduced movie with much excitement when I found out he'd stolen a phone. The dealings became unbearable so I had to leave.
The events of the evenin kept romancing my heart in a merry-go-round fashion. I paused and asked myself; are those people saints?
Why should sinners purnish a fellow sinner?
Did jesus, who was holy, do same? But unfortunately i had no answer.
But is jungle justice the best method?
Story curled from my facebook timeline @princewill Isikong.