Niah Cave, Borneo Island, Part 2
This part of the whole story is the continuation of the last part of the Niah Cave Journeys.
The first part is in the link below.
Writing is something really fun for me. There are a couple of things I love in my life, firstly of course it's gonna be my wife.
I love to workout too, at the gym and go for long jogs.
Anyways, if you reach the entrance of the cave. There is this ticketing booth.
You need to then take a short 1 minute boat ride to the other side of the river which I think could have been made easier with a bridge. One ride across is about USD 0.25 cents or 1 MYR.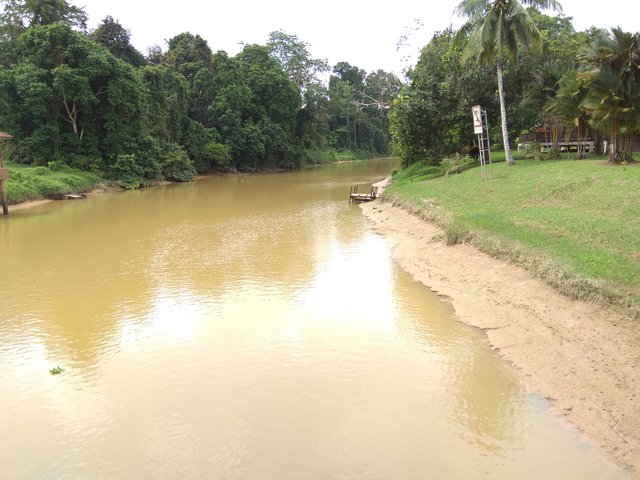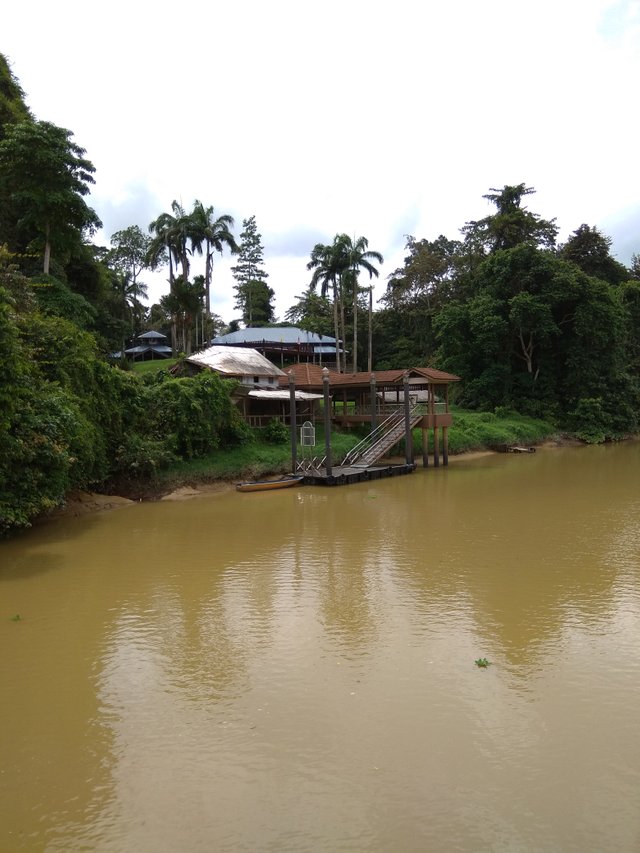 This is the other side. I snapped this last week.
Beneath the muddy river are crocodiles. Here in Sarawak, these crocs are man eaters. They can reach the size of 3 meters. There is a farm here that breeds these monster crocs. Sometimes, when I tell my friends who are from other countries or even other parts of Malaysia about the size of these crocs and they would find it hard to believe.
I have pasted the link of a blog post that I wrote in 2016 about the trip to the local crocodile farm. I visited this place again last year and will post some pictures up soon.
Check out the croc farm here
Smaller crocs have sometimes been sighted crossing roads in town.
Anyways, once you reach the other side of the river, your journey begins. Before you actually reach the cave, you need to hike. It is around 1 and the half hours till you reach the cave. You will see exotic plants and limestone walls along the path to the cave. You will feel as though you're in an Indiana Jones scene.
Once you reach the Main entrance of the cave after an exhausting walk, it's going to be worth it.
This is a youtube video by Alex Gunz showing that route link
One of the part of the cave that has these really old paintings are now fence out to avoid any deterioration.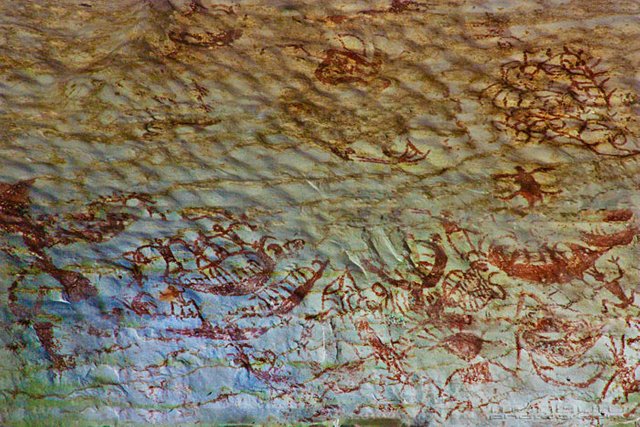 img src
Inside the cave,
it will be really dark and scary. The smell of baste excrement is really intense that if you've got any respiratory illness, you'll find it hard to breath. Then inside you will see many scary bats. Some of the tunnels inside this cave is kind of narrow it would make those with claustrophobia scream in fear ( deep inside).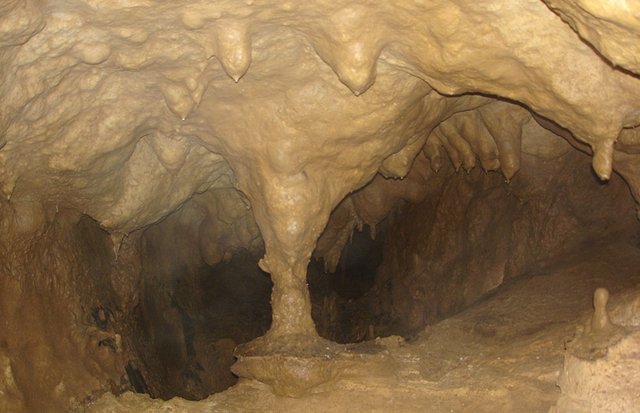 img src
This part is really dark and the only way to navigate through this is by using a torch light, just don't lose the batteries.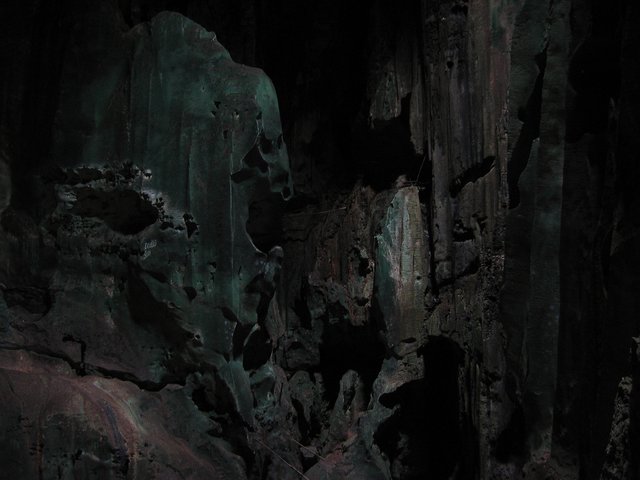 img src
Yes, it literally does look like this.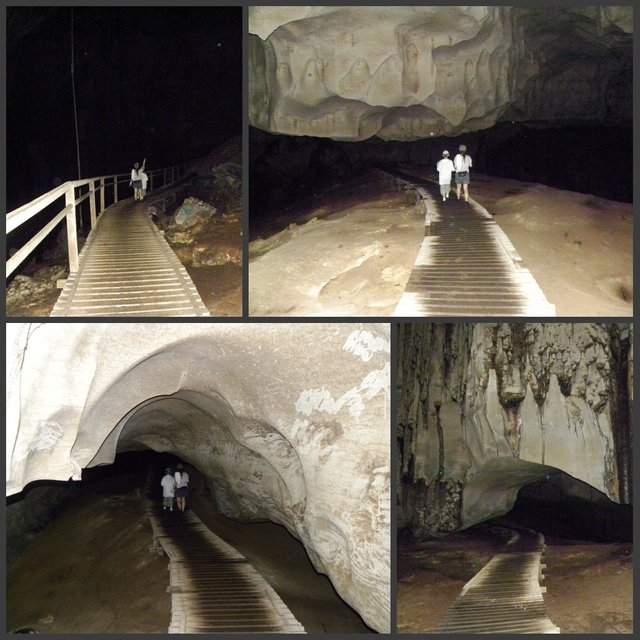 img src
These are not my photos, I have mine by I need to search and lazy to do that. ahahahha...
This place is said to be cursed,
First of all these are my theories of why it may be so. High up above the cave, birds make their nest and there are workers who climb up hundreds of meters to gather these nests (made of bird saliva) as it's considered as a delicacy here in Malaysia.
If i am not mistaken, a kilo of these is worth around USD 1000 or more. It is roughly around this figure.
But why,
then it's haunted?
Some workers have fallen hundreds of meters down to their demise.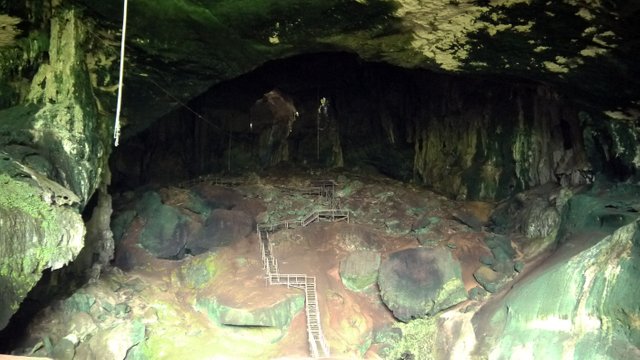 Img src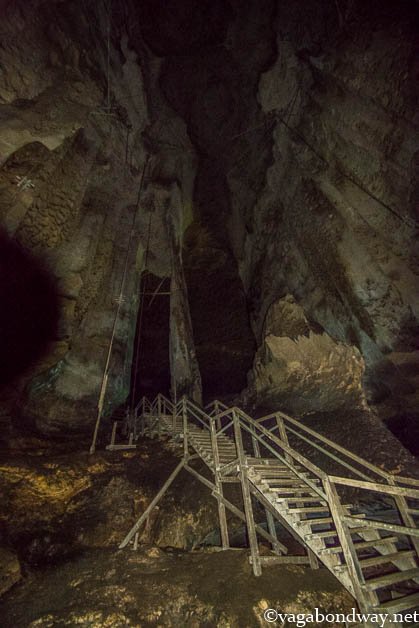 Img src
The starter kit for this cave would be lots of water and lots of rest before heading in and torch light.
Don't go alone.
I've been to this cave twice.
The first trip was with my students who organized this trip. I used to be a Lecturer at a Hotel Management college here in Miri. I had warned some of my students to bring more water but NOPE, they din listen and so once they were in here, they were out of breath.
There are spiders around and bats. If you ain't afraid of bats, this place is for you. You could be lucky enough to see one fly above you.
After you hike through the cave which takes you roughly an hour inside darkness. The last part of the journey would be these flights of wooden stairs which have nothing to protect you if you slide through the sides. It's also quite slippery and bleak with that feeling of "IS SOMEONE OR SOME BAT THING WATCHING ME?"
After this, you need to basically hike another one and the half hour back. The total time for the whole journey is only around 5 hours. It is a far cry from hiking towards the peak of Mount Kota Kinabalu which had me fearing for my life at every step.
I was pretty lazy to write tonight, but I just pushed on.
Tomorrow is Valentine's day. Well, I am going to write a Valentine's day post tomorrow.
If you want to know more about Mount Kota Kinabalu, here is the link

Going to end it here.
Follow me at @luueetang
For more stories, do check it out the storage vault. It's where I store all these stories.


vault is here