Toughest and Weakest Divisions in the NFL Starting Week 6
A lot of people (and writers) like to get excited about undefeated teams. There's a lot of buzz around which teams are still undefeated and who is most likely to remain in that state the longest. The excitement isn't lost on me, it can be an indicator of a strong team ready to make a push for the SuperBowl.
However, today I want to bring the focus onto a different stat that is a little more under the radar. I'd like to bring to your attention a stat that indicates the toughest and weakest divisions in the NFL. It's an overly simple stat found by asking one question... and it goes like this:
What division has the most winning teams and on the flip side, who has the most losing teams?
By winning we mean a team that is over 500. A team that has more wins than it does losses. A division with more winning record teams signals the strength of that division and conversely a division with fewer winning teams (or more losing teams) signals a weak division.
Right now in the NFL there is only one division that has all winning teams, so they get the nod as the toughest division in the league right now.
(Remember this is just as things stand right now as we go into week 6. Obviously things will change and teams that have had byes can skew this some, but in general this rule holds true.)
---
TOUGHEST
The NFC North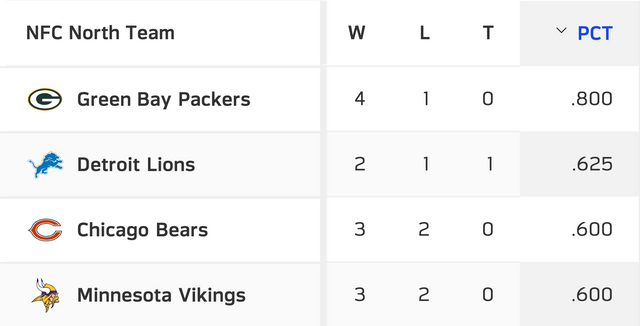 The NFC North is the only division in the NFL right now with all 4 teams boasting a winning record. The NFC North is packed with good Defenses and arguably one of the best quarterbacks in the league in Aaron Rogers.
Full disclosure I'm a die hard Vikings fan and find this stat to be rather satisfying despite my team being dead last in the division. This is a tough division Vikings fans, it's an uphill battle even with a winning record.
---
WEAKEST
1. The AFC North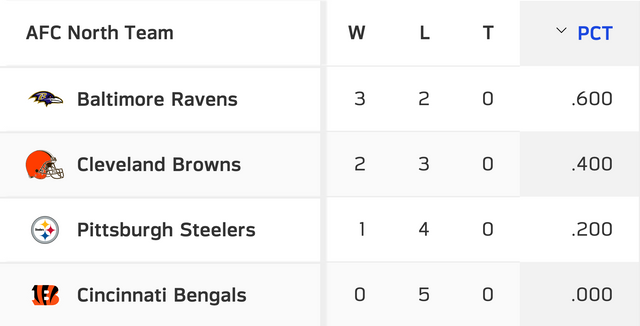 As things stand right now, the AFC North has only 1 team with a winning record while all 3 other teams in the division have losing records. Despite the talent in this division and the Steelers typically being the team to beat, things are changing rapidly in this division.
The Browns and Ravens have young QBs turning things around for their teams. The Steelers are without Big Ben right now, and the Bengals are one of four remaining teams in the league that have yet to get their first win. In a division with so many changes going on, it's easy to see how instability can weaken a division.
On a personal note, I'm rooting for the Browns in this division.
---
What do you think about this overly simplified stat?
Does it hold any weight or truth?
---
I UPVOTE genuine comments, if you found value from this please consider leaving one!