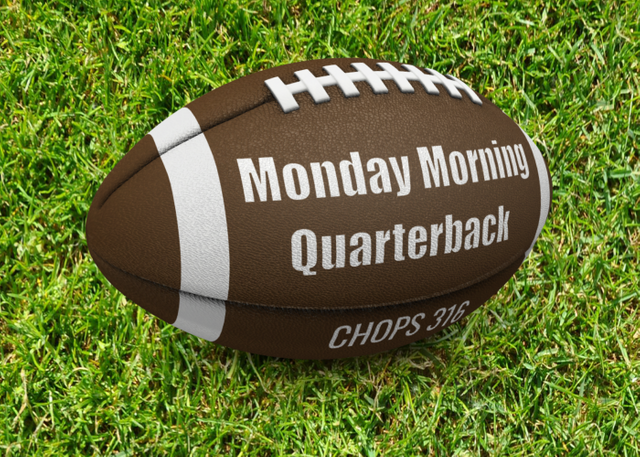 The third Sunday of the 2019 NFL season is in the books so here are the different thoughts and opinions I have on various things I witnessed this past weekend. Some teams stepped up, some fell down, others just did what they were supposed to do. It's still early but if your favorite team is 0-3, well there is still plenty of time left in the NASCAR playoffs. Start rooting for Chase Elliott!
Just remember I am a Dallas Cowboys fan and I'm extremely biased. Feel free to agree or disagree about anything mentioned here. All comments are welcome.


It's a trap!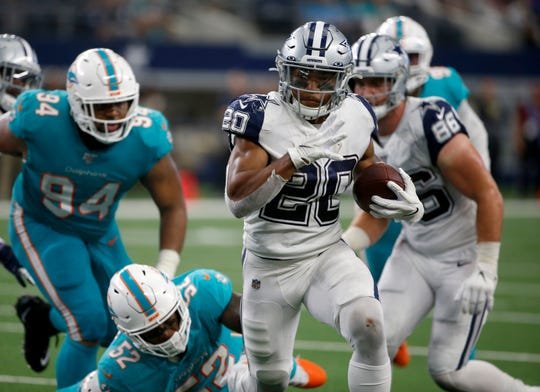 Rookie RB Tony Pollard easing Zeke's burden
Source
I kid you not, I was a little worried going into this game. Not that the Cowboys were going to lose, but that they were going to look like crap. You can get a big head when you are a 22.5 point favorite. It took me back to the glory days when former head coach Barry Switzer made his infamous "Iowa State" comments.
Back in 1994, the 6-1 Cowboys headed to Cincinnati to square off against the 0-7 Bengals. The Cowboys were big 15 point favorites on the road. Switzer, who made his name as head coach of the Oklahoma Sooners, compared the Bengals to Iowa State. He said the Sooners were always big favorites, but Iowa State played them tough and kept the games close. He wasn't wrong (for once). The Bengals raced out to a 14-0 lead before the Cowboys woke up and snuck out of town with a 23-20 win. It was reported when they shook hands after the game Bengals head coach David Shula told Switzer he could shove Iowa State up his ass.
Fast forward to the present and at half time all I could think about was Iowa State. Dallas scored 10 points on their first two drives and then disappeared for the rest of the half. A Prescott interception and a slew of penalties helped the Dolphins get two field goals as the score was 10-6 Dallas at the half. Yeesh.
Either Jason Garrett chewed their asses good during halftime or maybe the team finally woke up, but Dallas came alive in the second half. The Cowboys scored three TDs and the defense completely shut the Dolphins down to win 31-6. Hey they even covered the spread! Wee! The Patriots didn't, hah.
Dak overcame a shaky start to finish with a fairly good game: 19/32, 246 yards 2 TDs 1 INT, 1 rushing TD. His first TD pass was the 75th of his career in 51 games for a new Cowboys record. Tony Romo was previously the fastest to hit 75 in 63 games.
But it was the running game for which the Dolphins truly had no answer. Zeke racked up 125 yards on 19 carries, while backup RB Tony Pollard rumbled for 103 yards and a TD on 13 carries. Now that the Cowboys have Zeke locked up long term, they seem to be more interested in lightening his workload. If Pollard can come even close to numbers like these it won't be a problem.

Backup QB? No problem!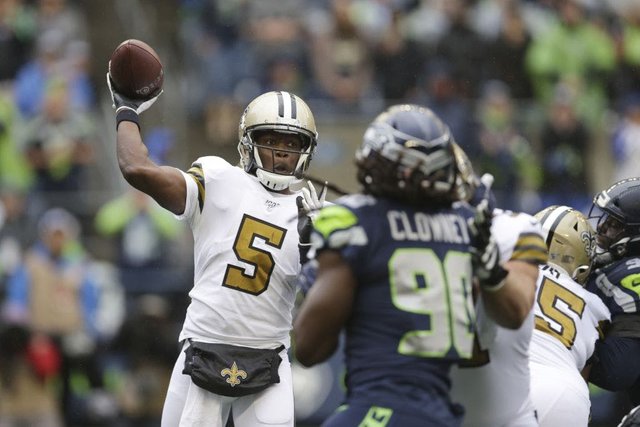 Saints made the right move by coughing up big money for Bridgewater
Source
It's only Week 3 but already eight teams are starting backup quarterbacks. The poor Jets are already down to a third stringer. Don't feel too bad for all those teams, the backups went a respectable 5-3 this week.
Let's start with the good. On Thursday night Gardner Minshew got the Jaguars off the schneid by leading them to a 20-7 victory against the Titans. The weather was messy so I figured Fournette would be the Jags top weapon, but Tennessee held the ground game in check. No matter, Minshew stepped up by hitting six different receivers: 20/30 204 yards 2 TDs. It was a nice performance on a sloppy field. Poor Nick Foles, he finally found a good starting gig and he might have already lost it.
Teddy Bridgewater has big shoes to fill while the Saints wait for Drew Brees to recover from his thumb injury. He did a fine job in leading the Saints to a 33-27 win over the Seahawks in Seattle: 19/27 177 yards 2 TDs. Of course he has the luxury of leaning on Alvin Kamara and New Orleans' defense and special teams contributed with big plays. Still it was a big road win in a tough environment. Bridgewater did what he had to do and stayed away from making mistakes. It is his first victory as a starting QB since Week 17 of 2015. Good for him, he's worked hard to come back from serious injuries.
Kyle Allen led a reeling Panthers squad into Arizona to take on the Cardinals. He was excellent in only his second career start: 19/26 261 yards 4 TDs. Coupled with a big day by Christian McCaffrey (24 carries 153 yards 1 TD) Carolina laid a whooping on the Cardinals 38-20. What do you know, the Panthers actually look like a playoff contender when they get some good quarterback play. Maybe they should tell Cam Newton to really take his time to rehab his foot.
Daniel Jones took Eli Manning's job and then traveled down to Tampa Bay to steal a win from the Buccaneers. The guy is a thief! The Giants were down 18 at the half, but Jones persevered (with a little help from the Bucs' missed kicks) to lead the Giants to a 32-31 win. The 18 point comeback was the second largest deficit overcome by a QB making his first start in NFL history. He had to do it all on his own to after RB Saquon Barkley left the game early with an injury. Jones was 23/36 for 336 yards with two passing and two rushing TDs, the first Giants QB in history to throw and rush for two in the same game. For the record, Eli only has 7 rushing TDs in his entire career.
Jacoby Brissett has started all season, but he was supposed to be Andrew Luck's backup. The Colts fans immediately fell into despair when Luck retired, but they still have a good team. And Brissett is starting to come into his own. He pushed the Colts into a big lead early and then had to sweat out a furious Falcons comeback, but in the end the Colts prevailed 27-24. The Colts held back on running the ball as much as usual as Brissett was having a big game: 28/37 310 yards 2 TDs. The Colts are now 2-1, but they would be 3-0 if Adam Vinatieri didn't forget how to make kicks in Week One.
Now the not so good. Mason Rudolph led the 0-2 Steelers into San Francisco to take on the 49ers in his first career start. It was a game the Steelers should have won, but they fell 24-20. The 49ers had four first half turnovers (and one in the second half) but the Steelers only turned those golden opportunities into six points. Rudolph came around some in the second half and finished with a decent day: 14/27 174 yards 2 TDs 1 INT. He had little help from the running game and struggled to create offense on his own. The Steelers are in trouble.
The Dolphins are beyond trouble, they are absolutely terrible. They turned to backup QB Josh Rosen this week against Dallas and you already know how that turned out. Rosen made some nice throws in the first half and had a receiver drop a TD catch. But his stat line is pretty blah: 18/39 200 yards. At least he didn't throw a pick. To be fair, the Dolphins have surrounded him with exactly zero talent and Dan Marino would struggle to do anything with this mess.
Finally we come to the Jets, who had to start third stringer Luke Falk against the Patriots. Somehow the Jets only lost 30-14. I think the Patriots didn't want to break a sweat. Falk's line was pretty awful: 12/22 98 yards 1 INT. What do you want from a third string quarterback? Darnold should be back soon, but it doesn't really matter. This team stinks.

The AFC Game of the Week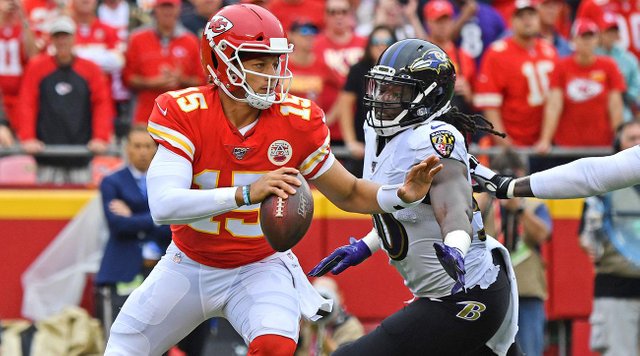 Unstoppable
Source
In a potential AFC Playoff preview, the undefeated Baltimore Ravens traveled to Kansas City to take on the also undefeated Chiefs. Could the stout Ravens defense become the first team this season to contain quarterback Patrick Mahomes?
Of course not. The Ravens claimed one small victory: they kept Mahomes from throwing over 300 yards in the first half for the first time this season. He was held to 273 yards and 2 TDs while completing 20/25 passes. What a bum! The Chiefs prevailed 33-28.
For the game Mahomes hit 27/37 for 374 yards and 3 TDs. The man is unstoppable right now. For the second year in a row Mahomes has had at least 3 TD passes and zero INTs in each of his first three games. Peyton Manning is the only other quarterback to ever achieve this feat. And he only did it once.
Funny story during the broadcast: Broadcaster Dan Fouts spoke to Mahomes' girlfriend before the game and she told him Patrick needs to get meaner on the field. She says his biggest problem is he is simply too nice. What the hell, does she think he needs to start throwing for over 400 yards in the first half?
The game was a close one and maybe Baltimore would have prevailed if not for some very curious decisions by head coach John Harbaugh. The Ravens went for it on 4th and long several times without success. They also attempted three unsuccessful two point conversions while the game was close. On Monday Harbaugh explained by saying you have to take every chance you can with all your possessions when facing an explosive offense like the Chiefs. Fair enough, but seeing how many of those chances backfired and how close the Ravens came to winning maybe a little more conservative play calling would have saved the day. Maybe, because we will never know.
Ravens QB Lamar Jackson stumbled a bit in this one (22/43 267 yards 0 TD 0 INT), but he did make a number of big plays to keep the Ravens in the game. Jackson still needs to improve as a passer. However he has made big strides in his game since last season and should continue to improve. The Ravens will be a dangerous team by the end of the season.

Not Ready For Prime Time Players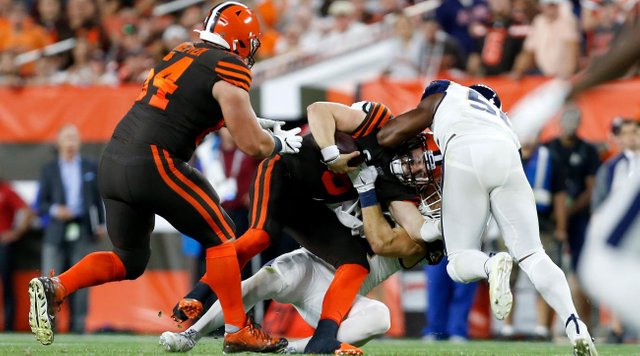 Tough night for Mr. Mayfield
Source
The 2019 Cleveland Browns Hype Train rolled into Sunday Night Football as the Browns made their first appearance in 11 years. Maybe NBC should have given them another year.
I've said before I don't understand all the hoopla around the Browns this year. Are they improved? Yes. Are they a Super Bowl contender? No. Are they a playoff team? Eh, maybe. If they get some breaks. So far they haven't. They fell to the Rams 20-13.
I'll give Cleveland credit for keeping this game close. They entered this one without their entire secondary. That's right, both starting cornerbacks and both starting safeties were injured. Rams quarterback Jared Goff should have lit them up good, but he really didn't: 24/48 269 yards 2 TDs and 2 INTs. And the Rams running game never got rolling as Todd Gurley was held to 43 yards on 14 carries. The Browns defense did an admirable job under the circumstances to hold a potentially explosive Rams offense to only 20 points.
What Cleveland really needed was big night from QB Baker Mayfield and the offense as a whole. They didn't get it, not even close. Baker was able to complete quick short passes, but if he needed to hold the ball for more than two seconds to let a play develop he fell apart. The end result: 18/36 195 yards 1 TD 1 INT. Bleh. His superstar wide receiver Odell Beckham Jr. was equally uninspiring: 6 catches for 56 yards.
I just don't understand all the hype over Mayfield. If you take away his two big games against the Bengals last season his career numbers so far are closer to 2018 Eli Manning than say a Patrick Mahomes or Aaron Rodgers. Mayfield may get there someday, but he is nowhere close right now. And until he begins improving his play, the Browns are still at best a mediocre team.
For the record, I hope Mayfield does improve because the long suffering Cleveland fans deserve to have a winner for a change.

Birds of a Feather Stink Together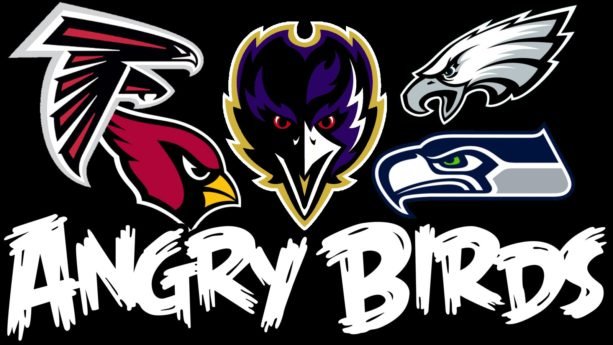 More like crappy birds
Source
If your favorite NFL team is represented by an avian mascot, well Week 3 was kind of fowl. It was even worse than the lame pun I threw in the previous sentence. The Birds went 0-5 this week.
The Seahawks lost at home to a Saints team missing Drew Brees. The Saints usually aren't as sharp when they leave the Superdome and they certainly aren't a better team without Brees so this one had to hurt Seattle fans. And by Seattle fans I mean @bethalea. Who else would want to cheer for this sad sack squad?
OK Seattle isn't a bad team, but their start to the 2019 season is rather shaky. They barely beat a poor Bengals team at home Week 1, they barely beat the Steelers in Pittsburgh despite Roethlisberger getting knocked out by injury early and now they lose at home to the Breesless Saints. They better get their shit together quick, the Rams and 49ers are both 3-0.
The Cardinals also play in the same division as Seattle, but after losing big to Carolina they fell to 0-3. That's not unexpected with a rookie head coach, a rookie quarterback and a banged up defense. The Cardinals are going to have a lot of growing pains this year.
I already mentioned the Ravens, so that leaves us with the Falcons and Eagles. The Falcons are supposed to be contenders, but big shock they are not. Head coach Dan Quinn fired most of his staff in the offseason, so now we know exactly where the blame is going to fall. They got steamrolled by the Vikings Week 1, barely beat a banged up Eagles squad at home Week 2, and got steamrolled again by the Colts in Week 3. QB Matt Ryan only threw 7 INTs last season, this year he already has six. The offense is flat unless Julio Jones makes a big play and the defense is lifeless. Going to be another long year in Atlanta.
The Eagles were supposed to challenge the Cowboys for the NFC East title (I know, how hilarious), but right now they are playing bad and injuries on offense have taken their toll. They needed a huge comeback to beat the Skins at home Week 1, lost to the piss poor Falcons Week 2 and dropped to 1-2 after losing to the Lions 27-24 at home this week.
This week's game was especially bad. The Lions ran back a kickoff back for a TD, Eagles wide receivers were dropping the ball all over the field, and when the Eagles had a shot of stealing the game after a huge blocked field goal attempt and return the play was called back by a dumb block in the back penalty. Carson Wentz has played well with the hand he has been dealt. It's tough to make plays without your two top receivers, especially when the replacements keep dropping passes and the running backs keep fumbling. But the defense has been shady and this team's fundamentals are bad. They make way too many stupid plays resulting in penalties.
As a Cowboys fan living in Pennsylvania, it always makes me smile when the birds are playing like garbage. This week they have to travel to Green Bay for a Thursday night road game against the hot Packers. I smell 1-3!

Around the League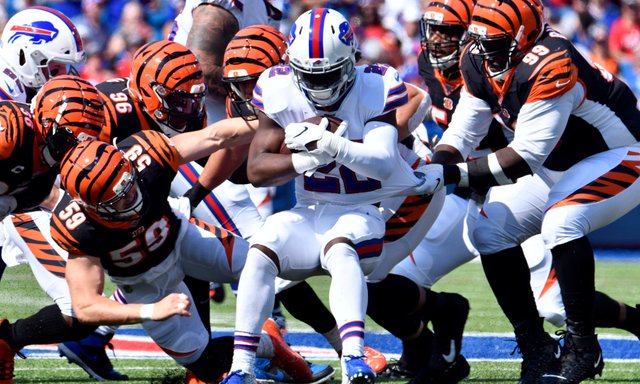 Nothing is ever easy for the Bills
Source
The Buffalo Bills are 3-0. That is not a typo. Nor did I have a stroke. As unbelievable as it sounds it is true. How?
Soft opening schedule for sure, I mean beating the Jets, Giants and Bengals isn't exactly awe inspiring. But still a win is a win. Good for them, another long suffering fan base that deserves some glory. Big test this week when the Patriots come to town. They aren't going to win, but can they put a scare into New England? I wouldn't be surprised if they did. Maybe then the Hype Train would pull out of Cleveland and chug along to Buffalo. It's a short trip.
We are three weeks into the season and I still have no idea if the Detroit Lions are any good or not. 2-0-1 record is good. Having a tie against the Cardinals is bad, especially when it felt more like the Lions blew the game than the Cardinals came back. But the Lions rebounded with victories over two teams (Chargers and Eagles) who made big mistakes in their games while the Lions didn't. They essentially out-Lioned the Lions and that is no easy feat. We'll have a better understanding of where this team lies after their next three games: Chiefs, Packers, Vikings. Good Luck @michaelluchies !
Denver wide receiver Emmanuel Sanders had the quote of the week saying the Broncos are "living in a world of suck" after dropping to 0-3. He isn't wrong. The biggest mystery in Denver is how the team could hire a defensive minded head coach like Vic Fangio and have exactly zero sacks or INTs with defensive studs like Von Miller and Bradley Chubb after three games. Or maybe the biggest mystery is why any team feels like they would be better if they traded for Joe Flacco.
The Packers helped send the Broncos into that world of suck by beating them 27-16. All the talk around Green Bay in the offseason was how would QB Aaron Rodgers get along with new head coach Matt LaFleur. After a 3-0 start the narrative has changed to how in the hell did Green Bay end up with a good defense? It's been awhile for the Packers to sport a strong D. They relied on Rodgers fourth quarter magic for way too long.
Just found out Saquon Barkley is going to miss around 7 games for the Giants after suffering a high ankle sprain against the Bucs. Dammit, as a Penn State fan I love Barkley. But as a Cowboys fan I hate the Giants. My world is very confusing at times.
Running back Dalvin Cook recorded his third straight 100 yard rushing performance as the Vikings stomped the Raiders 34-14 to improve to 2-1. Cook is finally healthy and is looking like the star the Vikings fans hoped we would be. Unfortunately for them Kirk Cousins is still their quarterback. Ouch. Can't have it all Vikings fans.
The Patriots defense finally surrendered a touchdown this week, to the lowly Jets and their 3rd string QB of all teams. Do you know when was the last time before this week the Pats D gave up a touchdown? It was in the AFC Championship game against the Chiefs. For all the talk about Tom Brady and his greatness (most of it is deserved), people tend to overlook the Patriots defense.
And of course we can't have a MMQB post this year without some Antonio Brown news. On Sunday he tweeted he "quits" the NFL. Uh, I think the NFL already made that decision for you dummy.
Let me know your thoughts on Week 3.