NEXO - CRYPTO BACKED LOAN
In today's world,where human wants are insatiable,where resources are scarce,a world where brilliant ideas weren't actualized as a result of scarce funds,where businesses are stagnant because of insufficient funds for expansion,a world where dreams remains imagination because of scarce funds,these unfortunate scenarios makes us turn to the banks for loans .But the rigorous process of accessing bank loans coupled with faux interest rate,hidden charges,sometimes heavy collateral,makes this bank loans difficult to acquire or inaccessible.
But lately,there have been a disruption in the financial sector,that is,the introduction of a distributed decentralized public ledger(blockchain technology) into the financial system.The integration brought about a whole new concept in accessing financial loans which are flexible and easily accessible compared to traditional bank loans. One of such platforms which is reliable in getting instant loans backed by creypto assets is nexo.io .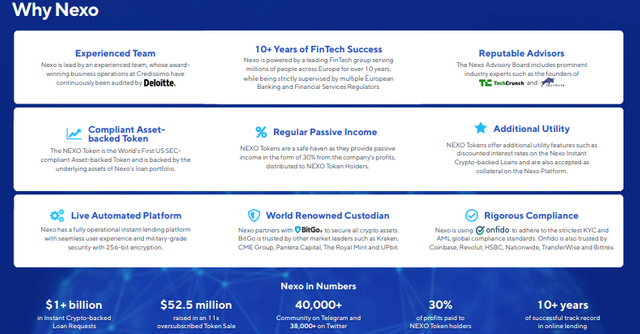 WHY USE NEXO
Nexo is a financial decentralized application(dapp) built on smart contract based on the ethereum blockchain powered by credissimo.com to providea marketplace which enables a peer to peer lending and borrowing of crypto assets nand fiats across the globe.
Nexo is the world's first crypto backed loans that allows you deposit your crypto assets and get loans in fiats that cuts across over 45 different currencies,remember also that taking a loan in nexo and paying back is a non taxable event.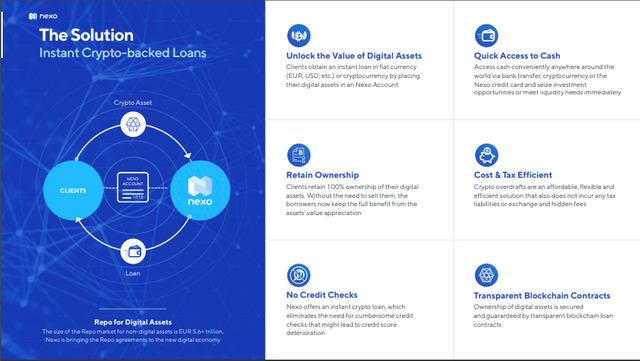 As a crypto enthusiast who believes in long term holding,,using nexo is a win-win situation for me,i'll explain:
now lets say John has 1btc worth $10,000,John has a need,he wants to finance a business project that costs $5,000. What John has to do on nexo is to deposit his 1btc as collateral,get his loan,finance his project,pay his interests,when he pays back his loan,he gets back his 1btc which might have surged in price,all to his profit. Now John has achieved two things,he was able to hold his 1btc which appreciated in value,and was able to carry out his project. Isn't that interesting?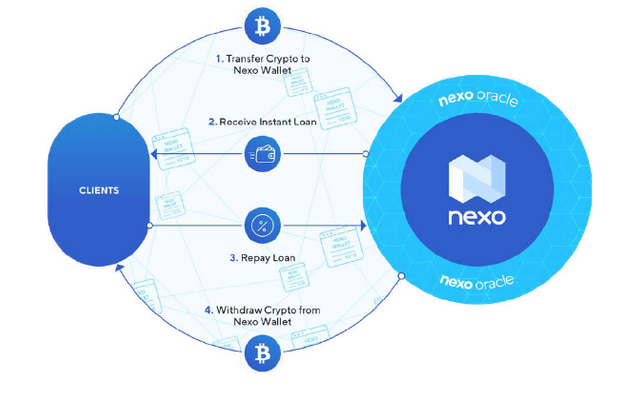 Though an APR of over 8% is really not cheap to me considering that i get something lower than that in my bank interest rates,you can still get discounts if you decide to pay back with the platform's utility token-nexo token.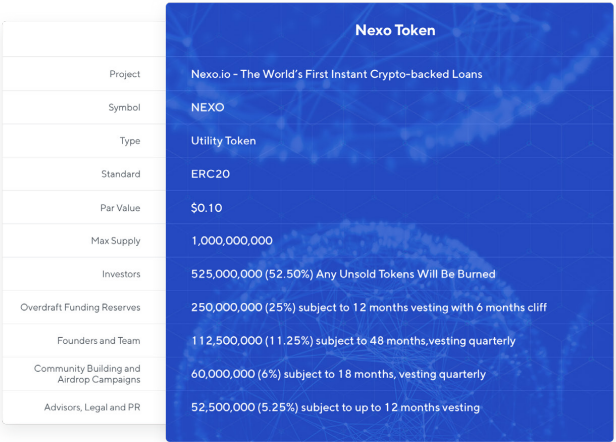 The nexo token which has a total supply of 1billion token and over 560million in circulation can be used with discounts to secure loans,pay back loans,and also to receive dividends-yes,dividends,nexo platforms pays dividends to nexo token holders whichis about 30% in nexo's profit.The dividend are paid out in a particular time frame.This dividends comes in two ways
1.Base dividend:dividends are paid to eligible nexo token holders for a particular time frame
2.Loyalty dividend:paid to nexo ntoken holders based on how long its been held in the platform
Nexo is a platform to be in and will profitable enough if all its features are used efficiently . Imagine getting instant loans while technically holding your crypto assets and also getting paid in dividends proportionately for holding its utilty token.Awesome,isn't it?
ACCESSING THE NEXO'S PLATFORM
Nexo has made its UI userfriendly,you can access the platform by signing up with a valid email address and a strong password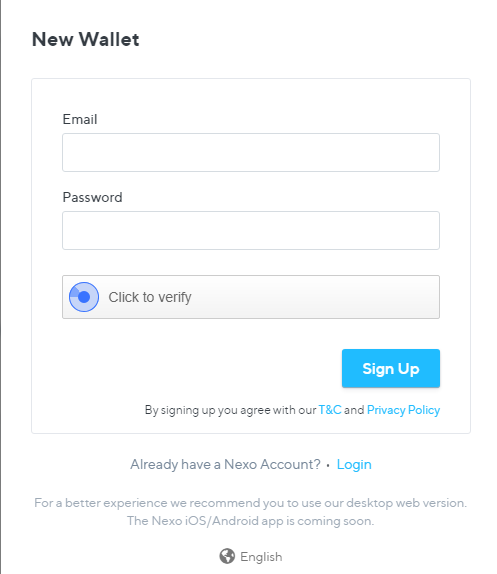 After email verification,you can then strenghten other security features such as 2fa to keep your account safer.Deposit your crypto assets in their respective wallets(nexo supports several crypto assets in its platform),apply for your loan. Yes,it is that easy.
The crypto assets supported by the nexo's platform are safe and stored in cold wallets provided by BITGO with a 100 million dollars insurance with the LLOYD'S company.
CONCLUSION
Nexo is one decentralized app that is highly profitable if it's utilities are maximized.Accessing quick loans backed by crypto assets in a user friendly interface is a welcomed development in the crypto space,I will love to see all proper legalities done so that US citizens can equally use it too.Nexo gets a 8/10 rating from me
DISCLAIMER:This is not a financial advice,do your own research before investing in any project whatsoever