Backpacking New Zealand - Rotorua and Tongariro
So you have seen Auckland, the two oceans collide at Cape Reinga and you had a great time at the golden beaches of the Coromandel. Now it is time to step foot into the world of geothermal activities in Rotorua and in the Tongariro National Park. Be prepared to be amazed by geysers, volcanic landscapes and mount doom.
Rotorua and geothermal activities
Rotorua is a must do for backpackers who love to see and learn more about the Maori culture and who are drawn to geothermal activities in this area. You simply cannot continue your trip without a mud bath, a geyser show or a visit to a hot spring. Just sit back, relax and enjoy this amazing area with beautiful lakes, streams and great maori villages. I personally took the car and drove around the blue and green lakes this area is rich. You can hike or stroll alongside the shore lines. Orakei Korako https://www.orakeikorako.co.nz/ and Wai-O-Tapu Thermal Wonderland with its famous Champagne Pool https://www.waiotapu.co.nz/ are well worth visiting. You might want to chose one, because the experience is quite the same. Please be prepared for horrible smells. Still it is an amazing experience for all ages.
Tongariro National Park
Walk onto the set of the Lord of the Rings in the heart of this exceptional national park and discover Mt. Ngauruhoe, aka Mount Doom. You can go on a multiple day hike or arrange for a dropoff and pick up for the Tongariro Crossing (20 km) for a full one day hike through this rugged terrain. http://www.nationalpark.co.nz/ Either way you will feel like you are walking on the moon. Rocks, dust, sand and more rocks will accompany you on your way to the brightest of pools you have ever seen. Take a look at this website for some great hikes http://www.nationalpark.co.nz/activities/tongariro-national-park-hike?Internal=1&ID=1606&IDL=250&IDType=307 Don't forget to pay a visit to the Tawhai Falls, only 10 minute walk from a parking lot on SH48. The beautiful falls tumble over the edge of an ancient lava flow. A nice spot for a refreshing picnic near the falls.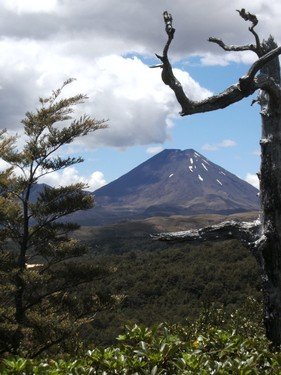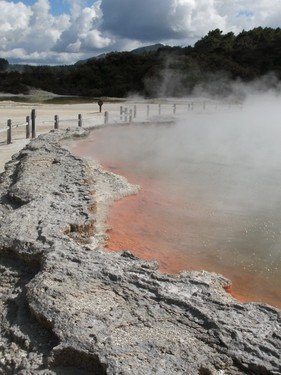 Lake Taupo
On your way from Rotorua to Tongariro National Park you will pass a nice town called Taupo. This town is situated on the shores of lake Taupo, New Zealand's biggest lake. Lake Taupo was formed in the crater left by the eruption in 186AD and remains volcanically active (something you'll notice as you swim through pockets of much warmer water, heated by thermal activity in the lake's depths). Today, at 359m above sea level, the lake measures 616km2. It is well worth staying in Taupo for a few days. You can discover the lake and the Maori Rock Carvings https://www.greatlaketaupo.com/things-to-do/listings/taupo-kayaking-adventures/ and the Huka Falls just outside the city https://www.greatlaketaupo.com/things-to-do/must-do/huka-falls/ And you can do some grocery shopping in one of the big supermarkets and refuel your car, van or campervan.
Till next blog about the northern island of New Zealand.