News Summaries from the WantToKnow.info Archive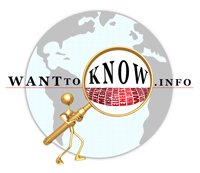 Mainstream media often buries important news stories. PEERS is a US-based 501(c)3 nonprofit that finds and summarizes these stories for WantToKnow.info's free weekly email newsletter and website. Explore below key excerpts of revealing news articles from our archive that were published on today's date in previous years. Each excerpt is taken verbatim from the major media website listed at the link provided. The most important sentences are highlighted. If you find a link that no longer works, please tell us about it in a comment. And if you find this material overwhelming or upsetting, here's a message just for you. By educating ourselves and spreading the word, we can and will build a brighter future.
---
Electronic Smog 'Is Disrupting Nature On A Massive Scale'
Published on this day in 2008, by The Independent (One of the U.K.'s leading newspapers)
Original Article Source, Dated 2008-09-08
Mobile phones, Wi-Fi systems, electric power lines and similar sources of "electrosmog" are disrupting nature on a massive scale, causing birds and bees to lose their bearings, fail to reproduce and die. Dr Ulrich Warnke - who has been researching the effects of man-made electrical fields on wildlife for more than 30 years [reports] that "an unprecedented dense mesh of artificial magnetic, electrical and electromagnetic fields" has been generated, overwhelming the "natural system of information" on which the species rely. He believes this could be responsible for the disappearance of bees in Europe and the US in what is known as colony collapse disorder, for the decline of the house sparrow, whose numbers have fallen by half in Britain over the past 30 years, and that it could also interfere with bird migration. Dr Warnke, a lecturer at the University of Saarland, in Germany … says, "man-made technology has created transmitters which have fundamentally changed the natural electromagnetic energies and forces on the earth's surface. Animals that depend on natural electrical, magnetic and electromagnetic fields for their orientation and navigation are confused by the much stronger and constantly changing artificial fields." His research has shown that bees exposed to the kinds of electrical fields generated by power lines killed each other and their young, while ones exposed to signals in the same range as mobile phones lost much of their homing ability.
Note: Read the complete summary and notes here
---
Pentagon Debates Development of Offensive Cyberspace Capabilities
Published on this day in 2008, by Los Angeles Times
Original Article Source, Dated 2008-09-08
Igniting a provocative new debate, senior military officials are pushing the Pentagon to go on the offensive in cyberspace by developing the ability to attack other nations' computer systems, rather than concentrating on defending America's electronic security. Under the most sweeping proposals, military experts would acquire the know-how to commandeer the unmanned aerial drones of adversaries, disable enemy warplanes in mid-flight and cut off electricity at precise moments to strategic locations, such as military installations, while sparing humanitarian facilities, such as hospitals. An expansion of offensive capabilities in cyberspace would represent an important change for the military. But a new National Military Strategy for Cyberspace Operations, declassified earlier this year, fueled the Pentagon debate and gave the military a green light to push for expanded capabilities. "As we go forward in time, cyber is going to be a very important part of our war-fighting tactics, techniques and procedures," said Michael W. Wynne, a former Air Force secretary. Under Wynne, the Air Force established a provisional Cyber Command in 2007 and made operating in the cyber domain part of its mission statement, on par with air operations. Wynne clashed with superiors over the Air Force approach to cyberspace and other issues and was fired in June after breakdowns in U.S. nuclear weapons security procedures. New Air Force leaders now are reassessing plans for a permanent Cyber Command, which under Wynne's leadership would have included some offensive capabilities.
Note: Read the complete summary and notes here
---
Court OKs Barring High IQs for Cops
Published on this day in 2000, by ABC News
Original Article Source, Dated 2000-09-08
A man whose bid to become a police officer was rejected after he scored too high on an intelligence test has lost an appeal in his federal lawsuit against the city. The 2nd U.S. Circuit Court of Appeals in New York upheld a lower court's decision that the city did not discriminate against Robert Jordan because the same standards were applied to everyone who took the test. "This kind of puts an official face on discrimination in America against people of a certain class," Jordan said today from his Waterford home. "I maintain you have no more control over your basic intelligence than your eye color or your gender or anything else." Jordan, a 49-year-old college graduate, took the exam in 1996 and scored 33 points, the equivalent of an IQ of 125. But New London police interviewed only candidates who scored 20 to 27, on the theory that those who scored too high could get bored with police work and leave soon after undergoing costly training. The average score nationally for police officers is 21 to 22, the equivalent of an IQ of 104, or just a little above average. Jordan alleged his rejection from the police force was discrimination. He sued the city, saying his civil rights were violated because he was denied equal protection under the law. But the U.S. District Court found that New London had "shown a rational basis for the policy." In a ruling dated Aug. 23, the 2nd Circuit agreed. The court said the policy might be unwise but was a rational way to reduce job turnover. Jordan has worked as a prison guard since he took the test.
Note: Read the complete summary and notes here
---
Glassdoor offers view inside firms like HP
Published on this day in 2010, by San Francisco Chronicle (San Francisco's leading newspaper)
Original Article Source, Dated 2010-09-08
If the workplace review site Glassdoor is to companies what Yelp is to restaurants, then Hewlett-Packard Co. employees gave former chief executive Mark Hurd only two stars, but remain hopeful of a four- or five-star successor. In the past, those kinds of inside insights into employee morale at any corporation could be locked away behind closed doors. But in the open world of the Web, sites like Glassdoor have moved those sentiments into the open market, giving voice to rank-and-file workers in a way that no company suggestion box ever could. "In a world with Glassdoor and Facebook and Twitter and LinkedIn, there's a tsunami of transparency washing over the employment space," Glassdoor Inc. CEO Robert Hohman said. The Sausalito company lets any employee post reviews about the overall workplace environment, both the pros and the cons of working there and "advice for senior management." The reviews are posted anonymously, to encourage openness without fear of retribution. In the two years since its launch, the site has grown from having reviews for about 3,000 companies to now having about 90,000 companies, including Bay Area giants like Chevron Corp., Intel Corp., Oracle Corp., Wells Fargo & Co., Facebook Inc. and, of course, HP.
Note: Read the complete summary and notes here
---
BYU places '9/11 truth' professor on paid leave
Published on this day in 2006, by Deseret News
Original Article Source, Dated 2006-09-08
Brigham Young University placed physics professor Steven Jones on paid leave Thursday while it reviews his involvement in the so-called "9/11 truth movement" that accuses unnamed government agencies of orchestrating the Sept. 11, 2001, attacks on the World Trade Center. Such a review is rare for a professor with "continuing status" at BYU, where Jones has taught since 1985. Jones was teaching two classes this semester, which began Tuesday. Other professors will cover those classes, and Jones will be allowed to continue to do research in his area of academic study. Jones became a celebrity among 9/11 conspiracy-theory groups after he wrote a paper titled "Why Indeed Did the World Trade Center Buildings Collapse?" The paper was published two weeks ago in the book "9/11 and American Empire: Intellectuals Speak Out" and lays out Jones' hypothesis that the three towers fell because of pre-positioned demolition charges -- not because of the planes that hit two of the towers. Recent articles about Sept. 11 conspiracy theories that focused at least in part on Jones have appeared in the New York Times, the Washington Post, the Guardian in London and other publications. A modified version of Jones' paper was scheduled to be published this week in the online Journal of 9/11 Studies. Jones is a co-editor of the journal.
Note: Read the complete summary and notes here
---
Down for the Count
Published on this day in 2006, by PBS
Original Article Source, Dated 2006-09-08
New election machines, as mandated and funded by federal law, may create a new election debacle instead of correcting the old one. In 2002, Congress passed the Help America Vote Act (HAVA), which allocated $3.6 billion for all 50 states to update their voting systems. Some industry analysts suggest that the government implemented the new technology too quickly to the detriment of not only security and performance of the new machines, but the integrity of our democratic process. Avi Rubin, a computer science professor at John Hopkins University...performed an analysis of voting machines produced by Diebold. But his recommendation that the machines not be used in elections fell on deaf ears. NOW traveled to Oakland County, Michigan on Primary Day, where election workers encountered more than a few frustrating snags, even when demonstrating the machines for us. In one instance, it took five attempts for the machine to accept a ballot. We also checked in on other states. What we found were alarming scenes of computer and human error, poor results validation, nonexistent contingency plans, and extreme vulnerability to tampering. In half of 37 primaries held this year, there were technical problems associated with the new HAVA-mandated technology. These included an extra 100,000 votes recorded but never cast in Texas, which was blamed on a programming error [and] ballot counting malfunctions in Iowa that declared losing candidates as winners.
Note: Read the complete summary and notes here
---
Bush Renews Sept. 11 Emergency Declaration
Published on this day in 2005, by Washington Post
Original Article Source, Dated 2005-09-08
President Bush on Thursday renewed the national emergency he declared after the Sept. 11, 2001, terrorist attacks. In a letter to Congress, Bush said the nation is still under the terrorist threat that led him to declare a national emergency three days after the attacks on the World Trade Center and the Pentagon. The president's declaration allows for the mobilization of reserve military forces and other steps. By law, a national emergency declaration automatically expires on the anniversary date of its declaration unless the president renews it. Bush's action will renew the declaration for another year.
Note: Read the complete summary and notes here
---
Psychedelic drugs may be ready for a medical comeback
Published on this day in 2015, by Los Angeles Times
Original Article Source, Dated 2015-09-08
New research on the use of psychedelic drugs as treatment for a range of mental disorders appears to be throwing open doors of perception long closed within the medical community, says a new analysis in the Canadian Medical Assn. Journal. For several decades, the North American medical establishment has classified psychedelic drugs – including LSD, psilocybin and [MDMA, better known as ecstasy] – as drugs of abuse with little to no medical purpose or means of safe use. That, four researchers argue, is changing. In Switzerland, Canada, Brazil, Peru, Mexico and the United States, researchers with no evident countercultural tendencies are conducting research that is finding psychedelic drugs a valuable adjunct to psychotherapy in treating addiction, post-traumatic stress and the depression or anxiety that often comes with terminal illness. Clinical investigators are demonstrating that such research "can conform to the rigorous scientific, ethical and safety standards expected of contemporary medical research," the authors write in the new analysis, titled "Psychedelic medicine: a re-emerging therapeutic paradigm." And the body of research they are generating is demonstrating that such drugs as MDMA, LSD and psilocybin can be effective in treating well-chosen patients. Two other factors - cost and time - also appear to be opening minds about the potential therapeutic uses of psychedelic drugs.
Note: Read the complete summary and notes here
---
Years After 9/11, the War on Terror Is Accomplishing Everything bin Laden Hoped It Would
Published on this day in 2015, by The Nation
Original Article Source, Dated 2015-09-08
Fourteen years later, thanks a heap, Osama bin Laden. With a small number of supporters, $400,000-$500,000, and 19 suicidal hijackers, most of them Saudis, you ... goaded us into doing what you had neither the resources nor the ability to do. George W. Bush and company used those murderous acts and the nearly 3,000 resulting deaths as an excuse to try to make the world theirs. It took them no time at all to decide to launch a "Global War on Terror" in up to 60 countries. Don't you find it strange, looking back, just how quickly 9/11 set their brains aflame? Don't you still find it eerie that, amid the wreckage of the Pentagon, the initial orders our secretary of defense gave his aides were to come up with plans for striking Iraq, even though he was already convinced that Al Qaeda had launched the attack? Washington's post-9/11 policies in the Middle East helped lead to the establishment of the Islamic State's "caliphate" in parts of fractured Iraq and Syria. The United States has gone into the business of robotic assassination big time, [and] Washington has regularly knocked off women and children while searching for militant leaders. Fourteen years later, don't you find it improbable that our "war on terror" has so regularly devolved into a war of and for terror; that our methods ... have visibly promoted, not blunted, the spread of Islamic extremism; and that, despite this, Washington has generally not recalibrated its actions in any meaningful way? Fourteen years later, how improbable is that?
Note: Read the complete summary and notes here
---
With best wishes for a transformed world,
Mark Bailey and Fred Burks for PEERS and WantToKnow.info