News Summaries from the WantToKnow.info Archive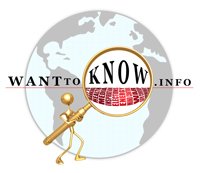 Mainstream media often buries important news stories. PEERS is a US-based 501(c)3 nonprofit that finds and summarizes these stories for WantToKnow.info's free weekly email newsletter and website. Explore below key excerpts of revealing news articles from our archive that were published on today's date in previous years. Each excerpt is taken verbatim from the major media website listed at the link provided. The most important sentences are highlighted. If you find a link that no longer works, please tell us about it in a comment. And if you find this material overwhelming or upsetting, here's a message just for you. By educating ourselves and spreading the word, we can and will build a brighter future.
---
Why Are Corporate Insiders Selling Their Shares?
Published on this day in 2009, by Time magazine
Original Article Source, Dated 2009-09-08
Any time corporate executives and directors are heavily selling their company's stock there's reason for concern. And lately they've been doing just that. The last time insider selling was as high as it is now was in the period from late 2006 to late 2007. It was right after that insider-selling surge that the stock market began its long painful decline, says Charles Biderman, CEO of TrimTabs, an independent institutional research firm. Biderman believes that insider trades shoot higher when there's a disconnect between broad market opinions and what business executives feel in their gut. "When [insiders think] things are going better than most people think, they buy stock," he says. "When things are going worse than people think, they sell." That's to say, insiders have no crystal ball but they often have access to up-to-the-minute sales data as well as firsthand impressions from their sales managers — and that gives them an inside track on what's happening in the economy. When this special access leads them to be big sellers of their stock, well, it's a vote of no confidence in their employer's near-term future. Biderman has measured the ratio of insider selling to buying since 2004, and says historically the ratio is 7 to 1. (Insiders almost always sell more than they buy because they receive stock as part of their compensation.) Right now the ratio is 30, one of the highest he's recorded. November 2007 is the last time the ratio even came close, at 24.
Note: Read the complete summary and notes here
---
David Cameron faces scrutiny over drone strikes against Britons in Syria
Published on this day in 2015, by The Guardian (One of the UK's leading newspapers)
Original Article Source, Dated 2015-09-08
David Cameron is facing questions over Britain's decision to follow the US model of drone strikes after the prime minister confirmed that the government had authorised an unprecedented aerial strike in Syria that killed two Britons fighting alongside Islamic State (Isis). Cameron justified the strikes on the grounds that Reyaad Khan, a 21-year-old from Cardiff, who had featured in a prominent Isis recruiting video last year, represented a "clear and present danger". Two other Isis fighters were killed in the attack, [which was] the first time that a UK prime minister has authorised the targeting of a UK citizen by an unmanned aerial drone outside a formal conflict. One of them, Ruhul Amin, 26, was also British. A third Briton, Junaid Hussain, 21, was killed by a separate US airstrike three days later. Cameron disclosed the strikes in a dramatic afternoon statement which had originally been billed as a chance to outline his plans to take thousands of extra refugees from Syria. Downing Street dismissed suggestions that the prime minister had deliberately engineered UK involvement in the drone strikes rather than leaving them to the US ... as a way of making the case for greater British involvement in action against Isis in the country. Cameron, who had said that he would seek parliament's approval before extending any British military action against Isis targets from Iraq to Syria, said he had acted in line with his commitments, [because he] reserved the right to authorise strikes without a vote in the event of an emergency.
Note: Read the complete summary and notes here
---
U.S. Censoring Katrina Coverage, Groups Say
Published on this day in 2005, by Washington Post
Original Article Source, Dated 2005-09-08
When U.S. officials asked the news media not to take pictures of those killed by Hurricane Katrina and its aftermath, they were censoring a key part of the disaster story, free-speech watchdogs said yesterday. The move by the Federal Emergency Management Agency is in line with the Bush administration's ban on images of flag-draped U.S. military coffins returning from the Iraq war, media monitors charged in separate telephone interviews. On Tuesday, FEMA refused to take reporters and photographers along on boats seeking victims in flooded areas, saying they would take up valuable space needed in the recovery effort and asked them not to take pictures of the dead. A FEMA spokeswoman wrote: "The recovery of victims is being treated with dignity and the utmost respect and we have requested that no photographs of the deceased be made by the media." FEMA's policy of excluding media from recovery expeditions in New Orleans is "an invitation to chaos," said Tom Rosenstiel, director of the Project for Excellence in Journalism, a part of Columbia University's journalism school.
Note:
Death tolls were reported prominently on a daily basis after the Asian tsunami, so why are the media and government so reluctant to give figures on the number dead in this catastrophe?
Note: Read the complete summary and notes here
---
Tenn. church, Islamic center embrace post 9/11
Published on this day in 2011, by CBS News
Original Article Source, Dated 2011-09-08
Following 9/11, reports of hate crimes against Arab-Americans, or those perceived to be, went up 1,700 percent. While distrust and ignorance toward American Muslims remains a reality today, we found the opposite in one Tennessee community. On one recent Sunday morning in Cordova, Pastor Steve Stone was rocking along with his congregation, clapping and singing along with the choir. Heartsong Church, just outside Memphis, sits on a rural road - directly across the street from a Muslim worship center. When Dr. Bashar Shala, co-founder of the Memphis Islamic Center, or MIC, began construction two years ago, at best, he hoped to be ignored. Instead, Stone welcomed the Muslims with a surprise - a sign welcoming MIC to the neighborhood. When they saw the sign, Shala said, "We knew that we have good neighbors." Acting on the biblical phrase "love thy neighbor," the two sides forged a friendship that's now expanded to plans for building a park with land from both sides of the road, connected by a bridge or a tunnel, and to interfaith events, such as a joint Labor Day party. One church member, Lee Raines, looking at tables with Muslims and Christians together, called it "awesome." Stone and Shala say they hope others will practice being good neighbors as they do. Not only have they fed the homeless and organized food drives together, this Sunday, on the 9/11 anniversary, they're hosting a joint blood drive.
Note: Read the complete summary and notes here
---
Psychedelics Promise a 'Paradigm Shift' in Treating Mental Illness
Published on this day in 2015, by Newsweek
Original Article Source, Dated 2015-09-08
In the 1950s through the early '70s, research began to show that psychedelics like LSD and psilocybin, the active ingredient in magic mushrooms, could be quite effective at treating mental health disorders like addiction. Then ... the so-called "war on drugs" began. For nearly a generation, science on these substances shut down. But that's changing. In the past 20 years or so, a small amount of research has once again begun to focus on these chemicals, showing that they have promise for treating a range of conditions, from addiction to depression and anxiety, says Evan Wood, a psychiatric researcher at the University of British Columbia. In 2006, researchers at the University of Arizona published a study showing obsessive-compulsive patients who ingested psilocybin had immediate and lasting reductions in problematic symptoms. The same year, Johns Hopkins University physician and researcher Roland Griffiths showed that in healthy volunteers, psilocybin produced lasting benefits like improved mood and peacefulness six months after ingestion. Similar work has shown psilocybin can help treat anxiety associated with cancer, at UCLA and New York University. And a study in late 2014 found that LSD permanently reduced anxiety in a small number of patients. Wood says he's most excited about research into using psychedelics to treat addiction. He published a review on September 8 in the Canadian Medical Association Journal covering recent work in this field.
Note: Read the complete summary and notes here
---
Warren Increases the Pain Factor for Choosing Corporate-Friendly Democrats
Published on this day in 2015, by The Intercept
Original Article Source, Dated 2015-09-08
A little-noticed report on candidates for an open spot on the Securities and Exchange Commission (SEC) reaffirms that the reformist wing of the Democratic Party is winning the tactical battle over financial regulatory personnel. Luis Aguilar, one of three Democratic SEC commissioners on the five-member panel, announced he would step down in May. Initially, the White House floated as a replacement Keir Gumbs, who has passed ... from SEC staff to the white-collar corporate law firm Covington & Burling. Covington & Burling counts most major U.S. banks among its clients, and is the home of former Attorney General Eric Holder and several of his top deputies. While at Covington, Gumbs allegedly gave CEOs tutorials on how to avoid disclosing their corporate political spending. He also represented the American Petroleum Institute before the SEC. Months of criticism of both Gumbs and the SEC's bank-friendly practices created a delay, with the White House agreeing to vet additional candidates. The Obama administration, despite a clear preference for moderates with Wall Street ties for financial regulatory positions, now must consider a far broader range of personnel. By forming a united front, [party reformers make] it more difficult for future Democratic administrations to use Wall Street as a policymaker talent pool. This significantly changes the landscape of the party, regardless of individual candidate views or the desires of Wall Street-aligned donors.
Note: Read the complete summary and notes here
---
Weldon doubts DoD on Able Danger
Published on this day in 2005, by UPI
Original Article Source, Dated 2005-09-08
The congressman who first made public claims that a secret Pentagon data mining project linked the Sept. 11 attacks ringleader to al-Qaida more than a year before the attacks took place says he does not believe the military's account of how the results of the project's work came to be destroyed. "I seriously have my doubts that it was routine," Rep. Curt Weldon, R-Penn., told United Press International. Weldon said he had asked the Pentagon for the certificates of destruction that military officials must complete when classified data is destroyed. He said that there had been "a second elimination of data in 2003," in addition to the destruction acknowledged last week. "For some reason, the bureaucracy in the Pentagon -- I mean the civilian bureaucracy -- didn't want this to get out," he said.
Note: Read the complete summary and notes here
---
Sally Quinn has cast 3 hexes, and worries they worked
Published on this day in 2017, by USA Today
Original Article Source, Dated 2017-09-08
In her new "spiritual memoir" titled Finding Magic, veteran journalist Sally Quinn ... the widow of legendary Washington Post editor Ben Bradlee ... describes her lifelong belief in the occult and worries that hexes she once put on three people may have worked. "My family were Scots," [said Quinn]. "They all believed in Scottish myths and mysticism and the stones and psychic behavior and ghosts and astrology and palmistry and all that. And then of course we all went to church. So I had this kind of two-pronged religious upbringing. I would say my prayers to God and Jesus every night ... but I also believed in all this other stuff. When I was in my late 20s and early 30s, there were three people who hurt me in some way, or (hurt) somebody I loved, and so I decided to put a hex on them. I had never done it before. What I wanted to have happen was for them to feel what I had felt. I didn't mean for them to die." One person died right away, another person got fired immediately and then died, and then the other one died. I've never done it again. And believe me, since (Donald) Trump was elected, and since the election, I can't tell you how many friends have asked me to put a hex on Donald Trump, and I won't do it. I just said no. I don't do that anymore ... The environment right now is more toxic and more poisonous than I've ever seen....(But I have) still been able to pull away and still find a sense of faith and joy and magic in the world."
Note: Read the complete summary and notes here
---
National Archives sits on 9/11 Commission records
Published on this day in 2011, by Reuters News
Original Article Source, Dated 2011-09-08
Ten years after [the 9/11 attacks], the vast majority of the 9/11 Commission's investigative records remain sealed at the National Archives in Washington, even though the commission had directed the archives to make most of the material public in 2009. The National Archives' failure to release the material presents a hurdle for historians and others seeking to plumb one of the most dramatic events in modern American history. Matt Fulgham, assistant director of the archives' center for legislative affairs..., said that more than a third of the material has been reviewed for possible release. But many of those documents have been withheld or heavily redacted, and the released material includes documents that already were in the public domain, such as press articles. Commission items still not public include a 30-page summary of an April 29, 2004 interview by all 10 commissioners with President George W. Bush and Vice President Dick Cheney, conducted in the White House's Oval Office. This was the only time the two were formally questioned about the events surrounding the attacks. The information could shed light on public accounts the two men have given in recent weeks of their actions around the time of the attacks. The still-sealed documents contain source material on subjects ranging from actions by President Bush on the day of the attacks to ... vast amounts of information on al Qaeda and U.S. intelligence efforts in the years preceding the attacks.
Note: Read the complete summary and notes here
---
With best wishes for a transformed world,
Mark Bailey and Fred Burks for PEERS and WantToKnow.info