News Summaries from the WantToKnow.info Archive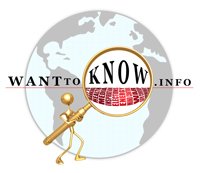 Mainstream media often buries important news stories. PEERS is a US-based 501(c)3 nonprofit that finds and summarizes these stories for WantToKnow.info's free weekly email newsletter and website. Explore below key excerpts of revealing news articles from our archive that were published on today's date in previous years. Each excerpt is taken verbatim from the major media website listed at the link provided. The most important sentences are highlighted. If you find a link that no longer works, please tell us about it in a comment. And if you find this material overwhelming or upsetting, here's a message just for you. By educating ourselves and spreading the word, we can and will build a brighter future.
---
Electronic smog 'is disrupting nature on a massive scale'
Published on this day in 2008, by The Independent (One of the UK's leading newspapers)
Original Article Source, Dated 2008-09-07
Mobile phones, Wi-Fi systems, electric power lines and similar sources of "electrosmog" are disrupting nature on a massive scale, causing birds and bees to lose their bearings, fail to reproduce and die. Dr Ulrich Warnke – who has been researching the effects of man-made electrical fields on wildlife for more than 30 years – [says] that the world's natural electrical and magnetic fields have had a "decisive hand in the evolution of species". Over millions of years they learned to use them to work out where they were, the time of day, and the approach of bad weather. Now, he says, "man-made technology has created transmitters which have fundamentally changed the natural electromagnetic energies and forces on the earth's surface. Animals that depend on natural electrical, magnetic and electromagnetic fields for their orientation and navigation are confused by the much stronger and constantly changing artificial fields." His research has shown that bees exposed to the kinds of electrical fields generated by power lines killed each other and their young, while ones exposed to signals in the same range as mobile phones lost much of their homing ability. Studies at the University of Koblenz-Landau, reported in The Independent ... last year, have found bees failed to return to their hives when digital cordless phones were placed in them, while an Austrian survey noted that two-thirds of beekeepers with mobile phone masts within 300 metres had suffered unexplained colony collapse.
Note: Read the complete summary and notes here
---
Four Oakland police officers fired, seven suspended, in sexual misconduct case
Published on this day in 2016, by The Guardian (One of the UK's leading newspapers)
Original Article Source, Dated 2016-09-07
The Oakland, California, police department has fired four officers and suspended seven in a major sexual misconduct case, but critics have questioned why officers haven't faced criminal charges and why an exploitation victim at the center of the case remains behind bars. The disciplinary actions ... stem from a case involving a teenage girl who was sexually exploited by more than a dozen officers across the northern California region. In 2015, officer Brendan O'Brien reportedly killed himself and left a note that launched an investigation into widespread misconduct allegations. The Oakland newspaper East Bay Express uncovered that three officers had allegedly had sexual relations with a teenage girl when she was underage. The girl ... said she was a sex worker at the time. By law, however, those relationships would be considered statutory rape and human trafficking. A total of at least 14 officers in Oakland as well as eight from other nearby law enforcement agencies are accused of taking advantage of the teenager. Months later, there are still no criminal charges. On the contrary, the woman recently went to a rehab center in Florida where she was arrested. She remains incarcerated at a local jail. Critics of the police department ... said they were particularly disturbed that the exploited woman was behind bars while the officers who have allegedly engaged in misconduct have remained free – many of them still employed by the city.
Note: Read the complete summary and notes here
---
Over eight years, President Barack Obama has created the most intrusive surveillance apparatus in the world. To what end?
Published on this day in 2016, by Foreign Policy
Original Article Source, Dated 2016-09-07
Over his two terms, Obama has created the most powerful surveillance state the world has ever seen. From 22,300 miles in space, where seven Advanced Orion [spy satellites] now orbit; to a 1-million-square-foot building in the Utah desert that stores data intercepted from personal phones, emails, and social media accounts; to taps along the millions of miles of undersea cables that encircle the Earth like yarn, U.S. surveillance has expanded exponentially since Obama's inauguration on Jan. 20, 2009. The effort to wire the world ... has cost American taxpayers more than $100 billion. Yet has the president's blueprint for spying succeeded on its own terms? An examination of the unprecedented architecture reveals that the Obama administration may only have drowned itself in data. Privacy hasn't been traded for security, but for the government hoarding more data than it knows how to handle. A panel set up by Obama [in 2013] to review the NSA's operations concluded that the agency had stopped no terrorist attacks. Beyond failures to create security, there is the matter of misuse or abuse of U.S. spying, the effects of which extend well beyond violations of Americans' constitutional liberties. Obama, meanwhile, has taken virtually no steps to fix what ails his spying apparatus, [but] has gone after people blowing the whistle on intelligence abuses. The Justice Department has charged eight leakers — more than double the number under all previous presidents combined.
Note: Read the complete summary and notes here
---
10 years later, 9/11 still shrouded in mystery
Published on this day in 2011, by Philadephia Inquirer (Philadelphia's leading newspaper)
Original Article Source, Dated 2011-09-07
If you think that on the 10th anniversary you know the whole story of 9/11 - and here I'm addressing conspiracy-minded "truthers" and the 13 percent who approved of the job Dick Cheney did as vice president - actually, you don't. The dictum of famed investigative reporter I.F. Stone about all governments - i.e., they lie - is no less true about 9/11 than any other event. Here are [some] questions about 9/11 that remain unanswered. Who killed five Americans with anthrax in fall 2001? Forensics showed that the biological weapon came from American stockpiles. In 2008, the government announced that its ... prime suspect - a scientist at Maryland's Fort Detrick named Bruce Ivins - had committed suicide and that the case was considered closed. But is it? Remarkably, a disputed U.S. Justice Department filing just this July claimed that Ivins didn't have access to the equipment needed to execute the attacks, causing some members of Congress to call for a new probe. Why did so many Bush officials fixate on Iraq in the hours after the attacks? Despite a lack of any evidence tying Saddam's Iraq to 9/11, Bush administration officials looked immediately toward Baghdad. Defense Secretary Donald Rumsfeld questioned whether to "hit S.H." - Saddam - "at the same time" while the Pentagon was still on fire, and Bush immediately pressed Clarke on whether there was an Iraqi connection.
Note: Read the complete summary and notes here
---
CIA 'tortured al-Qaeda suspects close to the point of death by drowning them in water-filled baths'
Published on this day in 2014, by The Telegraph (One of the UK's leading newspapers)
Original Article Source, Dated 2014-09-07
The CIA brought top al-Qaeda suspects close "to the point of death" by drowning them in water-filled baths during interrogation sessions in the years that followed the September 11 attacks, a security source has told The Telegraph. The description of the torture meted out to at least two leading al-Qaeda suspects, including the alleged 9/11 mastermind Khalid Sheikh Mohammed, far exceeds the conventional understanding of waterboarding, or "simulated drowning" so far admitted by the CIA. "They weren't just pouring water over their heads or over a cloth," said the source who has first-hand knowledge of the period. "They were holding them under water until the point of death, with a doctor present to make sure they did not go too far. This was real torture." The account of extreme CIA interrogation comes as the US Senate prepares to publish a declassified version of its so-called Torture Report – a 3,600-page report document based on a review of several million classified CIA documents. Publication of the report is currently being held up by a dispute over how much of the 480-page public summary should remain classified, but it is expected to be published within weeks. A second source who is familiar with the Senate report told The Telegraph that it contained several unflinching accounts of some CIA interrogations which – the source predicted – would "deeply shock" the general public.
Note: Read the complete summary and notes here
---
Secret trial revelations prompt US-Israeli diplomatic storm
Published on this day in 2011, by The Independent (One of the UK's leading newspapers)
Original Article Source, Dated 2011-09-07
A court case against a translator who leaked US government secrets was conducted in secret because it centred on the revelation that the FBI had eavesdropped on Israeli embassy phone calls, it was revealed yesterday. The extraordinary limitations in place for the prosecution of Shamai Leibowitz, who was sentenced to 20 months in prison for disseminating classified information, meant that even the judge sentencing him did not know what he was supposed to have leaked. "All I know is that it's a serious case," Judge Alexander Williams said last year. "I don't know what was divulged other than some documents, and how it compromised things, I have no idea." But now Richard Silverstein, the blogger to whom Leibowitz passed his information, has come forward to defend his source. Leibowitz passed him about 200 pages of verbatim records of phone calls and conversations between embassy officials, saying that he believed the documents revealed Israeli officials trying unlawfully to influence US policy and edging towards military action against Iran. There has been dismay among civil liberties and open government advocates who point to pledges made by Mr Obama before his election to seek new transparency in Washington. Instead, his administration has launched a record number of prosecutions under the Espionage Act – five including the Leibowitz case. Previously, there had been only four such prosecutions opened by all previous administrations.
Note: Read the complete summary and notes here
---
Extreme do-gooders – what makes them tick?
Published on this day in 2009, by Christian Science Monitor
Original Article Source, Dated 2009-09-07
Most people in the world, it's fair to say, want to do a little good. At the very least, we try to follow a kind of secular golden rule: Try to do no harm. But in our communities and around the world, there's a kind of person who takes all this further – to an extreme, even. They're called, most often, "social entrepreneurs," and some of them have become famous, at least in certain circles: Muhammad Yunus, the 2006 Nobel Peace Prize laureate, is revered in do-good financial circles for pioneering microfinance, a lending system for the very poor. From protecting our natural environment to improving our children's education to combating global poverty and disease, we've come to rely on extreme do-gooders to tackle the world's toughest problems. And they're happy to do so, even though their dedication will cost them in the long run. What makes these people tick, and how do they sustain a lifetime of commitment to a change that might take generations to see? Social entrepreneurs seem to think in terms of everything except sacrifice. "I've interviewed several hundred social entrepreneurs over the last 15 years," says David Bornstein, author of How to Change the World: Social Entrepreneurs and the Power of New Ideas, "and the thing that struck me is how little they think about sacrifice, ... and how much their lives are about really doing something that gives them extraordinary joy and satisfaction when they're successful."
Note: Read the complete summary and notes here
---
With best wishes for a transformed world,
Mark Bailey and Fred Burks for PEERS and WantToKnow.info