News Summaries from the WantToKnow.info Archive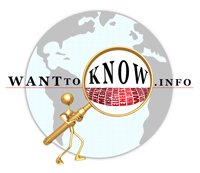 Mainstream media often buries important news stories. PEERS is a US-based 501(c)3 nonprofit that finds and summarizes these stories for WantToKnow.info's free weekly email newsletter and website. Explore below key excerpts of revealing news articles from our archive that were published on today's date in previous years. Each excerpt is taken verbatim from the major media website listed at the link provided. The most important sentences are highlighted. If you find a link that no longer works, please tell us about it in a comment. And if you find this material overwhelming or upsetting, here's a message just for you. By educating ourselves and spreading the word, we can and will build a brighter future.
---
A Funeral of 2 Friends: C.I.A. Deaths Rise in Secret Afghan War
Published on this day in 2017, by New York Times
Original Article Source, Dated 2017-09-06
This summer, operatives with the Central Intelligence Agency gathered at Arlington National Cemetery to bury two of their own. Brian Ray Hoke and Nathaniel Patrick Delemarre, elite gunslingers who worked for the C.I.A.'s paramilitary force, were laid to rest after a firefight with Islamic State militants. Their deaths this past October were never acknowledged by the C.I.A., beyond two memorial stars chiseled in a marble wall at the agency's headquarters in Langley, Va. Today there are at least 18 stars on that wall representing the number of C.I.A. personnel killed in Afghanistan - a tally that has not been previously reported, and one that rivals the number of C.I.A. operatives killed in the wars in Vietnam and Laos nearly a half century ago. The deaths are a reflection of the heavy price the agency has paid in a secret, nearly 16-year-old war, where thousands of C.I.A. operatives have served since the attacks of Sept. 11, 2001. The deaths of Mr. Hoke, 42, and Mr. Delemarre, 47, show how the C.I.A. continues to move from traditional espionage to the front lines, and underscore the pressure the agency faces now that President Trump has pledged to keep the United States in Afghanistan with no end in sight.
Note: Read the complete summary and notes here
---
Spy Satellites Turned on the U.S.
Published on this day in 2007, by ABC News
Original Article Source, Dated 2007-09-06
Traditionally, powerful spy satellites have been used to search for strategic threats overseas. But now the Department of Homeland Security has developed a new office to use the satellites to [monitor the US itself]. [DHS] officials ... faced extensive criticism [in Congress] about the privacy and civil liberty concerns of the new office, called the National Applications Office. [House Homeland Security] Committee members expressed concern about abuse of the satellite imagery, charging that Homeland Security had not informed the oversight committee about the program. "What's most disturbing is learning about it from The Wall Street Journal," said Committee Chairman Rep. Bennie Thompson, D-Miss. The lawmakers also expressed concern about using military capabilities for U.S. law enforcement and Homeland Security operations, potentially a violation of the Posse Comitatus Act, which bars the military from serving as a law enforcement body within the United States. Committee members said that in addition to not being informed about the National Applications Office program, they had not yet been provided with documents defining the limits and legal guidance about the program. [They] sent a letter to Homeland Security saying, "We are so concerned that ... we are calling for a moratorium on the program. Today's testimony made clear that there is effectively no legal framework governing the domestic use of satellite imagery for the various purposes envisioned by the department."
Note: Read the complete summary and notes here
---
This war on terrorism is bogus (by past U.K. Minister of Environment)
Published on this day in 2003, by The Guardian (One of the U.K.'s leading newspapers)
Original Article Source, Dated 2003-09-06
At least 11 countries provided advance warning to the US of the 9/11 attacks. Two senior Mossad experts were sent to Washington in August 2001 to alert the CIA and FBI to a cell of 200 terrorists said to be preparing a big operation. The list they provided included the names of four of the 9/11 hijackers, none of whom was arrested. In November 2001 the US airforce complained it had had al-Qaida and Taliban leaders in its sights as many as 10 times over the previous six weeks, but had been unable to attack because they did not receive permission quickly enough. The BBC reported [that] a former Pakistan foreign secretary was told by senior American officials at a meeting in Berlin in mid-July 2001 that "military action against Afghanistan would go ahead by the middle of October". Zacarias Moussaoui ... was arrested in August 2001. One agent wrote, a month before 9/11, that Moussaoui might be planning to crash into the Twin Towers. US agents ... sought a warrant to search his computer. They were turned down by the FBI. [A] PNAC blueprint supports an earlier document ... which said the US must "discourage advanced industrial nations from challenging our leadership". The document also calls for the creation of "US space forces" to dominate space, and the total control of cyberspace to prevent "enemies" using the internet. It also hints that the US may consider developing biological weapons "that can target specific genotypes [and] may transform biological warfare from the realm of terror to a politically useful tool". The conclusion of all this analysis must surely be that the "global war on terrorism" has the hallmarks of a political myth propagated to pave the way for a wholly different agenda - the US goal of world hegemony, built around securing by force command over the oil supplies required to drive the whole project.
Note: Read the complete summary and notes here
---
Detroit's Good Food Cure
Published on this day in 2012, by Yes! Magazine
Original Article Source, Dated 2012-09-06
Weekend mornings are the busiest days of the week at D-Town Farm. That's when up to 30 volunteers from across Detroit come out to till the earth and tend the crops at the seven-acre mini-farm on the city's west side. "One of our goals is to present healthy eating to people," says Malik Yakini, Director of the Detroit Black Community Food Security Network (DBCFSN), which runs D-Town. "We think that healthy eating optimizes a good life generally. A diet close to nature allows the human body to function the way it is supposed to function." D-Town is set in one of the city's greenest areas, a former tree nursery in the 1,184-acre River Rouge Park. It's ... about a mile upriver from the Brightmoor, a formerly devastated neighborhood that boasts no fewer than 22 community gardens. The Detroit City Council granted use of the land to DBCFSN in 2008. Nowhere in the United States has urban agriculture taken root as prolifically as in Detroit. This gardening renaissance has been growing for over two decades since the Gardening Angels, a group of southern-born African-Americans, began growing food and passing their agricultural knowledge on to another generation. There are more than 1,200 community gardens in Detroit—more per square mile and more per capita than in any other American city. DBCFSN's goals include empowering African-Americans within the food system and providing fresh, healthy foods in an area where access is not a given. Detroit was among the communities declared food deserts by researcher Mari Gallagher in 2007.
Note: Read the complete summary and notes here
---
FBI spied on Burning Man music festival, documents reveal
Published on this day in 2015, by Houston Chronicle (A leading newspaper of Houston, Texas)
Original Article Source, Dated 2015-09-06
Newly-released documents show that FBI spied on the Burning Man festival in 2010. It remains unclear if FBI agents actually attended the event. Burning Man [takes place] in an isolated Nevada desert, where up to 70,000 people gather annually for music, art, drugs and large fires. The revelations of federal surveillance come from heavily-redacted internal FBI memos handed to ... reporter Inkoo Kang, who filed a request under the federal Freedom of Information Act for any FBI documents "mentioning the phrase 'Burning Man." In late August, a private security firm contacted the FBI's Las Vegas division for help conducting a "threat assessment" ahead of the event, to which the FBI replied that they had no worrying intelligence about Burning Man. Days later, the Las Vegas division messaged the FBI's Special Events Management Unit requesting guidance on planning an approach to the festival. A subsequent paragraph, sandwiched between two entirely-redacted paragraphs, said, "scheduled overtime for special agents assigned to work special events will be approved under certain very limited and relatively rare circumstances," raising question over whether or not FBI special agents were deployed at Burning Man. A final memo listed two "accomplishments" from the operation; one was redacted, the other was "local agency liaison established/utilized." The FBI concluded that the greatest threat present at Burning Man was "use of illegal drugs by the participants."
Note: Read the complete summary and notes here
---
From the Experimental GMO Fields of Kauai to the TPP: Connecting the Dots
Published on this day in 2013, by Huffington Post
Original Article Source, Dated 2013-09-06
Much attention has been turned in recent months to the fact that the agro-chemical/GMO industry -- corporate giants Dow, Pioneer DuPont, Syngenta, Monsanto, BASF -- have been using Hawaii since the 1990s as one of their main testing grounds for experiments engineering new pesticide-crop combos. On the "Garden Island" of Kauai, the industry controls over 15,000 acres of prime agricultural land, which they drench with over 17 tons of restricted-use pesticides each year, and likely at least five times that amount in non-restricted pesticides that may be equally as harmful (such as glyphosate). Pioneer DuPont alone has used 90 pesticide formulations with 63 active ingredients in the past 6 years. They apply these pesticides around 250 days each year, with 10-16 applications per day on average. Pesticides are sprayed next to schools, hospitals, neighborhoods and major waterways, with zero buffer zone and zero public knowledge of what is being sprayed. Preliminary evidence suggests that living in the shadow of these companies may be causing alarming rates of rare birth defects and cancers. Through the Trans-Pacific Partnership Agreement (TPP) these same chemical corporations are seeking to lock us in to arrangements that guarantee their profit interests will not be impeded by pesky democratic governments protecting people's health or other common interests. If passed, it will amount to perhaps the biggest corporate power-grab in history, putting the rights of corporations above those of elected governments and sovereign nations.
Note: Read the complete summary and notes here
---
What 80 million unexploded US bombs did to Laos
Published on this day in 2016, by CNN News
Original Article Source, Dated 2016-09-06
For two years after the accident, Yei Yang refused to leave his home. "I couldn't farm, I couldn't go to see friends, as they might be afraid of me," Yang tells CNN. "I didn't want to live." Yang was just 22 and burning rubbish near his village in the province of Xieng Khoung in north-eastern Laos, when a bomb blast tore off one of his eyelids, his top lip and an ear, mutilated one of his arms, and left him with severe scarring from the waist up. His wounds were not caused by a modern day conflict, but by the remnants of a war that was waged more than 40 years ago, and is still destroying lives in this small Southeast Asian nation. Some 80 million unexploded bombs are scattered across the country - the deadly legacy of what became known as America's "secret war" in Laos - a CIA-led mission during the Vietnam War. In total, between 1964 and 1973, the US dropped more than two million tons of bombs - one of the heaviest aerial bombardments in history. Most of the munitions dropped were cluster bombs, which splinter before impact, spreading hundreds of smaller bomblets. To this day, less than 1% of the bombs have been removed, according to US-based NGO Legacies of War, which is spearheading the campaign to clear them. More than 20,000 people have been killed or maimed by the unexploded ordnance (UXOs) since the war ended, and currently, 50 people are maimed or killed every year. Around 40% of those are children.
Note: Read the complete summary and notes here
---
This Pen Can Diagnose Cancer in 10 Seconds
Published on this day in 2017, by Time
Original Article Source, Dated 2017-09-06
When it comes to treating cancer, surgeons want to get rid of as much cancerous tissue as possible during tumor removal. Now a new technology - the size of a pen - is attempting to make that easier by distinguishing between tumors and healthy tissue in just 10 seconds. The MasSpec Pen is a real-time diagnostic tool created by researchers at the University of Texas at Austin. In a new study published Wednesday in the journal Science Translational Medicine, the researchers report that their handheld device (which is not yet FDA-approved) uses tiny droplets of water to analyze human tissue samples for cancer. "It's a gentle, simple chemical process," says study author Livia Schiavinato Eberlin. "It's highly specific and highly sensitive. The fact that it's non-destructive brings a new approach to cancer diagnosis." Getting rid of all cancerous tissue while also preventing any harm to healthy tissue is a delicate process. Other tools available to surgeons for tissue diagnosis ... use gases or solvents that can be harmful for the human body [and] are slower than the MasSpec Pen. In the study, the researchers tested 253 human tissue samples from lung, ovary, thyroid and breast cancer tumors and compared them to samples of healthy tissues. The device was 96% accurate at identifying cancerous tissues. The researchers also tested the MasSpec Pen in live mice with tumors and found that the device was able to identify the presence of cancer without harming healthy surrounding tissues.
Note: Read the complete summary and notes here
---
"Capitalism is evil", says new Michael Moore film
Published on this day in 2009, by Calgary Herald/Reuters
Original Article Source, Dated 2009-09-06
Capitalism is evil. That is the conclusion U.S. documentary maker Michael Moore comes to in his latest movie "Capitalism: A Love Story", which [premiered] at the Venice film festival on Sunday. Blending his trademark humour with tragic individual stories, archive footage and publicity stunts, the 55-year-old launches an all out attack on the capitalist system, arguing that it benefits the rich and condemns millions to poverty. "Capitalism is an evil, and you cannot regulate evil," the two-hour movie concludes. "You have to eliminate it and replace it with something that is good for all people and that something is democracy." The bad guys in Moore's mind are big banks and hedge funds which "gambled" investors' money in complex derivatives that few, if any, really understood and which belonged in the casino. The filmmaker also sees an uncomfortably close relationship between banks, politicians and U.S. Treasury officials, meaning that regulation has been changed to favour the few on Wall Street rather than the many on Main Street. He says that by encouraging Americans to borrow against the value of their homes, businesses created the conditions that led to the crisis, and with it homelessness and unemployment.Moore even features priests who say capitalism is anti-Christian by failing to protect the poor.
Note: Read the complete summary and notes here
---
With best wishes for a transformed world,
Mark Bailey and Fred Burks for PEERS and WantToKnow.info