News Summaries from the WantToKnow.info Archive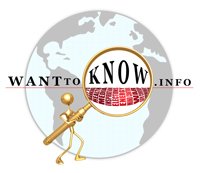 Mainstream media often buries important news stories. PEERS is a US-based 501(c)3 nonprofit that finds and summarizes these stories for WantToKnow.info's free weekly email newsletter and website. Explore below key excerpts of revealing news articles from our archive that were published on today's date in previous years. Each excerpt is taken verbatim from the major media website listed at the link provided. The most important sentences are highlighted. If you find a link that no longer works, please tell us about it in a comment. And if you find this material overwhelming or upsetting, here's a message just for you. By educating ourselves and spreading the word, we can and will build a brighter future.
---
Once-jailed banker gets $104 million whistleblower payout
Published on this day in 2012, by NBC News
Original Article Source, Dated 2012-09-11
Attorneys for jailed former Swiss banker Bradley Birkenfeld announced [on September 11] that the IRS will pay him $104 million as a whistleblower reward for information he turned over to the US government. The information Birkenfeld revealed detailed the inner workings of the secretive private wealth management division of the Swiss bank UBS, where the American-born Birkenfeld helped his US clients evade taxes by hiding wealth overseas. Tuesday's announcement represents an astonishing turn of fortune for Birkenfeld, who was released from federal prison in August after serving 31 months on charges relating to his efforts to help a wealthy client avoid taxes. Birkenfeld attorney Stephen Kohn said the information the former Swiss banker turned over to the IRS led directly to the $780 million fine paid to the US by his former employer, UBS, as well as leading over 35,000 taxpayers to participate in amnesty programs to voluntarily repatriate their illegal offshore accounts. That resulted in the collection of over $5 billion dollars in back taxes, fines and penalties that otherwise would have remained outside the reach of the government. Birkenfeld's disclosures also led to the first cracks in the legendarily secretive Swiss banking system, and ultimately the Swiss government changed its tax treaty with the United States. UBS turned over the names of more than than 4,900 U.S. taxpayers who held illegal offshore accounts. Investigations into those accounts are ongoing.
Note: Read the complete summary and notes here
---
Big Pharma's Offshore Fraud Strategy
Published on this day in 2012, by Forbes
Original Article Source, Dated 2012-09-11
One of [the big drug companies'] bright spots has been emerging markets where in recent years percentage growth in sales has caught up to and in many instances galloped ahead of other regions. But with pharmaceutical companies continuing to pay record civil and criminal fines in the U.S. for illegal marketing practices, recent scrutiny of similar practices abroad raises questions as to whether pharma has simply exported its fraudulent marketing playbook to Europe, Asia, the Middle East and elsewhere. Those sales and marketing tactics are bad news for patients around the world, as financial inducements and bribes should not be permitted to corrupt medical treatment decisions. The good news is that the Securities and Exchange Commission (SEC) whistleblower program will undoubtedly accelerate exposure of corrupt practices overseas and bring greater transparency into pharma's business practices generally. Pharma companies already are being investigated for U.S. Foreign Corrupt Practices Act (FCPA) violations. The FCPA makes it illegal to bribe foreign officials to win business. Pfizer, the world's largest drugmaker, paid $60.2 million last month to the U.S. to settle charges that the company bribed government officials – including hospital administrators, government doctors and members of regulatory and purchasing committees — in China, Russia, Italy, Bulgaria, Croatia, Serbia and Kazakhstan to approve and prescribe Pfizer products. Other pharma companies are under scrutiny by the U.S. for their practices elsewhere.
Note: Read the complete summary and notes here
---
Eleven enduring mysteries of 9/11
Published on this day in 2012, by Russia Today
Original Article Source, Dated 2012-09-11
Today, as the world pauses to remember the eleventh anniversary of the 9/11 terror attacks on the United States, it is also important to remember the inexplicable things that happened – and didn't happen – that tragic day. After all, 9/11 is solely responsible for diminishing hard-fought US civil rights, as well as triggering wars around the world. Here are 11 well documented mysteries of 9/11 that warrant an investigation into the two hours that changed the course of world history. 1. Why did the Bush administration allow numerous Saudi nationals, and, more importantly, the family of Osama bin Laden to leave the United States in the days following the events of 9/11? 2. How can we explain the huge increase in trading on airline stocks in the days before 9/11? 3. Why was there no disciplinary action taken against the individuals who were responsible for protecting America from attack? 4. Why was the Bush administration so adamantly opposed to conducting any sort of investigation into the events of 9/11? 5. Vanishing Act: WTC 7 6. Why was the US Air Force missing in action? 7. Why were President George W. Bush and his Vice President, Dick Cheney permitted to provide testimony to the 9/11 Commission on the condition that they present it in private and together? 8. No sign of crashed planes at the Pentagon and Shanksville, Pennsylvania. 9. Pentagon videos missing in action. 10. Black Boxes missing in action. 11. Hijackers ... alive and well?
Note: Read the complete summary and notes here
---
Cheney orders rural electric crews to work on oil pipeline from Texas
Published on this day in 2005, by WKYC (Ohio NBC affiliate)
Original Article Source, Dated 2005-09-11
Shortly after Hurricane Katrina roared through South Mississippi knocking out electricity and communication systems, the White House ordered power restored to a pipeline that sends fuel to the Northeast. That order...delayed efforts by at least 24 hours to restore power to two rural hospitals and a number of water systems. Mississippi Public Service Commissioner Mike Callahan said the U.S. Department of Energy called him [stating that] opening the fuel line was a national priority. Manager Dan Jordan said Vice President Dick Cheney's office called and left voice mails twice shortly after the storm struck, saying the Collins substations needed power restored immediately. Callahan said energy officials told him gasoline and diesel fuel needed to flow through the pipeline to avert a national crisis from the inability to meet fuel needs in the Northeast. "Our concern was that...it would be a national crisis for Mississippi," Callahan said.
Note: Read the complete summary and notes here
---
The Artful Dodgers
Published on this day in 2014, by Time Magazine
Original Article Source, Dated 2014-09-11
Corporations in the U.S. today are hoarding about $2 trillion in profits overseas, arguing that the U.S. corporate tax rate of 35% makes it too difficult to bring this cash home and invest it here–better to keep the money abroad and pay lower taxes in other countries. Yet the truth is that legions of tax lawyers make sure that most big American corporations never pay anywhere close to that rate. FORTUNE 500 companies on average pay more like 19.4%, and a third pay less than 10%, chiefly because of all the generous loopholes Congress has afforded corporations over the years. Partly as a result, U.S. firms are enjoying record profit margins, making more money than ever before yet paying a lower share of the overall U.S. tax pie than they have in decades. They want the benefits of U.S. talent and markets but not the responsibilities. Taxpayer-funded, early-stage investments in areas like the Internet, transportation and health care research are the reason many of the largest U.S. companies got so big and successful to begin with. As the academic Mariana Mazzucato argues in her excellent book The Entrepreneurial State: Debunking Public vs. Private Sector Myths, many of the most lauded corporate innovations, including the parts of smartphones that make them smart (Internet, GPS, touchscreen display and voice recognition), came out of state-funded research. Ditto any number of pharmaceutical, biotech and cybersecurity innovations. "In so many cases, public investments have become business giveaways, making individuals and their companies rich but providing little return to the economy or the state," says Mazzucato. Tax [dodges] that expatriate the gains of American corporations to enrich a tiny managerial caste symbolize a whole new genre of selfish capitalism.
Note: Read the complete summary and notes here
---
Has Osama Bin Laden been dead for seven years - and are the U.S. and Britain covering it up to continue war on terror?
Published on this day in 2009, by Daily Mail (One of the UK's largest-circulation newspapers)
Original Article Source, Dated 2009-09-11
[President] Barack Obama has launched a fresh operation to find [Osama bin Laden]. Working with the Pakistani Army, elite squads of U.S. and British special forces were sent into Waziristan this summer to 'hunt and kill' the shadowy figure intelligence officers still call 'the principal target' of the war on terror. This new offensive is, of course, based on the premise that the 9/11 terrorist is alive. Yet what if he isn't? What if he has been dead for years, and the British and U.S. intelligence services are actually playing a game of double bluff? What if everything we have seen or heard of him on video and audio tapes since the early days after 9/11 is a fake - and that he is being kept 'alive' by the Western allies to stir up support for the war on terror? Incredibly, this is the breathtaking theory that is gaining credence among political commentators, respected academics and even terror experts. Still more questions have been raised with the publication in America and Britain of a book called Osama Bin Laden: Dead or Alive? Written by political analyst and philosopher Professor David Ray Griffin, ... it is provoking shock waves - for it goes into far more detail about his supposed death and suggests there has been a cover-up by the West. The book claims that Bin Laden died of kidney failure, or a linked complaint, on December 13, 2001, while living in Afghanistan's Tora Bora mountains close to the border with Waziristan. His burial took place within 24 hours, in line with Muslim religious rules, and in an unmarked grave, which is a Wahhabi custom. The author insists that the many Bin Laden tapes made since that date have been concocted by the West to make the world believe Bin Laden is alive. Could it be that, for years, he's just been smoke and mirrors?
Note: Read the complete summary and notes here
---
Why Zephyr Teachout can claim victory after losing by 30 points
Published on this day in 2014, by Washington Post
Original Article Source, Dated 2014-09-11
Zephyr Teachout took only 34 percent of the vote in [2014's] Democratic primary against New York Gov. Andrew Cuomo, but she succeeded in bringing her old-fashioned populist platform to the attention of the media and a broad audience of voters. Outside of New York, of course, it's still only a few people who have had exposure to Teachout's unusual political views. The Fordham University law professor has consistently argued -- on the stump and in her academic work -- that the government should do more to ensure free competition, both in elections and in the economy. She is calling for more aggressive government in these areas, but to the end of decentralizing political and financial power. Public financing of campaigns was one of two main planks in her platform. The other plank was a renewed commitment to preventing monopolies and oligopolies in business. She argues that in industries from health care to banking to meat processing, policies adopted during the Reagan administration have permitted mergers and acquisitions resulting in the concentration of market power in the hands of a few firms. As a result ... consumers pay higher prices and workers are paid less, and large firms can lobby in a coordinated way for legislative protection from would-be competitors. As Democrats decide on a compelling agenda to rally voters in 2016 ... the ideas Teachout has advocated could be appealing.
Note: Read the complete summary and notes here
---
Suffer the Children
Published on this day in 2012, by New York Times
Original Article Source, Dated 2012-09-11
Just how flagrant does a pedophile need to be before the people around him contact the police? Just how far beyond ... loading up his laptop with photos of little girls' crotches does he have to go? I'm referring to the Rev. Shawn Ratigan, a Catholic priest in Missouri whose superiors acted ... despicably. In May 2010, the principal of a parochial school next door to the parish where Father Ratigan served sent a memorandum to the Diocese of Kansas City-St. Joseph. It flagged his odd behavior, including his habit of instructing children to reach into his pockets for candy. In December 2010, hundreds of troubling, furtively taken photographs were found on his laptop. One showed a toddler's genitals. In what jail or prison cell, you might ask, did Father Ratigan spend the first half of 2011? None. After the photos were discovered, he ... was reassigned by Bishop Robert W. Finn, the head of the diocese, to a new post as a chaplain to an order of nuns. There he was allowed to celebrate Mass for youth groups and host an Easter egg hunt, and he was caught taking a photograph under the table, up the skirt of the daughter of parishioners who had invited him into their home. In May 2011, a diocesan official finally told police about the extent of Father Ratigan's cache of child pornography. He was convicted of possession of it in August 2011. And last week Bishop Finn was convicted of failing to report him to law enforcement authorities, and got two years of probation. He's the first American bishop to be found criminally culpable for his inaction in the face of suspected child abuse. It was a long time coming.
Note: Read the complete summary and notes here
---
Plane Lands In Cleveland; Bomb Feared Aboard
Published on this day in 2001, by WCPO - Cincinnati's ABC Affiliate
Original Article Source, Dated 2001-09-11
Reported by: 9News Staff, 9/11/01 11:43:57 AM. A Boeing 767 out of Boston made an emergency landing Tuesday at Cleveland Hopkins International Airport due to concerns that it may have a bomb aboard, said Mayor Michael R. White. White said the plane had been moved to a secure area of the airport, and was evacuated. United identified the plane as Flight 93. The airline did say how many people were aboard the flight. United said it was also "deeply concerned" about another flight, Flight 175, a Boeing 767, which was bound from Boston to Los Angeles. On behalf of the airline CEO James Goodwin said: "The thoughts of everyone at United are with the passengers and crew of these flights. Our prayers are also with everyone on the ground who may have been involved. "United is working with all the relevant authorities, including the FBI, to obtain further information on these flights," he said.
Note:
Remember that Flight 93 reportedly crashed in Pennsylvania on 9/11, with all aboard killed. This story was posted within hours of the 9/11 attacks. Click on the link above and you will see, "This story has been removed from WCPO.com. It was a preliminary AP story, and was factually incorrect." However, using the powerful
Internet Archive
, you can see the
original article here
.
Click here
and you can see the article continued to be posted for all dates through June 2004, and was only removed later. How can this be?
Note: Read the complete summary and notes here
---
A New Look at the 9-11 Commission
Published on this day in 2009, by Time magazine
Original Article Source, Dated 2009-09-11
Former New Jersey attorney general John Farmer served as senior counsel to the 9/11 Commission, tasked with investigating the government response to the attacks. His new book, The Ground Truth, picks up where the commission left off — taking a deeper look at the government's ... response to the attacks and exposing officials determined to hide their failings from the inquiry. Farmer uses newly released transcripts and recordings to cast doubt on the official version of events. He spoke with TIME. [Time:] Why do you think officials tried to obscure [the truth about 9/11]? [Farmer:] It's almost a culture of concealment. You have someone like Sandy Berger ... taking rather extreme measures to remove documents from the National Archives and hide them at a construction site where he could retrieve them later and destroy them. There were interviews made at the FAA's New York center the night of 9/11 and those tapes were destroyed. The CIA tapes of the interrogations were destroyed. The story of 9/11 itself, to put it mildly, was distorted and was completely different from the way things happened. If what the government is telling you isn't true, then the truth could be anything. I think there is evidence that the truth wasn't told and that at least some of that was deliberate.
Note: Read the complete summary and notes here
---
With best wishes for a transformed world,
Mark Bailey and Fred Burks for PEERS and WantToKnow.info