News Summaries from the WantToKnow.info Archive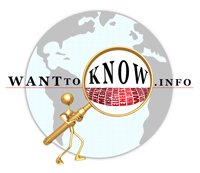 Mainstream media often buries important news stories. PEERS is a US-based 501(c)3 nonprofit that finds and summarizes these stories for WantToKnow.info's free weekly email newsletter and website. Explore below key excerpts of revealing news articles from our archive that were published on today's date in previous years. Each excerpt is taken verbatim from the major media website listed at the link provided. The most important sentences are highlighted. If you find a link that no longer works, please tell us about it in a comment. And if you find this material overwhelming or upsetting, here's a message just for you. By educating ourselves and spreading the word, we can and will build a brighter future.
---
Saudi Arabia government 'funded dry run' for 9/11, legal documents claim
Published on this day in 2017, by The Independent (One of the UK's leading newspapers)
Original Article Source, Dated 2017-09-10
The Saudi Arabian embassy in Washington DC may have funded a "dry run" of the 9/11 attacks, according to evidence submitted to an ongoing lawsuit against the Saudi government. As reported by the New York Post, the embassy might have used two of its employees for the so-called dry run before a dozen hijackers flew two planes into the Twin Towers. The complaint, filed on behalf of 1,400 family members of the victims, stated that the Saudi Government paid two nationals, posing as students in the US, to take a flight from Phoenix to Washington and test out flight deck security before 9/11. FBI documents, submitted as evidence, claimed that the two Saudi nationals ... Mohammed al-Qudhaeein and Hamdan al-Shalawi, were in fact members of "the Kingdom's network of agents" in the country. The documents claimed the men trained in Afghanistan with a number of other al-Qaeda operatives that participated in the attacks. Qudhaeein was allegedly employed at the Saudi Arabia's Ministry of Islamic Affairs, and Shalawi was a "longtime employee of the Saudi government" in Washington DC. In November 1999 they boarded an America West flight to Washington, and tried to access the cockpit several times. Their plane tickets were reportedly paid for by the Saudi Embassy. The allegations in the class action lawsuit were based on almost 5,000 pages of evidence. A total of 15 of the 19 hijackers were Saudi. Hundreds of thousands of US documents regarding Saudi Arabia remain secret.
Note: Read the complete summary and notes here
---
Fifteen Years After 9/11, Neverending War
Published on this day in 2016, by The Intercept
Original Article Source, Dated 2016-09-10
In the days after the September 11, 2001, terrorist attacks, when Congress voted to authorize military force against the people who "planned, authorized, committed, or aided" the hijackings, few Americans could have imagined the resulting manhunt would span from West Africa all the way to the Philippines. Today ... it looks like the war on terror is still in its opening act. The Islamic State, which was largely created by the U.S. invasion of Iraq, controls vast swaths of territory in Iraq, Syria, and Libya. The death toll in the countries the U.S. attacked remains untallied, but conservative estimates range from the hundreds of thousands to well over a million. The financial cost of the war on terror is incalculable. After 15 years, the only winners in the war on terror have been the contractors. At home, the war on terror has become a constitutional nightmare. The U.S. has adopted a practice of indefinitely detaining terror suspects. Police departments across the country secretly import military-grade spy equipment. Courts have ruled that families cannot sue to get their children off government kill lists. NSA whistleblower Edward Snowden revealed that the U.S. has become the largest surveillance state in history. Bombing multiple countries in the Middle East has become business as usual, and often goes unreported. As ... media engagement with the wars diminishes, and it is all too easy to forget about our permanent state of war. But the victims of U.S. violence are unlikely to forget, creating a potentially endless supply of new enemies.
Note: Read the complete summary and notes here
---
Oliver Stone on Snowden relevance: 'The US government lies all the time'
Published on this day in 2016, by The Guardian (One of the UK's leading newspapers)
Original Article Source, Dated 2016-09-10
Oliver Stone has taken aim at the US government for deceiving people about the levels of surveillance that exist in the country. His new film Snowden, about the controversial NSA informant Edward Snowden, received its world premiere. The drama ... tells of the former CIA employee's discovery that the agency had constructed a system to spy on the public. "Americans don't know anything about it because the government lies about it all the time," Stone said at a press conference. "What's going on now is pretty shocking. This story not only deals with eavesdropping but mass eavesdropping, drones and cyberwarfare. As Snowden said himself the other day, 'It's out of control, the world is out of control.'" The film also features a cameo from Snowden himself, who still resides at an undisclosed location in Russia while he searches for asylum elsewhere. Stone hopes that he may return to US ground but is doubtful. "Obama could pardon him and we hope so," he said. "But he has vigorously prosecuted eight whistleblowers under the espionage act, which is an all-time record for an American president, and he's been one of the most efficient managers of this surveillance world. It is the most extensive and invasive surveillance state that has ever existed and he's built it up." The film-maker ... likens [the current situation] to a George Orwell novel. "I never thought this could happen," he said. "But from 2001 on, it's very clear that something radical has changed. There's more to it that meets the eye and whatever they tell you, you've got to look beyond."
Note: Read the complete summary and notes here
---
Scientists Say the Ozone Layer Is Recovering
Published on this day in 2014, by ABC News/Associated Press
Original Article Source, Dated 2014-09-10
Earth's protective ozone layer is beginning to recover, largely because of the phase-out since the 1980s of certain chemicals used in refrigerants and aerosol cans, a U.N. scientific panel reported [on September 10] in a rare piece of good news about the health of the planet. For the first time in 35 years, scientists were able to confirm a statistically significant and sustained increase in stratospheric ozone, which shields the planet from solar radiation that causes skin cancer, crop damage and other problems. From 2000 to 2013, ozone levels climbed 4 percent in the key mid-northern latitudes at about 30 miles up, said NASA scientist Paul A. Newman. He co-chaired the every-four-years ozone assessment by 300 scientists, released at the United Nations. "It's a victory for diplomacy and for science and for the fact that we were able to work together," said chemist Mario Molina. In 1974, Molina and F. Sherwood Rowland wrote a scientific study forecasting the ozone depletion problem. They won the 1995 Nobel Prize in chemistry for their work. The ozone layer had been thinning since the late 1970s. Man-made chlorofluorocarbons, called CFCs, released chlorine and bromine, which destroyed ozone molecules high in the air. After scientists raised the alarm, countries around the world agreed to a treaty in 1987 that phased out CFCs.
Note: Read the complete summary and notes here
---
Audit: Feds wasted millions on Katrina work
Published on this day in 2008, by MSNBC/Associated Press
Original Article Source, Dated 2008-09-10
The government wasted millions of dollars on four no-bid contracts it handed out for Hurricane Katrina work, including paying $20 million for a camp for evacuees that was never inspected and proved to be unusable, investigators say. A report by the Homeland Security Department's office of inspector general, obtained ... by The Associated Press is the latest to detail mismanagement in the multibillion-dollar Katrina hurricane recovery effort, which investigators have said wasted at least $1 billion. The review examined temporary housing contracts awarded without competition to Shaw Group Inc., Bechtel Group Inc., CH2M Hill Companies Ltd. and Fluor Corp. in the days immediately before and after the August 2005 storm that smashed into the U.S. Gulf Coast. It found that FEMA wasted at least $45.9 million on the four contracts that together were initially worth $400 million. FEMA subsequently raised the total amounts for the four contracts twice, both times without competition, to $2 billion and then $3 billion. FEMA did not always properly review the invoices submitted by the four companies, exposing taxpayers to significant waste and fraud, investigators wrote. In many cases, the agency also issued open-ended contract instructions for months without clear guidelines on what work was needed to be done and the appropriate charges. "We question how FEMA determined that the amounts invoiced were allowable and reasonable," the IG report states, warning that its review was limited in scope so that additional waste and fraud might yet to be found.
Note: Read the complete summary and notes here
---
DOD Inspector General's Report to Congress
Published on this day in 2001, by U.S. Department of Defense website
Original Article Source, Dated 2001-09-10
Remarks as Delivered by Secretary of Defense Donald H. Rumsfeld, The Pentagon, September 10, 2001: The topic today is an adversary that poses a threat, a serious threat, to the security of the United States of America. This adversary is one of the world's last bastions of central planning. It governs by dictating five-year plans. From a single capital, it attempts to impose its demands across time zones, continents, oceans and beyond. With brutal consistency, it stifles free thought and crushes new ideas. It disrupts the defense of the United States and places the lives of men and women in uniform at risk. The adversary [is] the Pentagon bureaucracy. An average American family works an entire year to generate $6,000 in income taxes. Here we spill many times that amount every hour by duplication and by inattention. According to some estimates, we cannot track $2.3 trillion in transactions. This is not just about money. It's not about waste. It's about our responsibility to the men and women in uniform who put their lives at risk. It's about respect for taxpayers' dollars. A cab driver in New York City ought to be able to feel confident that we care about those dollars.
Note: Read the complete summary and notes here
---
Possible Energy Source: Burning Seawater
Published on this day in 2007, by CBS News/Associated Press
Original Article Source, Dated 2007-09-10
An Erie cancer researcher has found a way to burn salt water, a novel invention that is being touted by one chemist as the "most remarkable" water science discovery in a century. John Kanzius happened upon the discovery accidentally when he tried to desalinate seawater with a radio-frequency generator he developed to treat cancer. He discovered that as long as the salt water was exposed to the radio frequencies it would burn. The discovery has scientists excited by the prospect of using salt water, the most abundant resource on earth, as a fuel. Rustum Roy, a Penn State University chemist, has held demonstrations at his State College lab to confirm his own observations. The radio frequencies act to weaken the bonds between the elements that make up salt water, releasing the hydrogen, Roy said. Once ignited, the hydrogen will burn as long as it is exposed to the frequencies, he said. The discovery is "the most remarkable in water science in 100 years," Roy said. "This is the most abundant element in the world. It is everywhere," Roy said. "Seeing it burn gives me the chills." Roy will meet this week with officials from the Department of Energy and the Department of Defense to try to obtain research funding. The scientists want to find out whether the energy output from the burning hydrogen - which reached a heat of more than 3,000 degrees Fahrenheit - would be enough to power a car or other heavy machinery. "We will get our ideas together and check this out and see where it leads," Roy said. "The potential is huge."
Note: Read the complete summary and notes here
---
Prisons Purging Books on Faith From Libraries
Published on this day in 2007, by New York Times
Original Article Source, Dated 2007-09-10
Behind the walls of federal prisons nationwide, chaplains have been quietly carrying out a systematic purge of religious books and materials that were once available to prisoners in chapel libraries. The chaplains were directed by the Bureau of Prisons to clear the shelves of any books, tapes, CDs and videos that are not on a list of approved resources. In some prisons, the chaplains have recently dismantled libraries that had thousands of texts collected over decades, bought by the prisons, or donated by churches and religious groups. Some inmates are outraged. Two of them, a Christian and an Orthodox Jew, in a federal prison camp in upstate New York, filed a class-action lawsuit last month claiming the bureau's actions violate their rights to the free exercise of religion as guaranteed by the First Amendment and the Religious Freedom Restoration Act. The bureau, an agency of the Justice Department, defended its effort, which it calls the Standardized Chapel Library Project, as a way of barring access to materials that could, in its words, "discriminate, disparage, advocate violence or radicalize." "It's swatting a fly with a sledgehammer," said Mark Earley, president of Prison Fellowship, a Christian group. "There's no need to get rid of literally hundreds of thousands of books that are fine simply because you have a problem with an isolated book or piece of literature that presents extremism." A chaplain who has worked more than 15 years in the prison system, who spoke on condition of anonymity because he is a bureau employee, said: "At some of the penitentiaries, guys have been studying and reading for 20 years, and now they are told that this material doesn't meet some kind of criteria. It doesn't make sense to them."
Note: Read the complete summary and notes here
---
New Yorkers 'pay it forward' after 9/11
Published on this day in 2013, by CNN
Original Article Source, Dated 2013-09-10
Some New Yorkers mark the anniversary of the September 11 attacks by going to a memorial service or observing a moment of silence. For the past 10 years, Jeff Parness has been helping others. Every September, Parness brings hundreds of volunteers from New York to help another disaster-stricken community in the United States. "It was our way of saying, you know, New Yorkers will never forget what people from around the country and the world did for us in our time of need after 9/11," said Parness. "So that's how the mission started. It was just to pay forward the kindness that we experienced." Over the past decade, Parness' nonprofit, New York Says Thank You, has assisted victims of wildfires in San Diego, tornadoes in the Midwest and Hurricane Katrina in Louisiana. Many of those who receive help are so inspired that they travel across the country the next year -- often at their own expense -- to volunteer with Parness' group and help someone else. The result is a unique disaster-response organization. "All of our volunteers are survivors. They survived, whether it was 9/11 or Katrina or tornadoes. So they all share that common bond," said Parness, who quit his job as a venture capitalist to work on his nonprofit full-time. This year, Parness' mission has come full circle. Last weekend, more than 300 volunteers -- at least half of whom were from outside the New York area -- helped rebuild 13 homes damaged by Superstorm Sandy in October. For Parness, a native New Yorker, the work carried extra significance.
Note: Read the complete summary and notes here
---
With best wishes for a transformed world,
Mark Bailey and Fred Burks for PEERS and WantToKnow.info