It's not often that I am blogging about beer here on the Steem blockchain, but despite this I'm actually very fond of beer. But as you are more likely already know, I'm a bigger fan of saving animal species, so this news will be a good mix of my different interests.
There are many different problems that the marine wildlife are currently facing, including increasing acidity due to the increased carbon dioxide in the atmosphere, direct pollution from factories, invasive species that get transported to new habitats due to human interaction, and more. Perhaps the most talked-about problem is the marine plastic pollution, which has catastrophic effects on animals on most, if not all, trophic levels.
A major plastic pollutant is the "six pack rings" from beer bottles. These are basically designed to hold six cans of beer together, but they don't really use that much plastic. There is another option for beer companies to use, which is to cover the entire six pack in plastic, which is unfortunately what is most common here in Norway. As you can see in the photo below, this really adds up when you got a lot of beer.
Beer from a Norwegian grocery store. Hansa is actually a pretty good beer in my opinion, but they use a huge amount of plastic! Photo by Wikimedia Commons user Wolfmann, posted with the Creative Commons Attribution-Share Alike 4.0 International license
.
The problem with the plastic from six packs
There are two major problems with the plastic that is used to keep a six pack of beer together. The first reason is pretty obvious, and that is the plastic itself. Plastic is made from crude oil, and it requires a lot of energy to create. This process is bad for the environment, and it really adds up with the amount of plastic the world uses.
While the plastic from a single six pack might seem like nothing, this all adds up, and it would be a lot better for the environment if beer companies just stopped using this type of package.
The other reason why the plastic from the six packs is bad, is because a lot of it tend to end up in the ocean. The six pack rings as seen in the photo below are especially bad, and these can often end up being directly responsible for the death of a bird, fish, or marine mammal.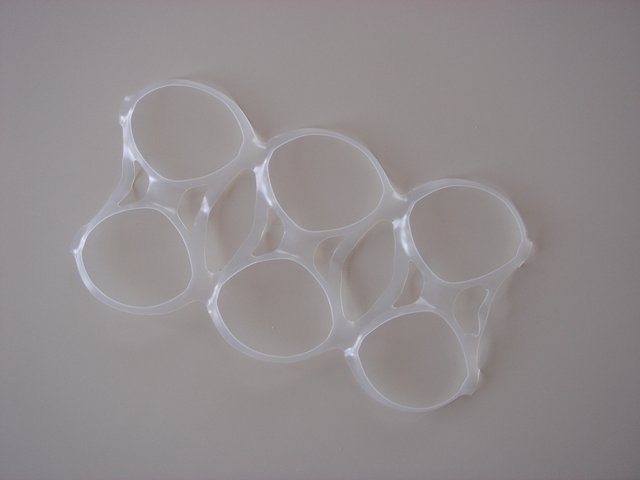 A six pack ring. Just imagine the damage this does when wrapped around the throat of a bird, seal, or sea turtle. Alternatively you can Google it to find some disturbing images. The photo is Public Domain
.
The benefit to these rings is that they require a lot less plastic to use compared to the other option, but it's a bit difficult to determine which is best in the long run, since these also have some major problems associated with them.
A new possible solution; the Snap Pack
The beer brand Carlsberg have just announced that they plan on ditching all of the plastic that they have been using to keep their beer bottles in six packs, and instead use an entirely new method to keep them stuck together, called the Snap Pack.
The new Snap Pack six pack. Photo by Carlsberg, provided from their press release
.
The Snap Pack is actually a type of glue that holds the beer cans together, and they promise to be just as durable as the traditional plastic packaging. As you can see yourself, these use very little plastic, and it's a much better option when we consider how it affects the climate. We don't know exactly what chemicals are used in the new Snap Pack glue though, which would have been interesting to learn about in order to make a better assessment of the potential improvement.
The press release by Carlsberg claims that it will save 1,200 tonnes of plastic every year with these new packs, which is the equivalent to 60 million plastic bags.
Not just Carlsberg beer
Carlsberg is the third largest beer company in the world, so this improvement will actually make a real change. To make it a bit better, they also own a lot of daughter companies, so a lot of different beer brands, as well as some soda cans will get the new Snap Pack glue on the cans in the next year.
According to a press release by the Norwegian importer of Carlsberg called Ringnes, the Snap Pack beers will be available already this autumn, but this only applies to Norway and the UK, so the rest of the world will probably have to wait a little longer.
An "old" sick pack on the left, and the new Snap Pack six pack on the right
.
Photo by Ringnes press release
.
I for one am looking forward to enjoying beer with a much lower plastic usage, and I'm glad to see that some companies take their responsibility towards the environment seriously. You will probably find a photo of me enjoying a Snap Pack Carlsberg six pack here on my blog, as soon as I see one in the store!
Thanks for reading
Thanks for stopping by my blog. I hope you found this interesting, and hopefully a change like this one will motivate other companies to follow the change, and also think about their own responsibility towards the environment.