Unshakable Determination In The Face Of Adversity: Mom Is Currently Telling The CVS Cashier A Fourth Phone Number To Try For A Discount Card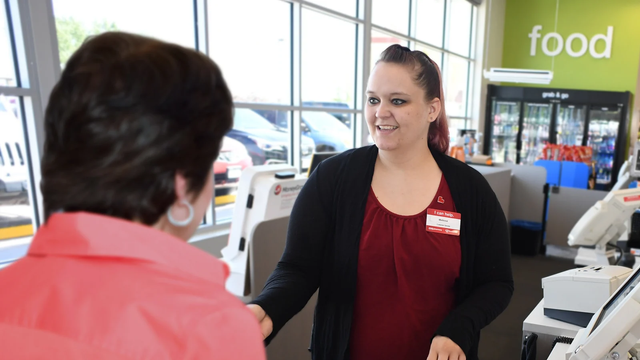 Get ready to feel inspired, because the story currently unfolding at the Main Street Shopping Centre in Holbrook, NY proves just how resilient the human spirit can be: Mom is currently telling the CVS cashier a fourth phone number to try for a discount card.
Wow! Mom's determination will not be shaken! No adversity is too great for her!
Mom purposely drove the extra three minutes past Rite Aid to CVS just so she could take advantage of their buy-one-get-one-50-percent-off deal on Crest toothpaste, but she needs a CVS ExtraCare account to get the discount, and she's determined to stop at nothing until she remembers which phone number is attached to her account. Although the first phone number she gave the cashier failed, she kept her head held high and immediately started listing other phone numbers that might help her save the $1.25 on toothpaste that she came for.
Way to go, Mom! While others would have given up after listing their home number, cell number, and their husband's cell number, in an act of absolute bravery, Mom's now giving the cashier the home phone number for the townhouse we haven't lived in since 2001. Though the line only continues to grow behind her, Mom's persistence is utterly undeterred!
But just because the fourth number also failed doesn't mean Mom's going to give up.
In fact, she just asked the cashier if she could type in her home address instead of her phone number, and as the cashier started to shake his head, Mom masterfully added, "You know what, let me try my sister's phone number," proving that she came here to get the deal, and she's not leaving without her discounted toothpaste.
Most people would just chalk this up as a loss right now and accept that the nine coupons they're going to get on their receipt will pretty much balance out what they're failing to save on the toothpaste, but then again, most people aren't Mom.
Though the cashier has explained Mom could always come back when she has the physical ExtraCare card with her, Mom just accused her of incorrectly typing in the first phone numbers she gave her and asked if she could try those again. You've got this, Mom! Your resilience in the face of such daunting odds is nothing short of amazing, and we are absolutely here for it! One way or another, we know you're going to get that deal!