The Daily Dood for 1-3-17
Today's bitcoin high was about $15,416 USD on BitFinex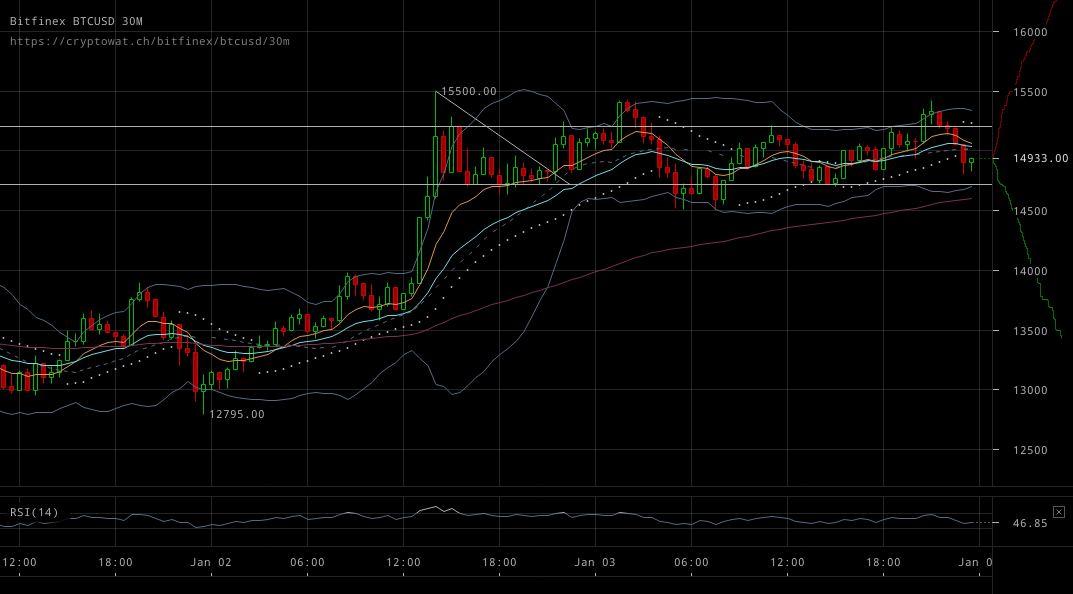 Headlines
Trade Crypto Futures and Options with Quedex's Bitcoin-Focused Derivatives Platform
https://coinidol.com/trade-crypto-futures-and-options-with-quedex-bitcoin-focused-derivatives-platform/
The Dollar Far Outstrips Cryptocurrency in Illicit Activity Usage
http://bitcoinist.com/the-dollar-far-outstrips-cryptocurrency-in-illicit-activity-spending/
Verge's Wraith Protocol Leaves Speculators Unimpressed
https://themerkle.com/verges-wraith-protocol-leaves-speculators-unimpressed/
Gavin Andresen Original Bitcoin Developer Gets Involved In Bitcoin Cash With New Concept For Transcations
https://coinivore.com/2018/01/03/gavin-andresen-original-bitcoin-developer-gets-involved-bitcoin-cash-new-concept-transcations/
Blockchain Redefines Emerging Markets: Capital, Assets and Securities
https://cointelegraph.com/news/blockchain-redefines-emerging-markets-capital-assets-and-securities
Ripple's XRP Left All Cryptocurrencies and ICO Tokens in the Dust in 2017
https://themerkle.com/ripples-xrp-left-all-cryptocurrencies-and-ico-tokens-in-the-dust-in-2017/
Zclassic Spikes 100x in December with 'Bitcoin Private' Fork Approaching
https://www.ccn.com/zclassic-sees-incredible-run-bitcoin-private-fork-date-slowly-approaching/
Ripple Becomes First Cryptocurrency After Bitcoin to Surpass $100 Billion
https://www.ccn.com/ripple-becomes-first-cryptocurrency-apart-from-bitcoin-to-surpass-121-billion/
DNotes Global, Inc. Announces Partnership with Geneca for Blockchain Technology Development https://themerkle.com/dnotes-global-inc-announces-partnership-with-geneca-for-blockchain-technology-development/
The Right ICO Could be the Golden Ticket to Great Wealth
http://www.newsbtc.com/2018/01/04/right-ico-golden-ticket-great-wealth/ http://www.newsbtc.com/2018/01/04/right-ico-golden-ticket-great-wealth/
Ripple Pushes Past $3, Reaches Almost Half Bitcoin's Market Cap
https://cointelegraph.com/news/ripple-pushes-past-3-reaches-almost-half-bitcoins-market-cap
Egypt's Top Cleric Declares Bitcoin Trading 'Unlawful'
https://cointelegraph.com/news/bitcoin-violates-sharia-law-says-egypts-highest-religious-official-issues-fatwa
Youtube & Podcasts
Epicenter #213 Tim Swanson: Busting the great wall of hype.
Tweet Of The Day
A boy asked his bitcoin-investing dad for 1 bitcoin for his birthday.

Dad: What? $15,554??? $14,354 is a lot of money! What do you need $16,782 for anyway?

Ran Neuner (cryptomanran) December 8, 2017
STEEMIT
Tracking Cryptocurrencies with Bit Screener — via @fathermayhem Steemit
https://steemit.com/cryptocurrency/@fathermayhem/tracking-cryptocurrencies-with-bit
Let's Make Steem Trend on Twitter on the 9th of January - Join the Steem Twitter Thunderclap!! via @fitzgibbon I'll include this post each night till the 8th for community awareness.
https://steemit.com/promo-steem/@fitzgibbon/let-s-make-steem-trend-on-twitter-on-the-9th-of-january-join-the-steem-twitter-thunderclap
Let's celebrate the 30th Steemit #BeerSaturday Challenge with YOU as an attendee - Join and WIN from 15 SBD prizes via @detlev Steemit
https://steemit.com/beersaturday/@detlev/let-s-celebrate-the-30th-steemit-beersaturday-challenge-with-you-as-an-attendee-join-and-win-from-15-sbd-prizes
Links
ThunderClap campaign to promote Steemit various social networks like Twitter & Facebook. Sign up using your social media account to help spread the word & make Steemit grow.
Thanks to everyone that used my Binance referral link in 2017. The Dood really appreciates your support. Looking forward to another record year of trading on this platform in 2018! We're just getting started!
https://www.binance.com/?ref=11560333
Free POW tokens. I'm not exactly sure what's going on with these. This is another social networking token and they're distributing the air drop via social site referrals. If you sign up, you recieve around 30,000 POW lite at the time of this writing. At the end of the air drop all POW lite will be converted to a POW ERC20 ethereum tokens and spendable like any other token.
https://POWtoken.com?ref=POW74296
The End
The Daily Dood is a review of my daily Twitter feed. If you're on Twitter hope you decide to join me here:
https://twitter.com/BitcoinDood
That's it for todays edition of The Daily Dood. If you found the information in this post useful I hope you decide to follow for the daily headlines and events happening in the altcoin & cryptocurrency space. Nothing here is meant as investment or financial advice. Please seek a duly licensed professional for investment advice, not some guy on the internets who refers to himself as The Dood. Thanks for reading and happy trading!